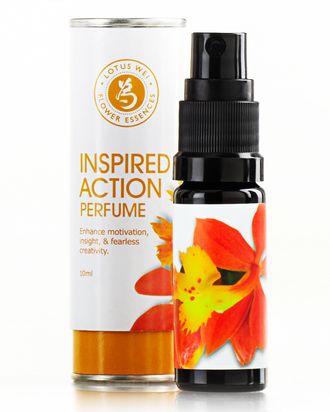 Inspired Action perfume by Lotus Wei.
Photo: Courtesy of Lotus Wei
There are fragrances that make you sleep better, and then there's Lotus Wei's Inspired Action, a perfume that charges you to wake up. Inspired Action promises that wearers will experience heightened motivation and creativity, and shirk procrastination, indecision, and distraction. Rich in notes of lemon, lime, and pink pepper, the perfume smells a bit like Pine-Sol or a lemony cough drop. It's not the most alluring scent, but I think that's the point. When I wore Inspired Action during an afternoon slump, it sprung me into action like a generous shot of espresso, minus the jitters. I began to approach work with a newfound sense of clarity. The biting citrus aroma was oddly invigorating, and while Lotus Wei doesn't explain how Inspired Action works, studies like this one, where participants were driven to clean when exposed to a citrus scent, indicate that the smell of citrus enhances cognitive performance. Like the scent, my second wind of afternoon energy faded in a few short hours. Though nothing can replace a cup of coffee, at least Inspired Action won't drive you to double down on teeth-whitening strips.
Inspired Action Perfume, $45 at Lotus Wei.