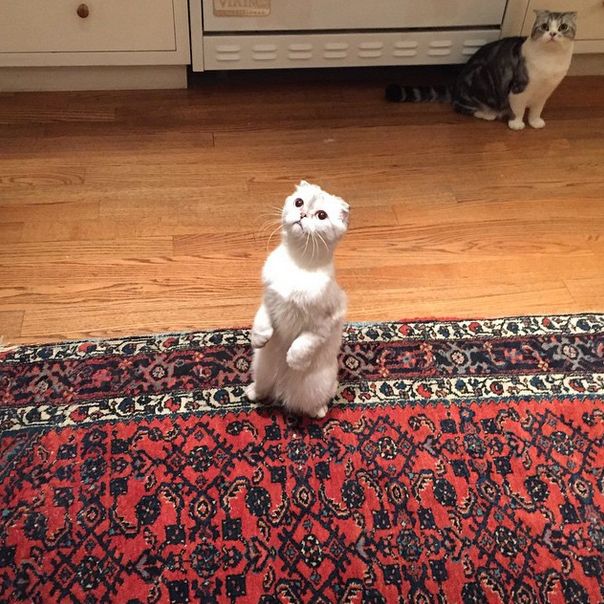 Photo: Calvin Harris/Instagram
Calvin Harris posted of a photo of Taylor Swift's cats to Instagram. This is rapid relationship development, as it was just last week that he merely liked a video of her cat on Instagram.
This reveals that they are, in fact, spending time together in Taylor Swift's kitchen and on Taylor Swift's oriental rug. But what kind of time? We just don't know.
If we were Taylor Swift — and I mean, we are, since Taylor is all of us, and we are all Taylor — we'd be analyzing Harris's gesture like an NFL coach analyzes game tape before Super Bowl Sunday. The look in Olivia Benson's eyes says it all: What does this mean, Calvin Harris? What does it all mean?
Possible meanings:
"I am still trying to impress you": Perhaps Harris's cute Instagram reveals he is still in the early stages of proving his worth and commitment to T-Swift. He's using this Instagram to promote the desirability of Calvin Harris, a man who tolerates your cat, has a sense of humor, and grasps smartphone technology.
"I'm serious about you": The Instagram implies a desire to share ownership of something in Taylor's life, a desire to love the things she loves. With this Instagram, he might be saying: "I consider your cat my cat; your heart, my heart." Maybe soon there will be a new daddy for Olivia Benson (and Meredith, who is also lurking around being boring in the background).
"This cat is doing something funny": Sometimes a picture is worth a thousand words, sometimes a thousand likes. Maybe Harris just realized the cat looked funny and thought, The cat looks funny. And decided to share it on Instagram, home of photos of cats that look funny.
Verdict? Further analysis and a consultation with 12 of our closest friends over Gchat is necessary before a final conclusion can be reached.