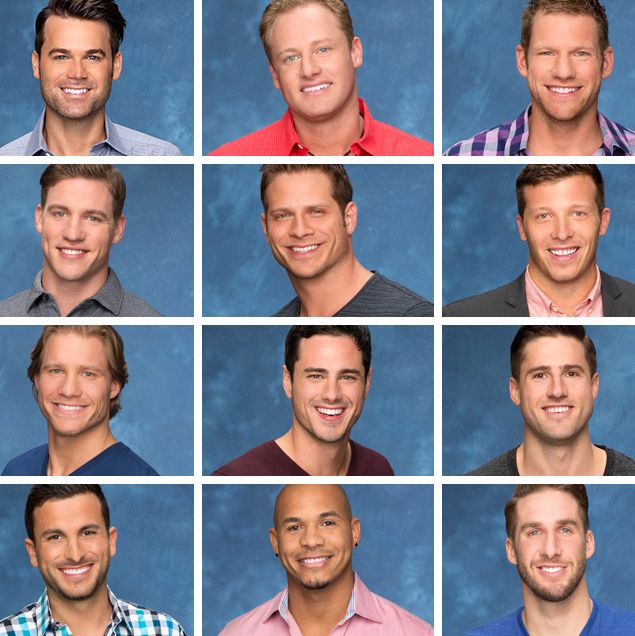 It's that time! ABC has released the photos and bios of the 25 men who will go on TV to win the heart of one woman through a series of embarrassing challenges and highly orchestrated dates on The Bachelorette. 
For the next week (until the new season premieres), fans can sit and stare at the slightly creepy head shots of these fantasy men, and pick apart bios, careers (an Amateur Sex Coach? Really?), favorite films, et cetera. ABC also asked them to reveal their biggest dating fears and the results, I assume, are like shining a flashlight into the darkest recesses of the male mind.
"Falling for someone that doesn't feel the same way." —Ben Z.
"My date not liking me as much as I like her." —Tanner
"Saying too much or coming on strong." —Clint
"Wasting my time and money on someone who was just using me for dinner." —JJ
"Someone who can't handle or understand my sarcasm." —Bradley
"Boredom." —Corey
"Dull conversation." —Kupah
"Awkward silence." —Joe
"Awkward silence." —Justin
"Awkwardness." —Ryan B.
"Someone that can't hold a conversation." —Ian
"Not being interested and not being able to get out of the date." —Shawn M.
"Finding out my date's really a dude." —Cory
"Rudeness." —Tony
"My date being dishonest and manipulative." —Daniel
"The girl tries to eat my food." —Chris
"The person being terrible." —Ryan M.
"Bumping into an ex that makes a big scene." —David
"My mom walking in holding a Kleenex to my nose and ordering me to blow." —Joshua
"For a woman to have bad breath." —Jonathon
"She will have bad breath." —Josh
"Eating something that doesn't agree with me and then sitting through the entire date fighting a stomachache." —Ben H.
"Passing gas." —Shawn E.
"Explosive diarrhea." —Brady
"Don't really have any." —Jared
Well, men might be afraid of being bored, shitting their pants, and halitosis in others, but at least the men of The Bachelorette aren't afraid to get real.