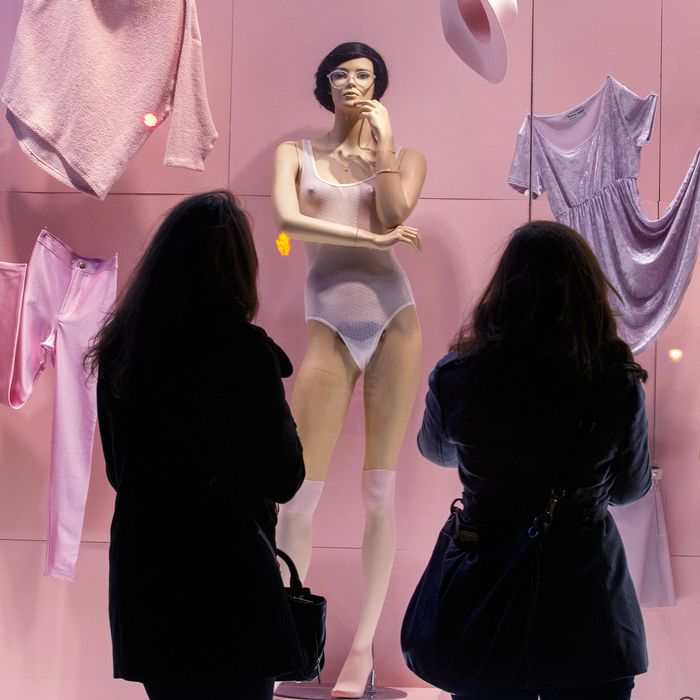 Photo: Brendan McDermid/Corbis
When we last checked in with American Apparel, recently appointed CEO Paula Schneider, currently best known for Not Being Dov Charney, was promising a major turnaround for the embattled brand. How's that going? Well, according to the Washington Post, they're making big changes: adopting a design calendar, which is apparently something they never had before, and making fewer pieces. One thing they won't be switching up much is their racy advertising; says Schneider, "There's about 90 percent of it that I thought was awesome, and there's about 10 percent of it that crossed the line." But one thing they may want to change is the way they type their customers. Like Anthropologie, which gives its three hypothetical customers twee names — Aurora, Silver, and Quinn — and invents fake personalities and interests for them, American Apparel keeps it simple with three archetypes. There's the "young girl," who is, well, young. She is a 16-year-old who's texting friends about school ("LOL Ethan Fromes sooooo boring!") The "classic girl" is 25 and has graduating from texting to emailing — specifically, her mom, about her new apartment. ("Hi, Mom, great news. I'm finally living with only 3 roommates!") Rounding out this trio is the "party girl," who doesn't even get an attribute — she is simply the "nighttime mode" of either girl, according to the article. So, she's those other two girls when they're drunk?
All kidding aside, this is a common practice, especially among mass brands, and it's one way to pin down who, exactly, one's customer is. Still, concocting these two-dimensional "girls" with basically zero attributes seems like part of the problem. (At least Anthro gave their stable of fictitious women cool hobbies, like spending time on ranches.) Schneider notes that the company is trying to de-emphasize the "young girl" offerings a bit and focus on pieces that will attract the "classic girl," such as an office-appropriate black tunic. Have they considered that women are a lot more multifaceted than "really young," "still very young," and "PARTYYYY"?