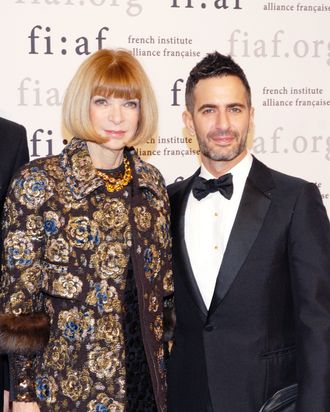 Anna Wintour with Marc Jacobs.
Photo: Michael N. Todaro/Getty Images
"You never leave Parsons." The school's memorable slogan is coming true for Marc Jacobs, at least. At next week's Parsons International Fashion Benefit, the designer will be honored with an award presented by Anna Wintour, WWD reports. Also on the honoree list: LVMH, which owns Jacobs's company. (That award will be presented by Saks president Marc Metrick.) The Parsons podium should be a familiar one for Jacobs, since he won the Designer of the Year honors at his graduation in 1984. And now that Anna has honed her comedy skills on Late Night With Seth Meyers, we should probably expect some quips.