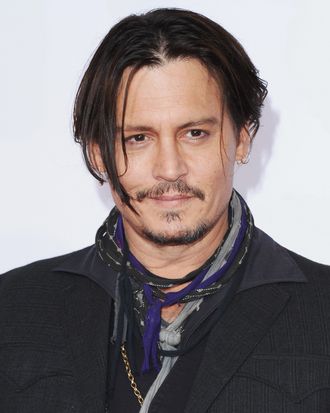 Johnny Depp.
Photo: Jon Kopaloff/Getty Images
Famed pirate Johnny Depp has received a cruel, cruel ultimatum from the Australian Department of Agriculture. Apparently, Depp smuggled his two very cute Yorkshire terriers, Boo and Pistol, into the country on a private jet, where they are currently hanging out at his rented mansion while he films the fifth installment of Pirates of the Caribbean. The BBC reports that biosecurity officials caught wind of the undeclared puppies earlier this week (after a local grooming parlor posted pictures of the dogs on its Facebook page), and they are not happy about it.
Agriculture Minister Barnaby Joyce has ordered the pups under house quarantine, advising Depp that if the dogs are not deported by Saturday, they will be euthanized.
"It's time that Pistol and Boo buggered off back to the United States," Joyce declared, adding that he will not let actors break the law, even if they've been voted "Sexiest Man Alive" twice. Depp has not commented on the situation, but was apparently spotted leaving his Australian abode this morning dressed like a pirate.