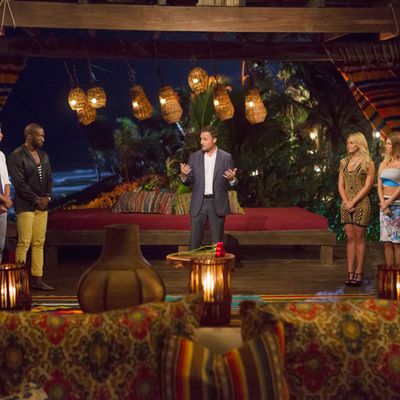 Chris Harrison doing some book research.
Photo: Francisco Roman/ABC/Getty Images
After 13 years, The Bachelor franchise is as familiar as any fairy tale. A man or woman yearns for love but finds he or she is cursed and unable to find "the one." In order to find "the one," they must undergo a series of tests to determine which of 25 lonely-hearted stock characters  is "the one." For this, they are rewarded with an ABC-subsidized proposal and the (non-contractual) promise of happily ever after. It will probably never change, and I hope it never does. The Bachelor is a perfectly orchestrated, predictable safe place of romance, drama, intrigue, and happy endings. And through it all, our guide is host Chris Harrison.
In this spirit, consider approaching Chris Harrison's first book — The Perfect Letter, out May 19 — the same way you'd approach the Bachelor franchise. For starters, relinquish any attachment to rationality. Embrace the fairy tale. Give yourself over to romance; cultivate a taste for sentiments sweet enough to induce diabetes. All who choose to crack the spine of this romance novel must welcome earnestness into their hearts and accept that not only does true love exist, it will conquer all — which, in the case of this novel, includes murder, wrongful incarceration, blackmail, geographical limitations, and another man. You also have to relinquish any real literary standards. Just as Bachelor fans forgive rambling speeches and bad "love is like …" metaphors, readers here must ignore a total lack of character development and an overreliance on long-winded expository monologues.
 
Once you've achieved all that, though, you might be inclined to agree with me that The Perfect Letter should be part of the canon, right alongside the works of Nicholas Sparks and timeless Lifetime movies.
 
His post-divorce personal life might lead one to question Harrison's belief in True Love, but after 19 seasons of The Bachelor, 11 seasons of The Bachelorette, three seasons of Bachelor Pad, and one season of Bachelor in Paradise, Harrison certainly knows how to sell the True Love product. For 13 years, he's counseled the heartbroken, consoled hundreds of lovelorn exiting contestants, and managed both people with undiagnosed borderline personalities and myriad "crisis situations" with the grace and patience of a preschool teacher. He definitely knows the difference between a genuine "I'm just here for love" and a false one.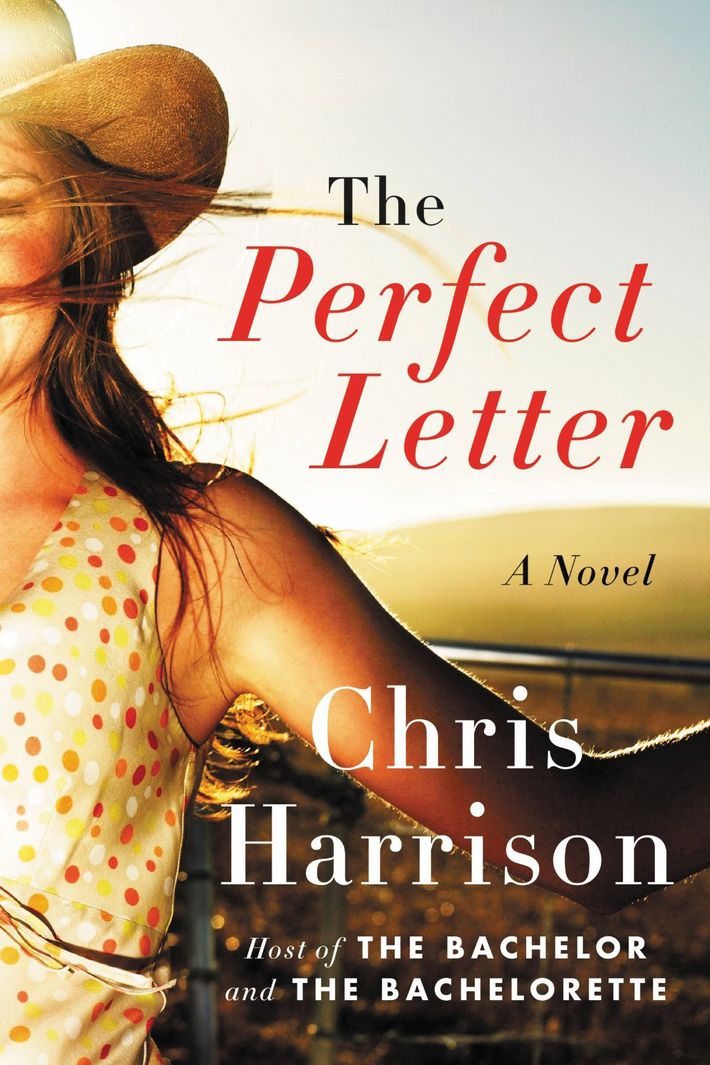 As such, Harrison is uniquely qualified to tell the story of a young woman deciding between two equally appealing men — in this case, Leigh Merrill, a Harvard graduate who has one of those unrealistic hotshot careers (she's climbing the ranks at her job as a book editor and about to land her own imprint). She's using her great New York one-bedroom and shoe collection to distance herself from the spirited girl who was raised by her grandfather on a horse ranch. Leigh, the reader quickly learns, fled her hometown of Texas after a murder/scandal that culminated in her first love, Jake, going to prison for a decade. She waited for him, pined for him, and wrote him letter after unreturned letter (the Sparksian echoes are probably intentional: Harrison cites him as a mentor) before finally deciding to move on with her life and escape into a big-city dream life complete with Joseph, a wealthy, doting, loyal, handsome milquetoast boyfriend who wants their passionless relationship 'til death do them part. When she returns to Austin under the guise of a work trip, it is only a matter of time before she reunites with her true love and, more dramatically, her cowboy-boot-wearing, gun-firing self.
 
Essentially, Leigh is an amalgamation of several women we've seen in recent Bachelor history (even if her name doesn't end in -y, unlike the many Ashleys, Emilys, and Kelseys who populate the show). And the baggage she's trying to leave behind — she was there when her boyfriend killed a guy — is the kind of thing you can easily imagine a Bachelor contestant tearfully admitting — I was involved in a murder when I was 18. It taught me that life is short and we should love with abandon.
 
You only have to look at the book cover to know that Leigh is going to choose hot ex-con Jake: This is not a spoiler. In fact, I like to believe that after watching all of the franchise's failed engagements, Chris Harrison's gleeful transgression was to write a character like Joseph, who is basically a Bachelorette contestant — perfect on paper, handsome, attractive in a neutered sort of way, probably square-jawed and wearing a checkered J.Crew button-down — then leave him alone at the end. Then again, Leigh's rejection of comfortable, square-jawed Joseph isn't without precedent in the universe of The Bachelor. Think of Andi Dorfman choosing Josh "the Cad" Murray over nice guy Chris Soules, or Ben Flajnik picking evil Courtney Robertson instead of sweet southern belle Kacie B.
 
Harrison excels at giving readers that beautiful backdrop to their perfect romantic fantasy. He approaches scene-setting like a set dresser on The Bachelor: Leigh loses her virginity in an idyllic hayloft on a sprawling ranch; a proposal takes place on a wisteria-covered terrace where people are dining on "garganelli nero in a chili-and-tarragon sauce." He's painstakingly laid out a beautiful black-and-white universe where it's clear who the winner is (Jake) and who the bad guys are (all those who threaten love and Jake).
 
Still, I can't give a total endorsement of this book without warning you, the reader, that Chris Harrison can't write a sex scene for shit. But this, too, is in keeping with The Bachelor's approach to love: Close the door of the Fantasy Suite before the interesting/dirty/sexy stuff really begins. Make sure sex exists only to support true romance, and as such, it must be beautiful, reverential, heavily sanitized, and take place in a beautiful setting.  
 
Harrison says Nicholas Sparks advised him to write what he knows (advice passed on over glasses of wine, naturally). In Harrison's case, that means "irresistibly predictable romance in a destination setting, featuring people who probably have nice teeth." I am happy to report that Harrison has followed this advice absolutely.