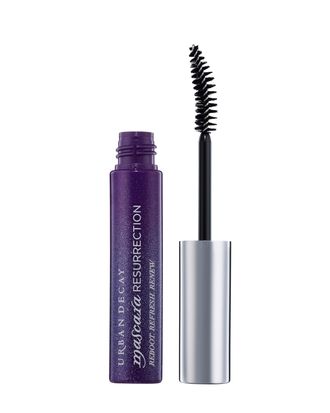 Why is it that one or two coats of mascara looks fine — but three is inevitably a disaster? I've found that the solution to avoiding a clumpy mess is Urban Decay's Mascara Resurrection, which serves two functions: It separates clumpy spider eyes and makes additional coats of mascara, even hours after the mascara has dried, much easier to apply. The formula —  which mainly consists of glycerin — softens mascara and makes your lashes more pliable. Unlike eye-makeup remover, which can be messy and completely erases all traces of mascara, Mascara Resurrection only removes a tiny amount of mascara, and looks a lot like lotion before it dries clear and shine-free.
To de-clump, I like to squiggle Mascara Resurrection on my lashes from root to tip. This separates my lashes and sweeps away any extra mascara gunk. After that, I immediately apply a final coat of mascara, which glides on just as smoothly as it would on naked lashes, and of course, makes my lashes appear longer and fuller than before. Though Mascara Resurrection was able to revive my lashes that were coated in both traditional and waterproof formulas, it didn't work so well with my fiber mascara, which seemed to hold on to my lashes for dear life. But on every other occasion, Mascara Resurrection virtually eliminated the threat of spider eyes.
Urban Decay Mascara Resurrection, $16 at Sephora.