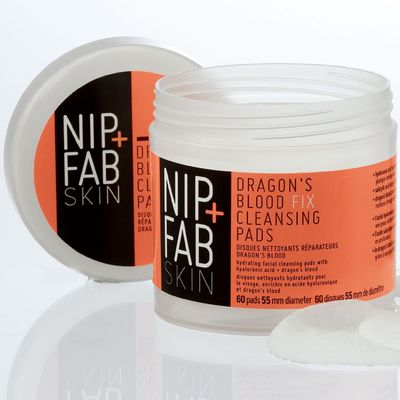 Nip + Fab Dragon's Blood Fix Cleansing Pads.
Photo: Courtesy of Nip & Fab Skin
In less than a year, I've gone from the laziest workout in the world to the New York workout circuit: I've tried everything from indoor cycling classes that play totally bizarre music videos to barre workouts that make my butt cheeks feel like two stainless-steel serving bowls. But with all the new ways to sweat, I've found that my skin has found new ways to break out.
To prevent gym-related pimples, I've been using Nip + Fab's Dragon's Blood Fix Cleansing solution, a pack of 60 round pads pre-soaked with stimulating ingredients. Unlike a facial wipe — which you use to remove makeup and sweat — these pads bring you serious skin-care ingredients to prevent breakouts. The "dragon's blood" refers to a deep-red skin-repairing resin derived from dragon tree bark (no, no relation to Khaleesi) that soothes and calms skin — and also contains taspine, an alkaloid that's linked to fighting melanoma. The wipes also have hydrating hyaluronic acid and a pore-clearing triumvirate of salicylic acid, witch hazel, and castor oil. Consider it a fancy facial inside of a little pad.
I wipe down my face twice whenever I work out: once before a class to remove makeup, and once after to wipe the sweat off my face. It takes 30 seconds, at most, and although it's a waterless cleanser, my face never feels dry or taut after use. Instead, it's soft and smooth. And, best of all: Since I started using them, I haven't broken out once.
Nip + Fab Dragon's Blood Fix Cleansing Pads, $12.99 at Ulta.