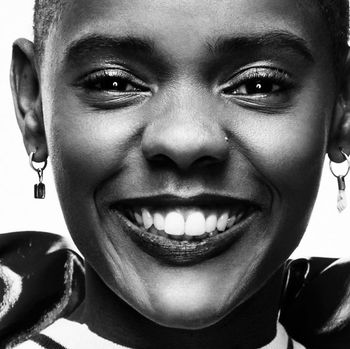 Lizzy and Darlene Okpo.
Photo: Christelle De Castro
When taking in Lizzy and Darlene Okpo's whimsical silhouettes (chambray overalls with pleats and thigh-baring slits, or flared denim shorts with ruffles) you might be surprised to learn that their feminine line is named after a man — specifically, William Okpo, their dapper Nigerian-expat father. "That was our way of getting him to approve our career," says Lizzy, "because we needed his respect before we started doing anything because [our parents] wanted us to be doctors." After the sisters founded the brand in 2009, it was quickly picked up by Opening Ceremony, where they also worked as sales associates. The ensuing years have brought collaborations with Puma and Brother Vellies, and a shared spot on the Forbes 30 Under 30 list. Their latest project, a brick-and-mortar store in the emerging fashion hotbed that is South Street Seaport, opened in April — but the company remains a low-key family affair.
The New York natives single-handedly run their brand; Lizzy is the designer and Darlene is the creative director, but their assorted duties include finances, interior design, social media, and, as of late, carpentry. (Lizzy has been making furniture for the store.) They name pieces from their collections after close friends, and even set up the store right next to that of up-and-coming shoe line Brother Vellies, designed by their friend and collaborator Aurora James. And when they aren't focusing on expanding their brand (accessories and handbags are up next), the two run a store in New Orleans called Exodus Goods with their partners and close friends Solange Knowles and Armina Mussa.
"Everything is so homegrown," says Lizzy. "I can't duplicate myself, and I can't have an assistant in my life. Sacrifice is something that Darlene and I really learned early on; to accomplish you have to learn how to sacrifice and just do it. You don't have any other option." The two work together seamlessly, though they share different views on clutter. "I'm very, very organized," says Darlene. "I'm always yelling at [Lizzy]. She's not allowed to touch our desk in the back of our store because every time she touches it it just seems to look all over the place — she just works in clutter!"

When the Okpos first started their line, they wanted to skip the conventional route of showing a collection each season — they haven't yet shown formally during Fashion Week. The sisters are more interested in dressing their friends than celebrities, and even created a new spring capsule collection for their store because they were bored. "You're putting on a show for almost $50,000 — that $50,000 can go toward you doing accessories," says Darlene. "My biggest motto is, 'They will find you, trust me.'" Their strategy, adds Lizzy, is "not 'Kylie Jenner has 1.2 million followers, let's get her here [to the fashion show].' Hell no. That's not what our brand will ever be about."

The sisters answered our Taste Test to gauge some of their fashion and pop-culture preferences. Unsurprisingly, they were on the same page about most topics.

Ruffles or pleats?
Lizzy: Pleats.
Darlene: Pleats.
Plunging neckline or high slit?
Lizzy: High slit.
Darlene: High slit.

We hear you're fans of '90s R&B girl groups. Do you have a favorite?
Lizzy: Total or TLC.
Darlene: TLC.

A Tribe Called Quest or Wu-Tang?
Lizzy: Wu-Tang.
Darlene: Wu-Tang.

Nicaragua or Bali?
Lizzy: Both equally.
Darlene: Both.

Favorite place you've traveled so far?
Lizzy: Senegal.
Darlene: Jamaica.
Favorite getaway in the city?
Lizzy: My apartment.
Darlene: Brooklyn Bridge Park.

I need to _____ before the summer is over. 
Lizzy: Own a house.
Darlene: Have about 50 Italian ices.