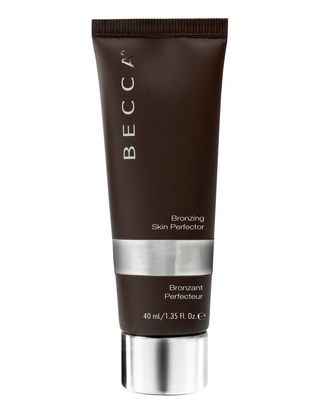 Becca's Bronzing Skin Perfecter.
Just when you thought you knew everything about bronzer, the niche cosmetics brand Becca brings us its Bronzing Skin Perfecter, a bronzer that you apply under foundation and all over your face — not just on your cheekbones.
The Skin Perfecter, which Sephora reviewers praise in droves, is a lightweight cream that dries to a powdery finish — and, unbelievably, it's available in only one color: a smooth milky chocolate, with the tiniest of trace of sparkle. It's meant to be applied all over the face to give you a totally natural glow. (You may also apply the bronzer on top of makeup and target specific areas.) In some ways it acts as a primer, in that it evens skin tone, smooths, and provides a "grip" for foundation. Though it would work well under a medium-coverage foundation, I like to pair it with a lightweight foundation or BB cream so the bronzer can more easily shine through.
The bronzer's universal chocolatey shade is surprisingly flattering for all skin types, but looks different on everyone. On fair skin it creates a radiant warmth — as though you spent a weekend in the sun. On darker complexions like mine, it leaves a sheer, pearly glow that looks like a built-in highlight. When I've told my friends about it, I've explained that Becca's Skin Perfecter has completely changed the bronzer game — although with this game, it seems that everyone wins.
Becca Bronzing Skin Perfecter, $36 at Sephora.