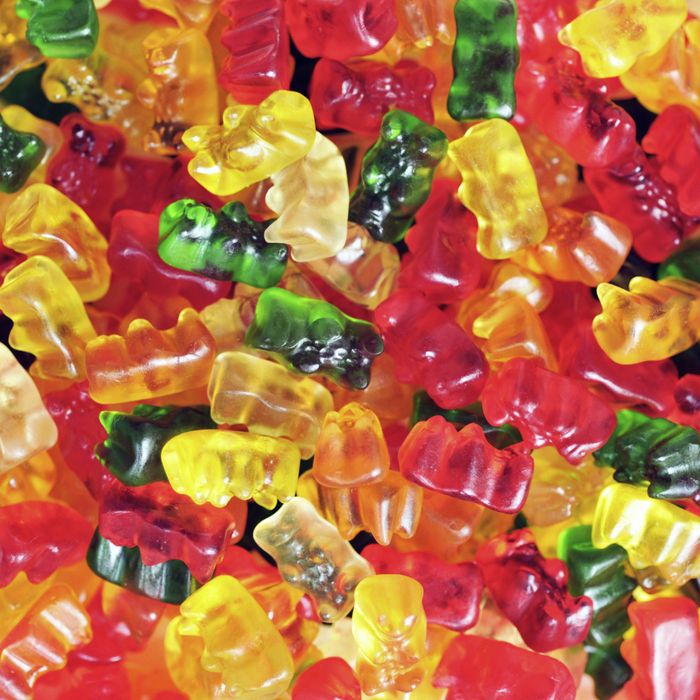 Photo: Sondra Paulson/Getty Images
In an ideal world, my job title would be Kathleen Hou, beauty and gummy-bear editor. With the recent surge of gummy beauty vitamins on the market, I have become my truest self. Companies are conveniently packaging sugary candies shaped like butterflies or bears with biotin, probiotics, and even collagen, promising to accelerate the growth of your hair and nails and make you more beautiful. But are they tasty and do they work? I endeavored to find out. "Keep out of the reach of children!" all the gummy-vitamin labels directed and I followed their advice, pushing gummy vitamins toward all the non-children members of the Cut every time they wanted "a snack," which resulted in everyone eating three times the "suggested" daily biotin intake. We barely survived the experience — but here are our results.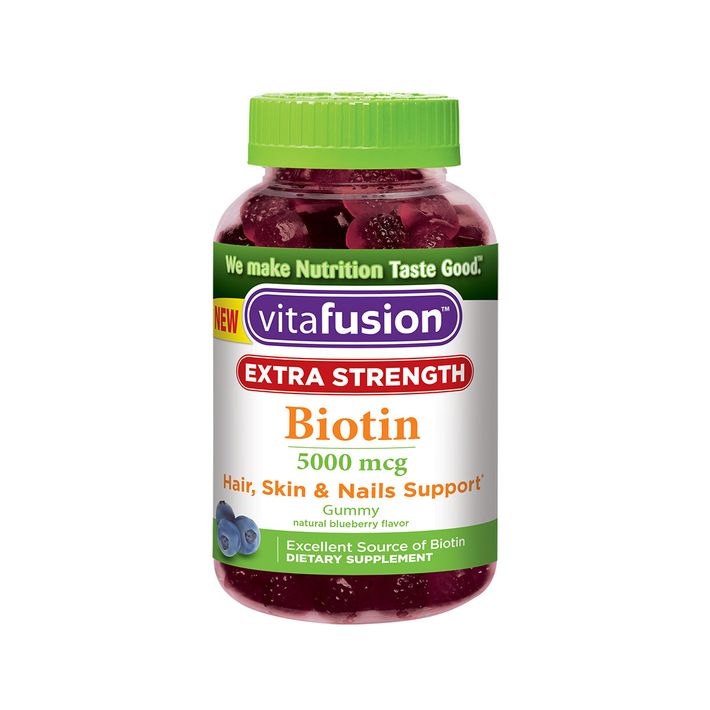 Vitafusion Extra Strength Biotin
These gummies contain the largest amount of biotin, with 5,000 milligrams per serving (two gummies), or 1,667 percent of the recommended daily value. They also taste like Welch's gummy candy, the standard gummy option of office vending machines. Because of the high biotin content, eating too many of these gave a few Cut writers stomachaches. At this point, senior editor Molly Fischer reminded us that gummy vitamins are "medicinal." Don't be like us.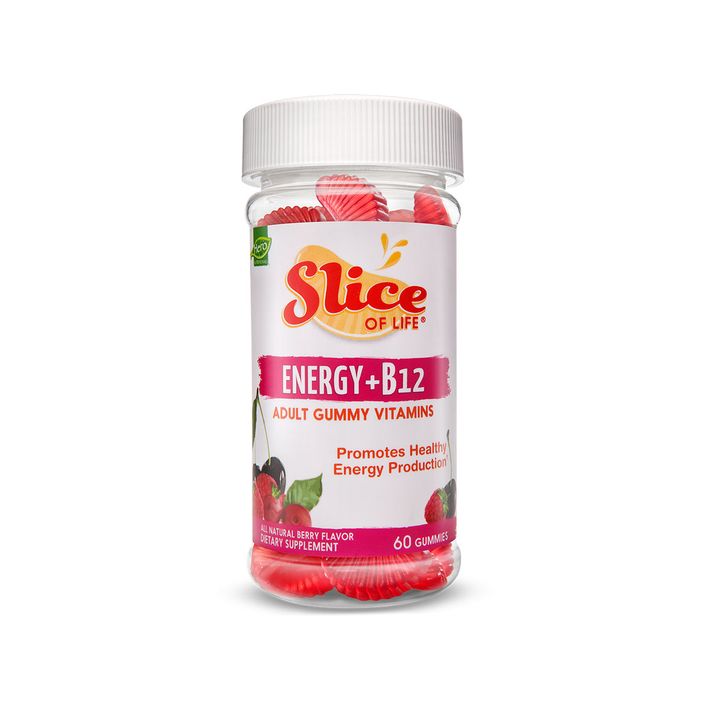 Hero's Nutritionals
Although technically not a beauty-vitamin brand, the gummies were by far the most delicious. During a particularly sugar-desperate moment, everyone from the Cut pounded these in handfuls. A single serving (two gummies) of the Slice of Life Energy + B12 version contains 500 milligrams, or 8,333 percent of the recommended daily value of B12. I certainly felt energetic after eating them, but wasn't sure if it was due to the sugar surge (in the form of glucose syrup and natural cane sugar) or the B12.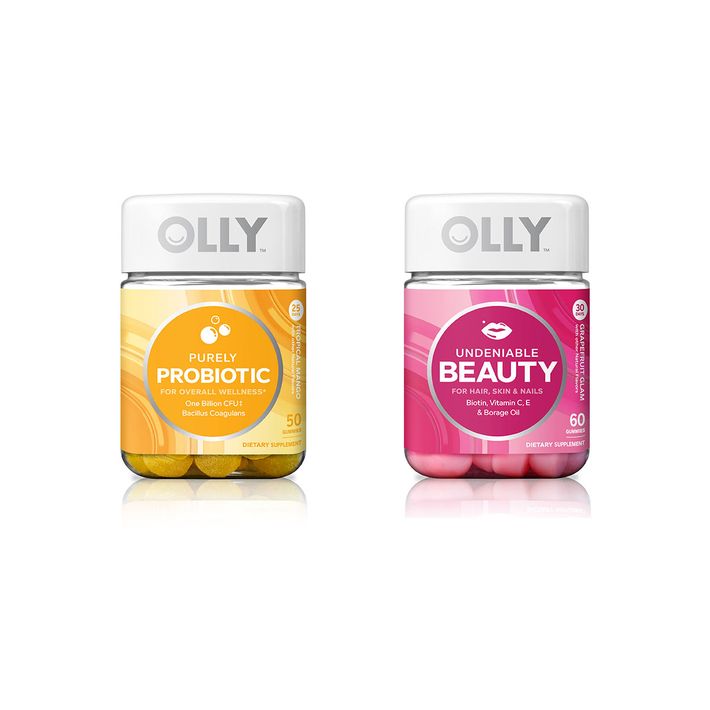 Olly Probiotics
Word about these delicious gummy vitamins traveled through the office. They're from Olly, the company that makes vitamins allegedly designed for millennials, and are supposed to help you sleep (Olly Restful Sleep), poop (Olly Simply Fiber), and digest better (Olly Effortless Digestion). A single serving (two gummies) of the Undeniable Beauty vitamin contains 2,500 milligrams of biotin, which is 833 percent of the suggested daily value. Texture- and taste-wise, these grapefruit gummies tasted the best, with a tangy flavor that wasn't too sweet. The texture was nice and chewy, and the flavor spread evenly all over my tongue. The company also makes probiotic gummies, which are known to improve your skin, and tasted like a tart mango candy.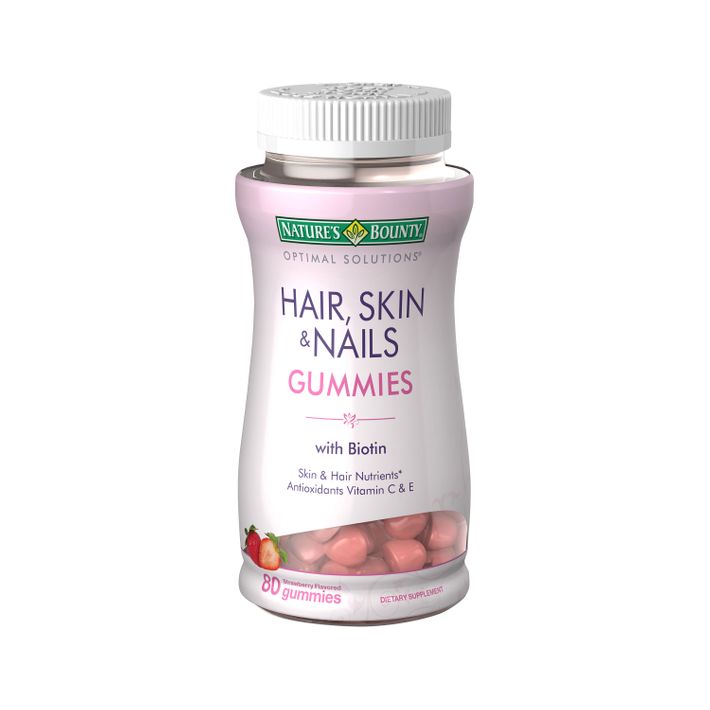 Nature's Bounty Hair, Skin, Nails Gummies
If you like your gummies al dente, à la Haribo, this is the gummy-vitamin option for you. These light-pink gummies come in a dome shape and taste like a mild version of a strawberry milkshake. A serving (two gummies) contains 2,500 milligrams of biotin and about half the sugar (only two grams) relative to the others.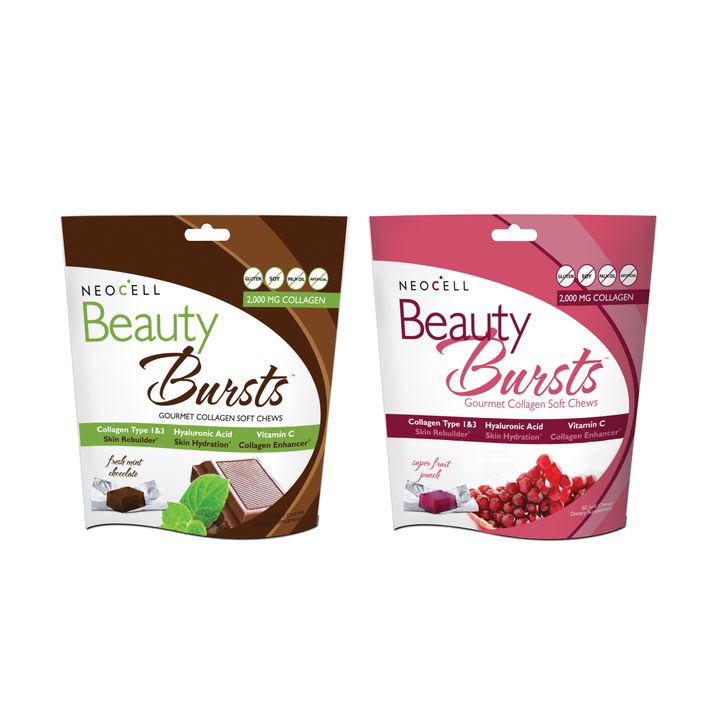 Neocell Beauty Bursts
I unwittingly left these out on a shared table in our workspace and came back an hour later to find half of them eaten, with people asking me what was the deal with "those weird Starbursts." These "soft chews" have the texture of a Starburst left too long in the hot sun, and come in either a berry or mint-chocolate option. Both taste slightly like the flavors they're supposed to resemble, in the way that the piña-colada fluoride your dentist offers you only vaguely tastes like a pineapple cocktail. Each soft chew contains edible amounts of hyaluronic acid (a moisturizer) and collagen, a protein found naturally in the body that makes skin look plump and young. There is mixed evidence from the scientific community that eating either has a direct impact on the way you look.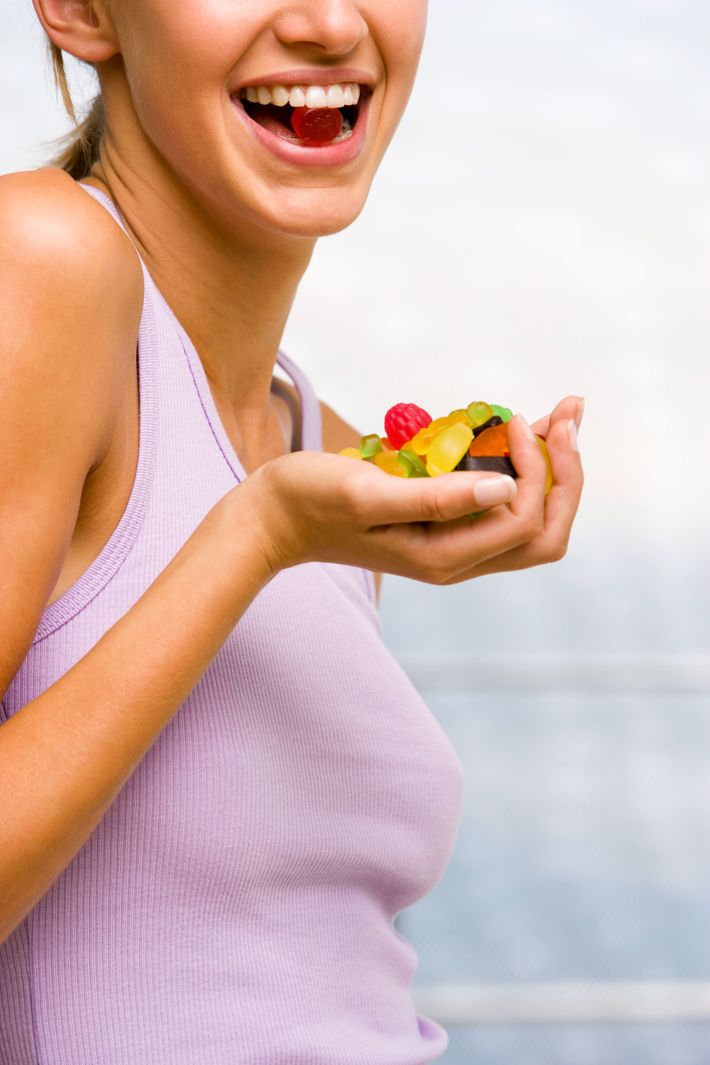 The Scorecard 
After two-and-a-half weeks of conspicuous beauty-gummy-vitamin consumption, I noticed it most in my nails, which seemed to have grown considerably faster. My hair and even my skin (despite the increased sugar consumption) seemed pretty much the same. Cynthia Sass, nutritionist to the New York Yankees and author of Slim Down, has anecdotally heard similar results from her clients. She also explained that biotin vitamins tend to work better if you have an existing biotin "deficiency." People with biotin deficiencies experience symptoms that may include thinning hair, loss of hair color, brittle nails, dry eyes, a red scaly rash around the eyes, nose, and mouth, or cracking around the mouth. "Adequate biotin prevents these deficiency symptoms," she explains, even in gummy form. Nutritionist Keri Glassman agrees: "Just adding more biotin if you don't need it, you may not see results." But the good news, according to Sass, is that "even at high levels, biotin appears to be fairly safe." So keep on taking those gummy beauty vitamins if you want to, even if it's just because they are delicious.