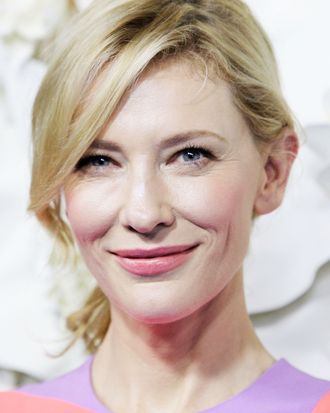 Cate Blanchett.
Photo: Lisa Maree Williams/Getty Images
In Carol, which debuts at Cannes this week, Cate Blanchett stars as a married store clerk who fall in love with a younger employee, played by Rooney Mara. The film is based on the 1952 Patricia Highsmith novel The Price of Salt. In an interview with Variety, Blanchett is asked if it was her first time playing a lesbian. "In film — or in real life?" she replies, smiling "coyly" before saying that she's been in relationships with women "many times."
Blanchett, who is married to playwright Andrew Upton, doesn't seem to care much about labels when it comes to sexual orientation. "I've never thought about it," Blanchett said, of preparing to play a lesbian character who doesn't specifically come out. "Her sexuality isn't politicized," Blanchett says of the character. "I think there are a lot of people that exist like that who don't feel the need to shout things from the rafters."
Because the film features a lesbian love story, Hollywood wasn't very receptive. "It was so hard," Blanchett told Variety, of getting the film made. "Midrange films with women at the center are tricky to finance. There are a lot of people laboring under the misapprehension that people don't want to see them, which isn't true." Carol was in development for 11 years, and multiple directors dropped out of the project before Todd Haynes signed on in 2013.
Blanchett spoke about gender inequality in Hollywood (the ACLU just called for an investigation on the subject) and suggested that she sees hope in the "critical mass of women who have reached a certain place in the industry" like Meryl Streep and Nicole Kidman. "I want it to not be discussed anymore," Blanchett said. "But it needs to be discussed."