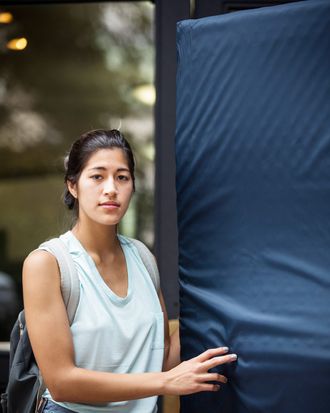 Emma Sulkowicz.
Photo: Andrew Burton/Getty Images
When Columbia University student Emma Sulkowicz first explained her senior thesis, Mattress Performance (Carry That Weight), last fall, she said that she would carry her dorm-room mattress to and from her classes for as long as her alleged rapist remained on campus. "The piece could potentially take a day, or it could go on until I graduate," she said in a video interview last September. Despite some speculation about whether Sulkowicz would be allowed to bring the mattress to Class Day today, the Daily Beast reports that she carried the mattress in this morning's procession.
Yesterday, the Columbia Daily Spectator reported that an administrative email sent to graduating seniors included a new provision barring students from bringing "large objects which could interfere with proceedings or create discomfort to others" to the ceremony. The university did not comment on whether Sulkowicz would be forbidden from carrying the mattress to commencement, but according to people on the scene, she was able to bring the mattress into the tents.