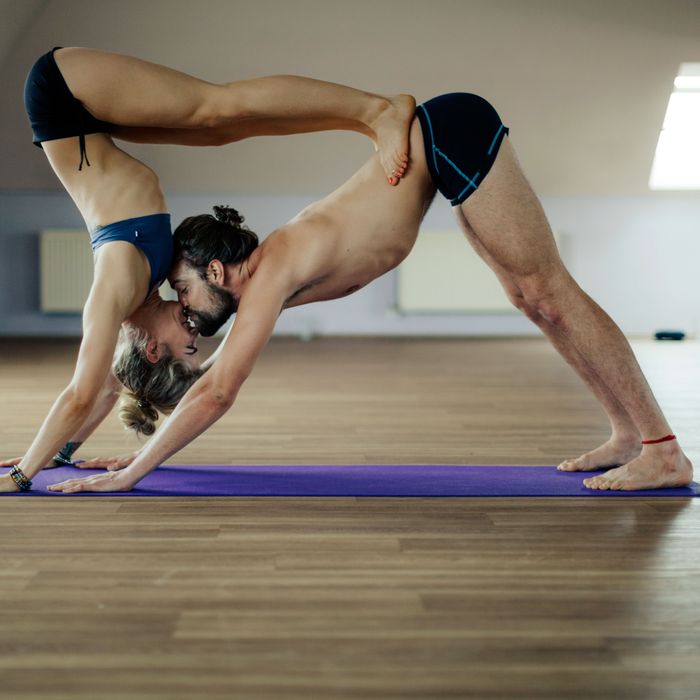 Photo: Eva Katalin Kondoros/Getty Images
You likely know at least one couple who can't resist a gushing Facebook status update or flirty Twitter exchange for all the world to read. Research suggests that you don't like people when they do this, even if you don't know them or their romantic story. But what about when you're confronted with photos of a fit, ambitious couple you know wearing Lululemon and hoisting each other in the air? You gaze upon their musculature and their loving grip on one another. You think: "Could my boyfriend do that?" You are at once entranced and disgusted.
Even if you unfollow both parties, you may still happen upon strangers' photo shoots on the beach or in the park. There are more than 11,000 Instagram pictures tagged #couplesyoga and the movement has its own Instagram account (@couplesyoga) bearing the tagline "learning the importance of trust and communication."
While social scientists have yet to examine the motives of fitbragging couples, a recent study comparing people's personality traits against the content of their Facebook status updates found that those with low self-esteem were more likely to post about their relationships and narcissists more frequently shared updates about their diet and fitness routines. The authors said that less-confident people posting about their partners could be "a way of laying claim to their relationship when it feels threatened" and that narcissists might share how they maintain the flesh to "express the personal importance they place on physical appearance."
Couples AcroYoga seems to lie at the confluence of connection and self-expression. If you've scrolled through the photo stream and have a strange desire to further peer into the depths of #fitspo meets #relationshipgoals, may we suggest browsing the Instagram tag #yogakisses.