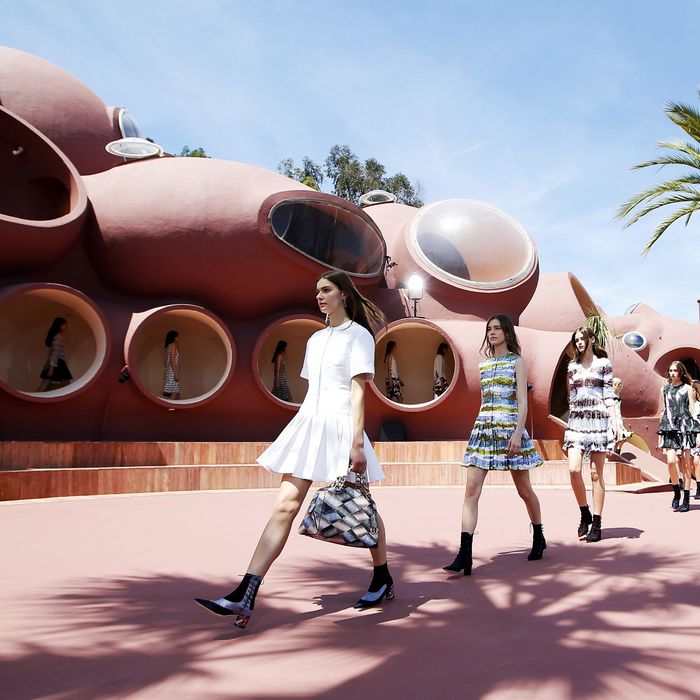 Models in Dior's cruise show at the Palais Bulles.
Photo: Valery Hache/AFP/Getty Images
Life inside the fashion bubble: The truism has perhaps never been more literally realized than at Christian Dior's cruise show today, set at Pierre Cardin's iconic Palais Bulles (Bubble Palace) outside Cannes. The unusual, almost mollusklike structure, designed by Antti Lovag, is a bit off the map of the fashion capitals where these kinds of events usually take place. It was in keeping with the growing trend of marrying fashion and highbrow architecture, as also seen at Louis Vuitton's extravaganza at the Bob Hope residence in Palm Springs and Chanel's equally impressive undertaking at Seoul's Dongdaemun Design Plaza. In terms of luxury-brand marriages, is architecture the new art? One thing is for sure: It certainly makes for a comely Instagram backdrop.
But those expecting a spacey, mod collection coordinating with the surroundings were sorely mistaken — though, in a nice touch, Cardin himself was in attendance. Raf Simons opened with crisp A-line pieces with miniature checks, thigh-brushing hemlines, and pannierlike pockets. Another standout, spread across multiple looks: a stunning metallic print that evoked a mountain range seen from afar, with a somewhat wobbly, desert-hallucination-esque feel. Many of the looks were in black and white, some relatively unadorned, some intricately textured — netting motifs evoked the area's maritime heritage, while mesh dresses with multicolored tufted sections had an innovatively crafty feeling. And while the patterned and metallic minidresses screamed "starlet" — the only question is which Dior girl will wear them first, a few miles down the Riviera at the Cannes Film Festival — the collection fell firmly in the "cruise" category: comely, salable, easy to wear, and simply begging for a Riviera vacation to wear it on.