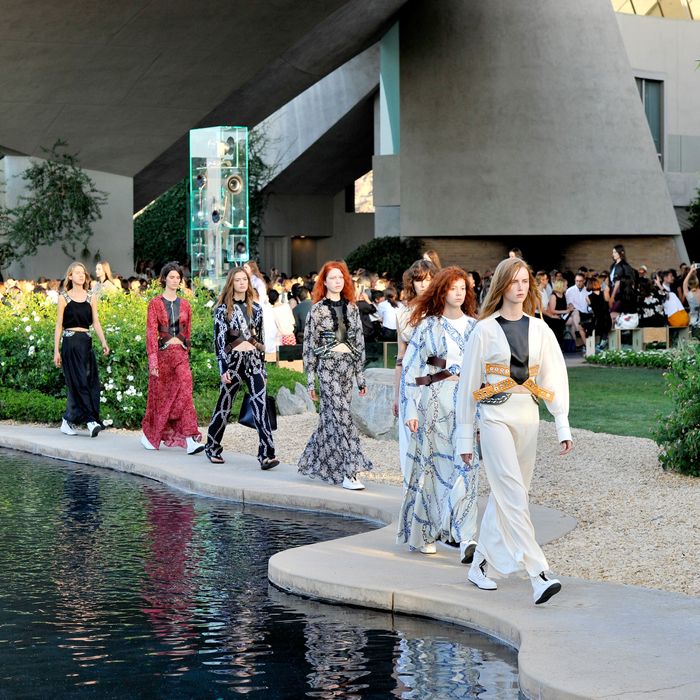 Photo: Donato Sardella/Getty Images for Louis Vuitton
Some 500 people jetted, drove, or helicoptered into Palm Springs on Wednesday for the Louis Vuitton cruise show, held in Bob and Dolores Hope's former home, a massive concrete affair designed by John Lautner that from a distance resembles a space ship, a volcano, or a clam wedged into a slaggy peak above the desert city. Many of the guests were flown in and put up at Vuitton's expense, a practice also used by its competitors Chanel and Dior, and on Tuesday evening the company's chief executive, Michael Burke, gave a dinner for 30 top Vuitton clients, out of 200 clients invited for the show and after-party. They came from China, Malaysia, South Korea, Taiwan, and Thailand, among other places.
"Pacific Rim," said Burke crisply, as though that explained everything. But in identifying a prime sales target for luxury brands, he was also acknowledging a new reality.
Last weekend, Chanel took people to Seoul for its cruise show, and next week the action will shift to the French Riviera, where Raf Simons will present Dior's collection in the futuristic, soap-bubble-shaped house of Pierre Cardin. Modernist architecture is a big attraction for both Simons and Nicolas Ghesquière of Vuitton, and it has put two of the most exciting designers of the era into a kind of competition. As Ghesquière said, "Today people travel to see a building, not just monuments and art, and I think Vuitton has to be associated with architecture." Simons has long been obsessed with the Cardin house. For the junketing editors — a few will actually manage to hit all three locations — the associations are less highfalutin. "It's like camp," said a New York editor, one of many staying at the Hotel Parker in Palm Springs, as he headed off for a body scrub in the spa. So it's more than a show — it's a two-day itinerary of stuff.
Indeed, before the show, before a fleet of black vans and Escalades began ferrying guests up the steep drive to the Hope house, it was hard to see why Ghesquière and Burke had chosen Palm Springs. Its mythical associations with Rat Pack glamour have been on the wane for years, and mostly what one sees in this flat, verdant oasis are blocks of gated developments, retirees, a smattering of high-end vintage furniture shops, and places to buy a sun hat and a gauzy print skirt. As it is, the Hope house, built for the entertainer in 1973, directly overlooks a BMW dealership and a neighborhood of small homes and trailers. From a distance, against the heat-seared rocks, the structure less resembles a Lautner masterpiece than a $25 million white elephant (its current asking price by the Hope family).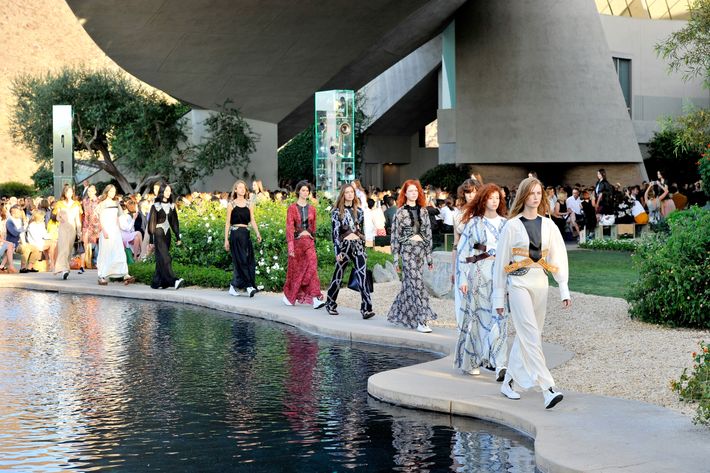 But once up at the house the perspective immediately changed. You were now so far above Palm Springs, on the putting-green lawn of Mister Hope, as to feel in a completely separate world. And the imagination of Lautner, and the positive effects of concrete and glass, were all there to see: in the broad steps leading up to the all-glass entrance, in the generous scale of the black-stone-floor living room, with a boulder jutting through a wall, and in the wide terrace under a high-domed roof, with a volcanolike hole in the center. At one end of the terrace was a huge fireplace, with a grate big enough for a medium-size tree trunk. Singe marks went up the wall. Beyond was an irregular-shaped black swimming pool, and beyond that, hazy in the dusk, was Palm Springs.
The house confirmed many things — not least why successful, rich people like to live high above the rest. But it also elaborated, for me, why fashion companies like Louis Vuitton, Dior, and Chanel now strive to set themselves apart, to make memorable (or anyway big) impressions that are easily transmitted via social media.
In a way, these brands are no different than the attention-seeking celebrities they serve, like those who flounced up the steps the other night at the Met. They, too, recognize that the game is no longer won by the earnest and elegant, as Megan Garber recently observed in The Atlantic. The notion of spending millions on a cruise show, to fly in guests and wine and dine them, might seem appalling, despite the economic benefits to the city (and to caterers and drivers). I kept thinking as I looked around the Hope estate, as a camera-equipped drone buzzed along the periphery, that maybe brands like Louis Vuitton operate a little like small but rich oil countries. Think of Qatar's plan to erect new "cities" for the next World Cup.
As Burke, who was refused use of the house until he got Hope's daughter, Linda, on the phone, said, "It sounds corny but we want to transport people."  Today, that takes a lot of doing.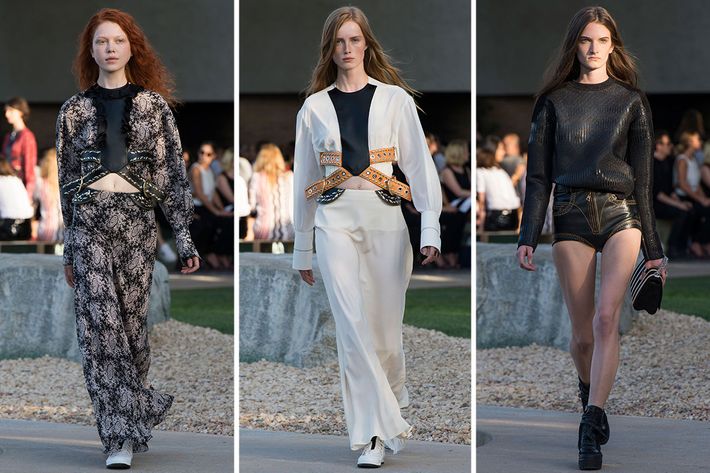 Ghesquière more than fulfilled his part. The collection was loaded with references to California, past and present — in the long skirts worn with sandals or white high-top sneakers, in studded, criss-crossed leather belts that evoked bikers, in the sex-kitten hot pants and modernist Lucite-heeled shoes, in some wonderful high-neck dresses in floral prints that seemed inspired by Victorian-era prairie dresses, with white petticoatlike hems. Ghesquière said it was all there, adding with a grin, "I am a foreigner. I am a French guy in California, so I absorbed all of the vibes of California and its contradictions."
Many of the L.A. guests seemed to agree. Asked if the long skirts would be popular, Elizabeth Stewart, the stylist for Jessica Chastain and Sandra Bullock, among others, said, "Are you kidding? Girls out here love a sweeping skirt."
"It was as if we landed on another planet," the photographer Lisa Eisner, dressed in a spangled tunic with her own jewelry designs, said at the after-party, at the Parker. She had always longed to see the Hope house up close.
Did she know the Hopes?
Eisner shook her head. She then repeated a story that might be apocryphal but was certainly down-to-earth. She said, "If you ever wanted to get a glimpse of him when you came to Palm Springs, you'd go to the airport because that's where he would exercise at night, with a bodyguard."
"On the landing strip?" I said, incredulous, trying to picture the scene.
"No, inside. In the air-conditioning."