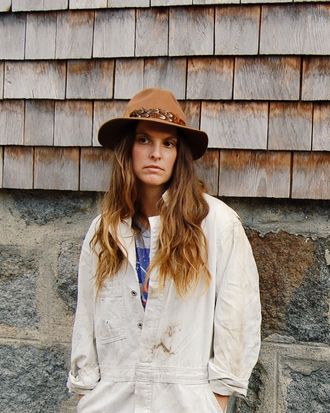 Taylor Johnston is a horticulturalist at the Isabella Stewart Gardner Museum in Boston, but visitors often stop her with a question that has nothing to do with greenery. "Someone will notice the reinforced knee, take a look at the larger patch pockets before asking, 'Where'd you get your jeans?'" she said, of the dungarees she created for her modern women's workwear line Gamine. "I'm always hugely flattered when anyone wants to know more, so I often end up talking their ear off about stitch strength and shuttle looms in North Carolina."
With no formal design training, Johnston started Gamine after a chance encounter with Bill Cunningham encouraged her to reconsider her uniform. The resulting line — born of of limited-edition collaborations — features simple, sturdy pieces for women who require reinforced knees and bandanas for purposes that aren't purely decorative. But each piece garners orders from those of us who work nine to five in a cubicle, too.
Johnston spoke to the Cut about all the crappy workwear she's tested, why it took two years to make a pair of jeans, and what she'll design next.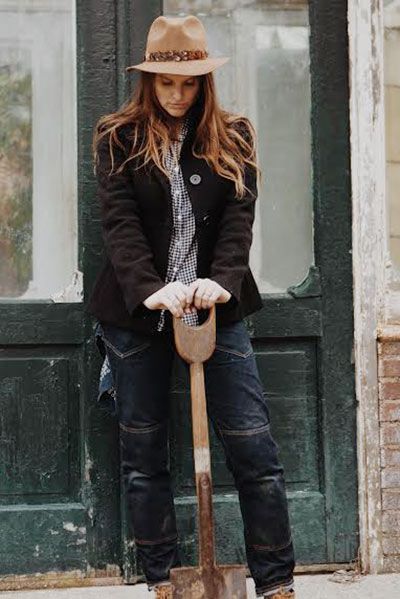 What inspired you to start Gamine?
Gamine's story starts when I was hanging the infamous nasturtium vines in the central courtyard of the Isabella Stewart Gardner Museum. My mentor mentioned that this older guy would be around taking our photo as we worked. From his description, I was expecting a crazy uncle. I was so nervous to carry the precious plants into the museum in April, which — if you know New England — is a really dicey time of year to be moving tender annuals. As I rounded the corner, I heard a voice yell, "Move the vine so I can see your face, child!" My first thought was WTF is Bill Cunningham doing here? Second thought: Shit, I wish I wasn't wearing this. My uniform of ill-fitting men's clothes and bargain-basement sweatshirts, when published in the New York Times, made me look like Little Orphan Annie.
Over the course of the last 13 years as a gardener, I've been a pretty solid guinea pig for all kinds of workwear — everything from Carhartt to the super-expensive workwear brands out of Japan. I relied on thrift stores and the men's rack to put together my uniform. Ultimately, anything that looked cool fell apart in the field, and anything unflattering tended to be more long-lasting. It was as if form and function were mutually exclusive. Soon after Bill's photos went up, I went looking one last time. I had a checklist: I wanted something that was made with transparency, made of natural textiles, made by people earning a living wage, and made with integrity to stand the test of time.
I care deeply about the archeology of workwear in the U.S., so I also wanted to find something that felt like it contributed to the conversation of the proud character of American-made workwear (but I also didn't want to feel as if I was wearing a costume). When I couldn't find anything that came close, I started to make moves, using a partnership model to produce really high-quality goods.
Do you think most women who wear Gamine are actually treating it as workwear? I ask because workwear is now trending to the point where people in the fashion world are raiding utility-clothing suppliers.
I suppose it's possible some of our gals fall in that category, but for the most part I hear from women who are pretty hard-core. One of our earliest customers makes custom sailboat-racing sails on the south coast of Massachusetts. We get orders from farmers of food and flowers; bicycle and auto mechanics; set designers; gardeners; potters; weavers; carpenters; plumbers; DIYers; gals who stock the shelves of grocery stores; island wardens; geologists. It goes on and on.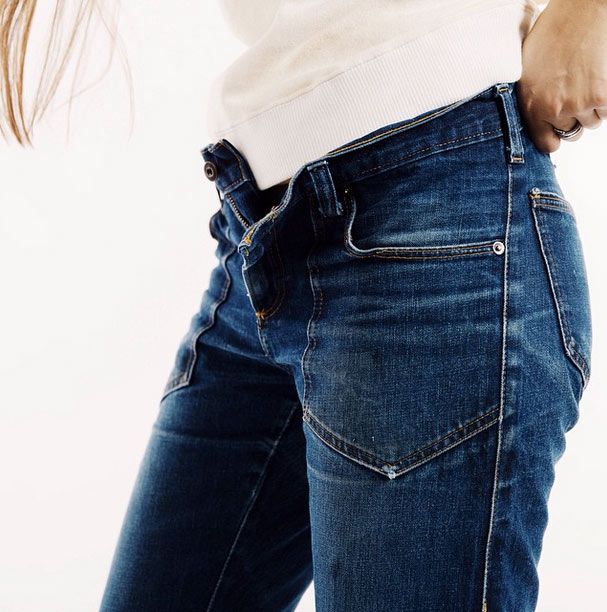 How do you balance creating clothing for women without falling prey to gendered understandings of what clothes should look like?
I've seen so many editorials depicting the work I do via women in gorgeous vintage dresses, which makes for a great photo, but doesn't at all speak to my day-to-day existence. Then there's the stuff sold by larger workwear companies, which is just men's basics in pink or covered in rhinestones. Instead of impractical or absurdly pink, I try to think about what is both necessary and sufficient for someone who works hard every day. There's a no-pink clause on our site.
The dungarees took two years of field trials to perfect. Why did it take so long?
I wanted to test this denim in all sorts of environments (heat, humidity, ice-cold, et cetera) to calibrate how it wore, what kinds of abuse it could stand, and so forth. I gave pairs to folks who work in all kinds of hardworking jobs (farmers, construction workers, gardeners) and collected feedback once they had a chance to beat up a pair. I have a bunch of friends who design womenswear and they all thought I was insane and totally weird for taking so long to release the first fit, but longevity is important to me.
In addition to dungarees, you now sell T-shirts, hats, sweatshirts, and bandanas. What do you hope to make next?
I'm up late working on some more tweaks to two curvier fits for our signature dungaree. Rather than treating all curvier women the same, we're working on two distinct fits that speak to varying degrees of curvature. We're hoping to accommodate as many women as are interested in our product. It's actually kind of remarkable that many women (most notably, women who have only worn workwear) don't really understand how to find the size and fit of clothing that will work for them. For instance, we hear from women who don't know where to measure their waist. It's really nice to be able to help women find a good fit. Aside from the dungarees, we're experimenting with new textiles and thinking about clothing for specific trades. There's lots of work to be done and we're just getting started.
This interview has been edited and condensed.