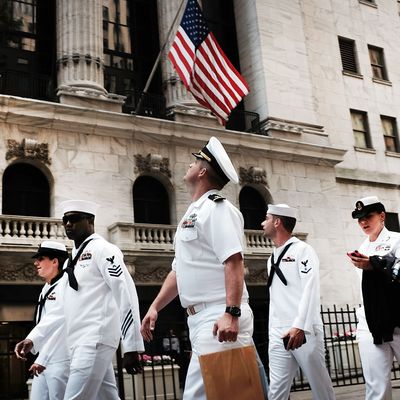 Photo: Spencer Platt/Getty Images
Once synonymous with bar brawls and debauchery, Fleet Week — the Navy's annual field trip to the Big Apple — is apparently not the grand old frat party it used to be. The New York Times reports that this year's crew of wholesome sailors is more interested in experiencing the city's cultural amenities than womanizing. When they're not waiting in line for Shake Shack, the uniformed lads can be found enjoying performances of the American Ballet Theatre's Othello, bird-watching in Central Park, and savoring small plates at the Spotted Pig.
Other trip highlights include visiting the Natural History Museum, seeing The Phantom of the Opera, and shopping for overpriced doll-clothes. "I spent way too much money at the American Girl store," confessed Chief Petty Officer Justin Brown, who told the Times that he came to New York with a detailed shopping list from his daughters. "I got a bunch of clothes for the dolls, and accessories," he added — truly, a model tourist.