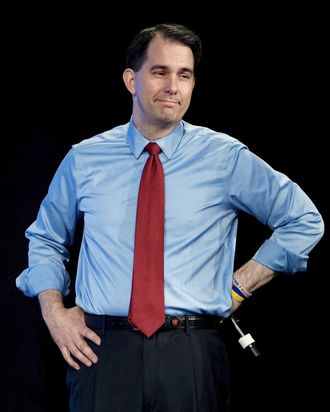 Wisconsin governor Scott Walker.
Photo: Rick Wilking/Corbis
In a visit to conservative radio host Dana Loesch's show, Wisconsin governor Scott Walker chatted about the state's mandatory (and medically unnecessary) ultrasound provision. Walker signed a 2013 law that requires anyone seeking an abortion to undergo an ultrasound; since most abortions happen before 12 weeks, the insertion of a vaginal probe is necessary to detect a fetus, ruling out the less invasive abdominal ultrasound. Afterward, abortion providers must show patients the image and describe it.
"The thing about that, the media tried to make that sound like that was a crazy idea," he told the radio host, brushing off criticism of a law that mandates forced vaginal probes before calling the procedure "a cool thing out there." Walker, it seems, talks to lots of people, and many of them have Apple products:
Most people I talked to, whether they're pro-life or not, I find people all the time who get out their iPhone and show me a picture of their grandkids' ultrasound and how excited they are, so that's a lovely thing.
Perhaps it's worth noting the difference between a photograph marking the early stages of a wanted pregnancy and unnecessarily inserting a dildo-wand in someone's vagina to make them feel guilty for choosing abortion, but it's a distinction that hasn't yet occurred to Walker.
"We just knew if we signed that law, if we provided the information that more people, if they saw that unborn child, would make a decision to protect and keep the life of that unborn child," he said.
The Democratic National Committee fired back with a statement on Walker's words. "No, Scott Walker, mandatory ultrasounds aren't 'cool'," Kaylie Hanson, the DNC's director of women's media, said in a press release. "And Republican attempts to undermine women's health aren't 'cool' either."
Walker has a long history of less than cool behavior; he entirely defunded Planned Parenthood across the state, removed "contraceptives" from the list of services that women's health programs should include, repealed Wisconsin's comprehensive sex education law, and created an unnecessary requirement that abortion providers have hospital-admitting privileges within 30 miles (a tactic used to shut down clinics). Thanks to Walker, there are now only four facilities that provide abortion in the state and two may have to close due to legal barriers Walker has signed into law.