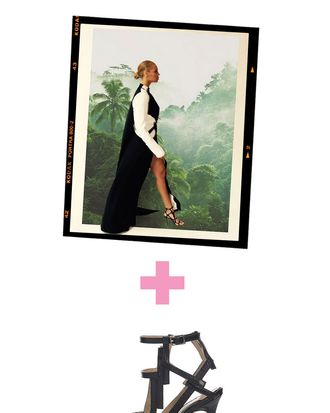 Beyoncé might have shown up to the Met Gala in Givenchy, but her Instagram is actually a great source for emerging designers. Case in point: Five days after she wore the naked dress, she posted a fantastic monochromatic look of a flowy maxidress by United Arab Emirates–based designer Faiza Bouguessa paired with heels from the brand Chelsea Paris, designed by computer scientist turned designer Theresa Ebagua, who creates unique heels inspired by her Nigerian heritage and 1920s Art Deco.
While most of Ebagua's shoes involve bright colors and patterns, this cool black pair is another great option to add to your rotation of neutral heels. For a party-ready outfit, take a cue from Beyoncé and pair them with a simple slit dress, or wear them with cropped jeans for something more casual.
Chelsea Paris Sandals, $595 at Chelsea Paris.