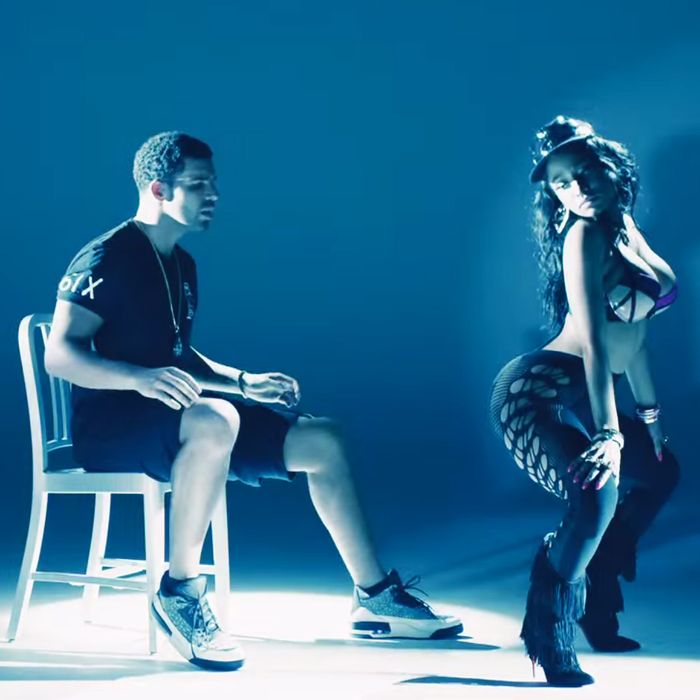 Ass so fat, Drake can't even handle it.
Maybe because it's officially underbutt season, big booties, juicy booties, and especially butts that earn an "ass so fat" superlative are on our mind.
"Ass so fat" is a familiar setup in rap songs — about 140 and counting, according to Genius — and usually yields clever punch lines and/or filthy wordplay. Taking a deep dive into the ass-so-fat construction, we see exactly what a fat ass can do. That fat ass is quite powerful.

The fat ass, according to Danny Brown, can accentuate a small waist or complement a bad-bitch attitude. The presence of one makes people want lap dances — in fact, it makes French Montana want lap dances on multiple occasions (here and here). An ass can be so fat it defies all understanding of anatomy; at least seven rap songs report an "ass so fat you can see it from the front." In verse, rappers want to hit it from the back, feel on it, dive in it, jump on it, throw money at it. They ask those who possess a fat ass to drop down low or bend over. More often than not, a fat ass grants most people the right to "get it," despite circumstances that would usually prevent them from getting it.

But that's just the tip of the fat-ass iceberg — it's capable of so much more. Imagine, for example, an ass so fat that it can:
Command a lot of space:
"Ass so fat to measure it, I need a rulaaa." —YG, "Bitches Ain't Shit"
"Ass so fat, you can't fit it in ya Honda." —Pac Div, "Number 1"
"Ass so fat, I bet it occupy the lobby." —Creative Gold, "Pose for the Picture"
"Ass so fat can't see all that thru' no peephole." —Rabbit, "#SOFUCKINFINE"
"Ass so fat you couldn't palm it with Shaquille hands." —Scarface, "Fuck Faces"
"Ass so fat I had to walk around it." —Tech N9ne, "That Box"
Render men speechless:
"Ass so fat, man I swear I can't even speak." —Duke Da Beast, "She Say"
"Ass so fat make a nigga say (woo hoo)." —Cam'ron, "Woo Hoo"
Compel men to speak in other languages:
"Ass so fat, making you say 'muchos GRANDE.'" —Fat Joe, "My Lifestyle"
Make people see double:
"Ass so fat it look like two Nicki's." —Slim Thug, "Danny Glover" 
"Girl that ass so fat, from the back, it look like you got on two Depends." —T-Pain, "Don't You Quit"
Take your breath away: 
"Ass so fat gotta catch my breath." —Criss Lyric, "Wild"
"Ass so fat can't breathe in this ho." —the Sparks Foundation, "Lipstick on the Blunt"
Diagnose a potential medical disorder:
"Ass so fat, we call them tumors." —Tone, "Turnt Up"
"Ass so fat, look swollen." —Wiz Khalifa, "Maan"
Serve as a support surface:
"Ass so fat I fuck around and set a cup up on it." —Kid Swagg, "She Got Ass" 
"Ass so fat in fact I put a drink on it and I came right back." —Fat Joe, "Get It Poppin'"
"Ass so fat, probably sit the world on it." —Kendrick Lamar, "Michael Jordan" 
"Ass so fat I could use it as a cup holder." —Cash, "Pussy" 
"Ass so fat you could lean on it." —Shaboozey, "Jeff Gordon"
Deceive, trick, or mislead:
"Her ass so fat, you would've thought it was bogus." —Asaad, "Paint on the Fur" 
"Ass so fat she think police tryna follow her." —Mos Def, "Ms. Fat Booty 2"

Damage personal property:
"Ass so fat that her pants could burst off." —Louis Logic, "Chicks Don't Mind" 
"Ass so fat it's popping out my jeans." —Trina, "I'm Back (Back 2 Business)" 
"Ass so fat just dropped my glass." —King Chip, "Ol' Girl" 
"Ass so fat that it tipped over the Aston." —Kendrick Lamar, "Trip" 
"And my ass so fat, I swear it's bustin' out the seam." —Shawnna, "Big Fat" 

Be used as a weapon:
"Ass so fat, damn I'mma hurt 'em bad." —Nicki Minaj, "Wamables" 

Make men act sexually irresponsible:
"Ass so fat I ain't have no condom, boy, had to hit that raw." —Richie Homie Quan, "Ran Off"
Cause crying spells:
"Ass so fat I'm crying anti-depressants." —Mykki Blanco, "Angggry Byrdz" 

Make everyone horny:
"Ass so fat, all these bitches' pussies is throbbin.'" —Big Sean, "Dance (A$$ Remix)" 
"… ass so fat, tat-ta-tat UHHH, I'mma beat it 'til tomorrow." —Fat Joe, "Porn Star"
"With an ass so fat I can't hold my load." —Fat Tony, "Culo of the Week"

Serve as an advertising platform:
"Ass so fat wanna tat my logo on it." —J. Cole, "Ladies"
Inspire someone to succeed in business:
"And that ass so fat you gotta have some cheese." —Gucci Mane, "Fuck With Me"

Inspire wanderlust:
"That ass so fat (fat), make a pimp like me want to catch a flight (flight)." —Play-N-Skillz, "Call Me (Remix)" 
"Ass so fat I might take a vacation." —Ty Dolla $ign, "I Bet"
Elicit wonder, joy, confusion:
"Ass so fat we all was just baffled." —UC Joff, "Make It Work" 
"She got a ass so fat, ummmm — I ain't seen nothin' like dat!" —Unk, "Back It Up"
"Ass so fat her cheeks were jolly." —CHL, "Damn" 
"Girl, ass so fat, how you support all that?" —Sir Michael Rocks, "In the Loop" 
"Roxy, why that ass so fat?" —Bizzy Crook, "Ghost Stories"
Perform miracles:
"Ass so fat you could bring life back." —Waldo, "Kobes Room (Truth Be Told)"
"Ass so fat she can turn boxer shorts to thongs." —Chino XL, "How It Goes" 
The only two things on this planet that can render an "ass so fat" powerless are money and liquor.