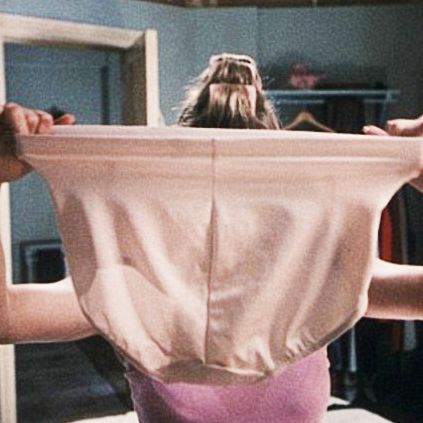 Granny panties. High-waisted briefs. Generously cut, full-coverage undies. Sales of such underpants have grown by 17 percent in the past year, reports the New York Times "Style" section. And who is buying them? Certified grandmas? Wannabe grandmas? Maybe teens, because who knows what teens are up to? And anyway, why?
It seems millennial and Generation Y consumer groups are trading in their thongs for full-bottom unders. The numbers from an "apparel analyst" show that sales of thongs have decreased by 7 percent in the past year, while sales of fuller-coverage underwear continue to grow. The Times argues that the popularity is in part due to a political stance against the tyrannical thong.
The granny panty has become a feminist underwear choice, the Times suggests. In fact, one lingerie company specializing in them put the word feminist on the seat of its granny panties, and they say that it's become popular to share such activist "belfies" on Instagram. The article even goes so far as to reassure those women who want an empowered underpant but still find themselves preferring thongs. "There's nothing wrong with wanting to be more traditionally sexy and wearing a thong," says a woman quoted in the piece. "That doesn't mean you're not a feminist."

Just a thought, though: We would hazard that the preference for the granny panty is more driven by aesthetics (and, yes, comfort) than politics. Thongs as sexy underwear have become a cheesy option. A G-string is obvious. A lace Hanky Panky is a little bit Pumpkin Spice Latte. People just want their butts to look cool, and full-coverage briefs (boy shorts or high-waisted styles) now seem more Chloë Sevigny than Bridget Jones. High-waisted styles of pants, jeans, and skirts have dominated the market for over half a decade now. It was only a matter of time before they became readily available to the mainstream. Tastes change, and sales reflect that.

I'd like to end this rousing discussion of political panties with another point of debate: What does it mean if I favor a high-waisted thong? Go.