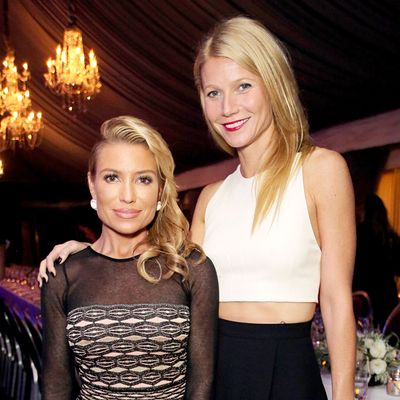 Tracy Anderson and Gwyneth Paltrow.
Photo: Rachel Murray/Getty Images
You'll soon be able to take your healthy, organic Goop to go. Hamptons Magazine reports that noted diet-and-exercise buddies Tracy Anderson and Gwyneth Paltrow have created 3 Green Hearts, a food take-out company. (The third green heart is Tracy Anderson CEO, Maria Baum.) There will be juice, quinoa, and kale ravioli, of course. But "foodie" Tracy Anderson also promises there will be frosting shots! Frosting shots are the new wheatgrass shots! Anderson says:
"I'm a major foodie so there's also going to be frosting shots, but the frosting is going to be made without all of the processed things that really hurt us. I've figured out how to make the best cookies that have no gluten, no soy, no dairy, no nuts, no eggs — all the main allergens. It's also about me being able to settle the inflammation fire that is in so many bodies." 
Anderson also told the magazine that the company may offer green cleaning products and beauty items in the future. Look for those cookies made of air and other edible fire extinguishers if you happen to be near Anderson's Water Mill or East Hampton studio locations.