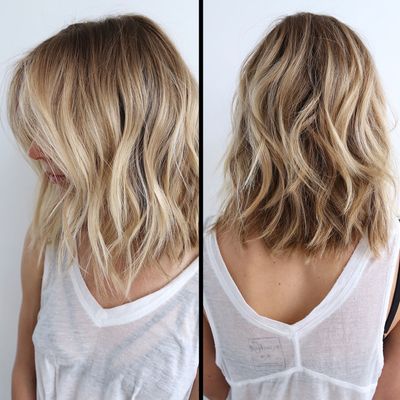 Photo: Courtesy of Ramirez-Tran Salon
They say good things don't last forever — and when it comes to hair color, "forever" usually means six weeks, at which point you're due back at the salon to touch up your highlights. So when my colleague Isabel told me about her favorite colorist, Johnny Ramirez, he sounded too good to be true. "It's six-month hair color," she said. "I never get roots." Isabel discovered Ramirez when she lived in L.A., where his work at the Ramirez-Tran Salon has earned him a cult following among Hollywood types, including Alessandra Ambrosio and Jessica Alba.
Ramirez and his team specialize in "lived-in color" — a subtle, enduring way of highlighting your hair that he insists is neither balayage nor ombré. The color — which he says was initially inspired by the tones in his then-6-year-old daughter Emilia's hair — often falls somewhere on the spectrum between blonde and brown. Made-up words like bronde or blondette best describe the effect. The end of a strand will look ashy blonde, the one next to it, ashy brunette, and the root, a solid brown. But seen a step back, these strands somehow work together to form a hair waterfall of color, thanks to Ramirez's impressionistic blurring technique. (It's also what makes his work so Instagrammable, racking up thousands of likes on his blog and Instagram. Other Los Angeles hairstylists like Guy Tang, who does a more extreme version, have similarly large followings.)
His color may look natural and last you six months, but there's a catch: Each appointment takes about six hours. During that time, Ramirez highlights the whole head, lifts or bleaches the hair, deposits the color, adds a gloss, and takes the time to create a "fake root." He replicates that color atop certain strands a tiny amount, sometimes even just half an inch, so that the hair can match the color of the "fake root" and naturally avoid any harsh demarcation lines as it grows out. (This is what allows clients to visit him only a few times a year.) During an appointment, Ramirez has been known to take clients out of his salon and into the bright L.A. sun so that he can truly assess their natural hair color. (He also works in New York for a week every other month.)
While some may criticize Ramirez's hair-color creations for being formulaic, they aren't wrong. He has precise, memorized formulas for every hair color and a process, which he demands his team of assistants must learn. Part of their teaching is learning to usher clients through the laborious dyeing process, as those in the thick of it can resemble a plaything belonging to your cat from hell, their heads in giant snarls wrapped with tin-foil balls. His many assistants run around with Tangle Teezers to de-tangle hair and one of their first tests, Ramirez tell me, is to sleep with a banana. He asks them to look at the color inside the peel and memorize it. "All blondes need to be lifted to this color," he explains. "I make them sleep with a banana — watch it and wake up to it." He calls it the "Banana Test" and his assistants are permitted on the floor once they completely memorize and can replicate that important color inside the peel.
"Just surrender," he says he tells new clients visiting him in the salon. Surrender sounds good — if it means not going back to the salon every six weeks.