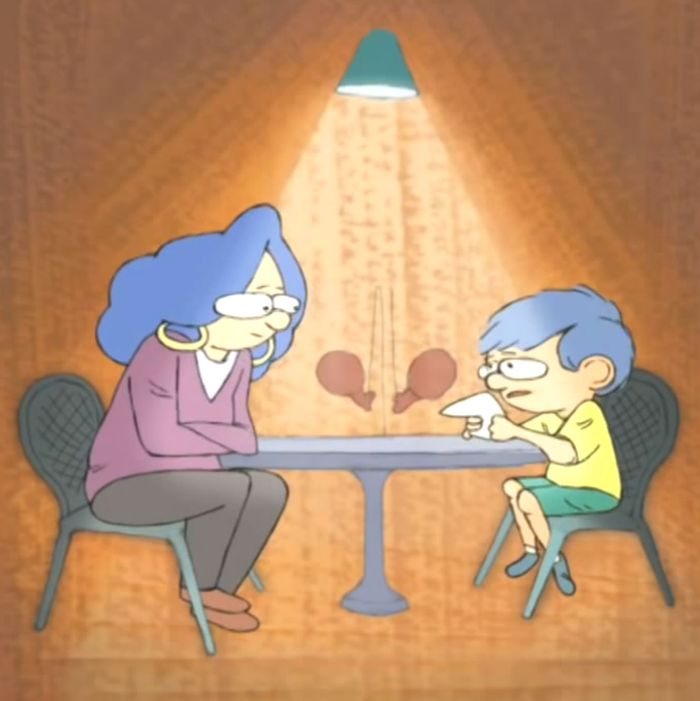 This year for Mother's Day, StoryCorps — the largest archive of human voices ever collected — is encouraging people to celebrate by recording conversations with their moms. Of the 100,000 stories in its archive, some of the most touching are the frank discussions between mothers and children—many of which illuminate just how much we don't know about our own complicated, caring, funny mothers. We picked four of our favorite stories — which StoryCorps has made into animated shorts — ranging from one mother's honest conversation with her 12-year-old son about his Asperger's syndrome to a 37-year-old man remembering what it was like to tell his mother that he's gay. Watch the moving videos below — and maybe, this Sunday, in addition to telling your mom how much you appreciate her, you'll also be inspired to ask her something about herself that you've never known.
"Q&A"
Joshua Littman, a 12-year-old with Asperger's, interviews his mother about everything, from how her life would be different without snakes and cockroaches to whether he turned out to be the son she wanted.
"Me & You"
Jackie Miller finally tells her 37-year-old son, Scott, the reason she decided to adopt a child. Scott recalls what it was like to come out to his mother, and how scary it is to imagine life without her.
"No More Questions"
When she was 87, Kay Wang begrudgingly agreed to record a conversation with her son and granddaughter, in which they question her about her mischievous youth, old boyfriends, and days working at Bloomingdale's. She died a few weeks later.
"The Icing on the Cake"
Connie Alvarez, 33, asks her mother what it was like in the early '70s, after she immigrated to the U.S. from Mexico with two young kids. Her mother, Blanca, recalls the difficulty of working cleaning offices and not having enough money for food, and Connie tells her how inspiring it was watching her mother go to college.
Download the new StoryCorps app to record your own conversations and contribute to the StoryCorps archive.