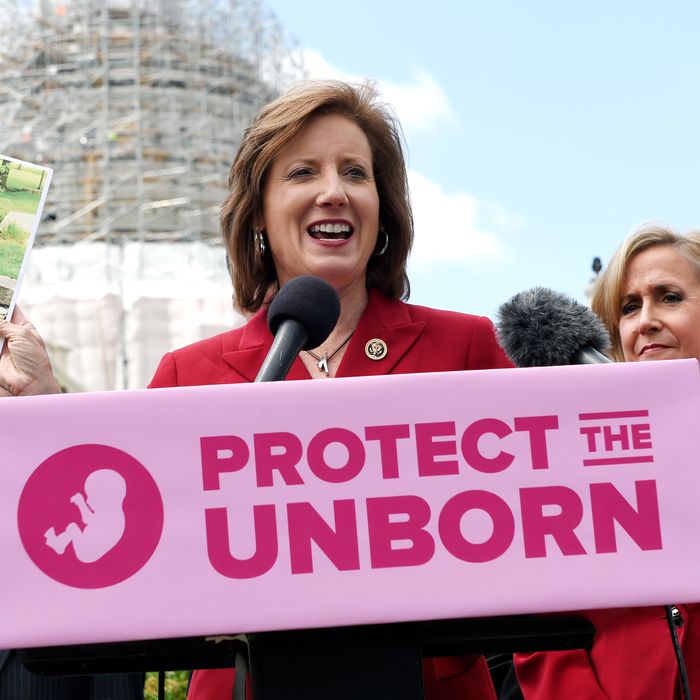 Rep. Vicky Hartzler, R-Mo., center, speaks during a news conference on the Pain-Capable Unborn Child Protection Act on Capitol Hill in Washington, May 13, 2015.
Yesterday, the House of Representatives passed a bill banning abortion after 20 weeks. Earlier this year, the GOP-controlled House canceled a vote on the jargony and misleading Pain-Capable Unborn Child Protection Act, when female Republicans withdrew their support and suggested that its lack of a rape provision would alienate women and younger voters. Since most Americans support abortion in cases of rape or incest, the stipulation was rather extreme, even for pro-life representatives.
The earlier version mandated rape survivors seeking an abortion after 20 weeks file a police report to back up their claims. The bill that passed yesterday lacks the mandatory reporting but has new stipulations for rape survivors: They must receive medical attention and counseling 48 hours before receiving an abortion.
Various state-level mandatory counseling laws are in effect across the country; they place excessive emotional and financial strain on women seeking abortions and they're often replete with medical misinformation. Such stipulations also put pressure on abortion providers who struggle to determine when they can legally provide an abortion.
Per the bill, the only other exceptions for abortions after 20 weeks are in cases of incest or when the woman's life is in danger. There is no exception for severe fetal abnormalities, which is what often leads to late-term abortions. The bill requires a neonatal doctor to attempt to save the fetus if there's any chance it could survive outside of the womb.
"This bill would deny abortion care to a woman even if her health care provider determined that abortion care was her best medical option," Vicki Saporta, president of the National Abortion Federation, told the Huffington Post. "It would also force a woman to wait until severe medical conditions became life-threatening before she could obtain the abortion care she needed."
While only one percent of abortions happen after 20 weeks, the bill is a direct challenge to Roe v. Wade, and pro-life activists hope it'll chip away at existing protection for reproductive rights. It's very unlikely the bill will become a law this year; if Democrats in the Senate don't block it, Obama will certainly veto it. But a Republican president could easily make abortion limits national. Every single GOP presidential contender supports the bill.