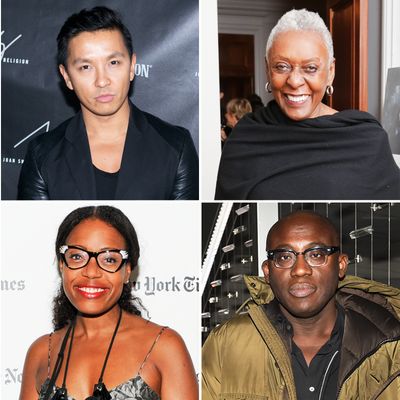 Photo: Getty Images, BFAnyc
The success of Empire was on everyone's minds at yesterday's CFDA panel on diversity in the fashion industry. "If television can be diversified, so can we," said Bethann Hardison, the model agent turned diversity warrior who served as the moderator and host. Hardison enlisted a group of fashion insiders from every corner of the industry: a designer (Prabal Gurung), magazine fashion directors (Elle's Samira Nasr and W's Edward Enninful), casting director Anita Bitton, and an ad exec, Hans Dorsinville of Laird + Partners. They spoke openly about their observations with diversity in the industry — and engaged in conversation with audience members, including designer Tracy Reese, consultant Roopal Patel, and Roman Young from Wilhelmina Models. (Also in the audience: Andre Leon Talley, Public School designers Maxwell Osborne and Dao-Yi Chow, Creatures of the Wind's Shane Gabier, Michael Bastian, and Carly Cushnie of Cushnie et Ochs.) What resulted was a powerful, honest, and at times contentious conversation about an issue all too few people in fashion talk about. Here's what they had to say.
Bethann Hardison: In 2007, when I finally had a chance to do the first town hall meeting, casting directors were saying, "No blacks, no ethnics" to all the agencies. So the global agencies have to literally just stop sending the girls. It wasn't encouraged for the model agents to have too many girls of color because the market had shrunk. Naomi Campbell came to me as well as Andre Leon Tally, asking me to please do something. In 2007, I had the first town hall meeting. And I literally attacked the industry. And what happened from that point on is that we had such support from Women's Wear Daily, the New York Times, and from that point never again did a casting director [say] "no black girls." It's now becoming a little awkward-looking when you see a show and you see not one person of color walking down the runway.

Prabal Gurung: I've been fortunate enough to work with stylists or casting directors where I'm able to voice my diversity, being an ethnic person myself. I've never looked at beauty as black, white, Asian — beauty is beauty, for me, personally. As a designer, I want the best girl. Sometimes an agent will say, if you want this black girl, you need to [also] use this white girl, who I don't like, and then I'm like, all right, I'm not doing that. I'm not just saying agents [are at fault.] I think, collectively, all of us are responsible for it.
Anita Bitton: I've never been in a position where [the designer says] no, we don't want a black girl. I think what happens is, you go through the [casting] process, you see the girls, you see the clothes, and slowly this all goes through this humongous, muddled mess of inspiration until they start to form an idea of direction. We work all year round working out what the look's going to be, who the girl's going to be. I work with Shane [Gabier] from Creatures of the Wind, our first meeting, his big thing was it has to be diverse and it has to be representative of our audience. That's our responsibility.
Edward Enninful: Beauty for me is beauty — there's a certain level of beauty that I like whether it's black, whether it's Asian. It really doesn't matter, it depends on the story. I will use whoever is right for my story. I like the girl to surprise, to push.
Samira Nasr: I grew up in Canada, I'm Trinidadian and Lebanese. It never occurred to me that I couldn't participate in this industry. This is the most colorful room I've ever been in in the fashion industry. And I want to say that, if we want to change this, if we want to start this conversation and move it forward into concrete change, we need to grow this room. We need more designers of color, we need more casting people of color, we need more stylists. And so we have to foster and cultivate and inspire the new generation and help them come up, because that is how we're going to bring about change. It's not about forcing someone's hand anymore, it's about: "Come be part of our industry." I hope that young girls and young boys see that this girl from Canada who's Trinidadian and Lebanese is a fashion director at a major magazine and [think] wow, I could do that.
Hans Dorsinville: [At Laird + Partners], we do fashion advertising for a lot of different clients — from high fashion, like Tom Ford, to lower fashion, like Banana Republic. A brand like Banana, they definitely go in without the idea of one face, and I think that's part of the challenge. When there's one face to the brand, versus when there's a diverse group of people that represent the brand, the approach is very different. So you go in there and when it's one face there's two things that happen. Either it's something that represents the designer: that can be "I want somebody that looks like me," or somebody that has the same spirit as me. Or, "I have a certain kind of customer out there and I need to represent that customer." Then I think when you talk about [mass] brands, they'll come in and they'll always say, we need to make sure that we represent a lot of different people. And there it's a little bit easier, but it does become almost a head-count thing, because it feels like if you've got the one black girl, then you're okay. And then we need the Asian model and the rest of the cast is white. It becomes more "We need to check that box, and then we're okay." You mentioned Empire, and I do think that that show is going to change a lot of things in the sense that it's a successful show, and it gives representation where there wasn't. I think the trick, though, is that you don't want it to be a moment in time that fades a year later.
Tracy Reese: I think we all have to make an effort to reach out and mentor and pull people in, because ours is not really a friendly industry. Somebody might make a place for you at the table, [but] you won't necessarily feel welcome at the table … I'm working so hard to keep my space that I don't have time to look to the left or to the right, or behind me.
Roopal Patel: One of the things I think is important that we speak about as a group is the commercial component to all of this. Because at the end of the day we are a billion-dollar business, globally. A collection has to appeal to a Russian client, a Middle Eastern client, an American client, a Chinese client. I think it's not just the fashion industry. We talk about models going down the runway but it's also how is AT&T creating this idea of beauty and what's accessible? How is beauty being translated? There's so many different ways that we as consumers are influenced, and I think commercialization globally has a lot to do with what models are being chosen. It's about dollars and cents in my opinion.
Dorsinville: I just think a lot of clients end up in a place where they don't want to offend one ethnic group versus the other. It just becomes so watered down that the most common denominator ends up as, "Let's just use a white girl."
Lana Ogilvie, model: When I started, the designer had a concept and a model. The designer worked with the model, maybe the model was their muse and that was how it went. [Now] all of these designers have a corporate entity that they have to answer to. You really don't have as much say in what goes on within your brand.
Nasr: I don't know if I agree. I've worked on shows, and worked with designers owned by bigger companies, and ultimately it comes down to the designer and whoever is in that room. No one in that room is thinking, are the suits going to call and say the casting is too diverse? That's never once been a question. Ultimately one person — the designer — makes the decision.
Gurung: I worked with a major company and that did happen. We'd done the casting, we'd done everything, and the suits came in there and looked at, believe it or not, Liya Kebede — one of the most gorgeous women in the world — and were like, "Why is she in the show?" That is one thing that does happen.
Enninful: Don't you think the world is now at a place where if you aren't showing diversity in advertising or whatever, people can call you out through social media? Before we were a little industry striving in the sky somewhere, and people were looking up. The customer is very savvy now. They're not just gonna sit back and take whatever you're going to throw at them.
Roman Young, agent at Wilhelmina Models: The thing that's interesting is that we're discussing the idea of inclusivity in a business that is many times predicated on exclusivity. This is something that we can all be responsible for: slowly imprinting our beliefs of what beauty is, or reshaping what aspirational is for whatever we do in the business, for me it's beauty. I'm slowly reshaping what aspirational beauty looks like: Is it very fair-skinned beauty? Maybe right now, but I'm going to start adding girls that are a little bit darker, little by little, I'm going to keep them on my board, even if they're not working. I'm going to have the conversation with those models to be responsible to break the barriers, to hold that weight. It sucks, but [I tell them], push the door open a little bit further. Over time we will see change. I've already seen it in my time in the modeling industry and I think that if each one of us do this we can see even greater change at a faster pace.
These quotes have been condensed and edited for clarity.