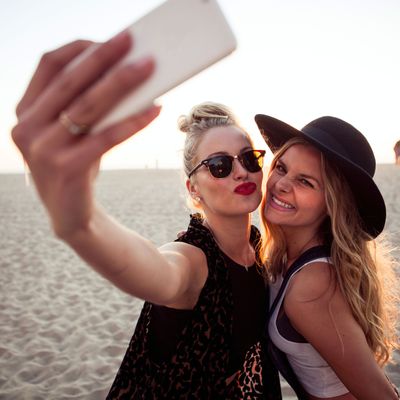 Photo: Cultura/Christin Rose/Getty Images
Last month, my friend Juliet flew to Mexico to meet me in Tulum. On the airplane to Cancún, she ran into four Tulum-bound New Yorkers she knew, one of whom was coincidentally seated next to her. (They talked business.) Upon arrival, she split a van with the five New Yorkers she'd intended to meet there, drove the 80 miles from Cancún to Tulum, then unpacked at Papaya Playa, a resort where you can do yoga on a surfboard in the ocean — and ran into four more New Yorkers she knew. She even ran into one New Yorker she didn't know — but whose purple ombré hair she recognized from her stylist's Instagram — at the hotel's breakfast, on the beach, and when she wandered onto the wrong cabana's porch and intruded on an intimate moment between Purple Ombré and her boyfriend. "I can't believe we came all the way from New York so you could have awkward run-ins with the same people you run into there," I marveled. By the end of her stay, she could have drafted multiple football teams with all the New Yorkers she'd hung out with on the beach.
Tulum is the last stop in the tourism-friendly region of Mexico known as the Riviera Maya, a stretch of coast that includes beaches, jungles, and Mayan ruins. Driving south along the coast from Cancún, it's as far as you can go before hitting the Sian Ka'an biosphere, a nature preserve the size of Rhode Island. Tulum is, then, as far from Cancún as you can be while still being in spitting distance on Cancún — the ultimate spot for those seeking an easy, cost-effective trip to Mexico but would rather die than be seen at Señor Frogs. And just as sororities seem to uproot and wholly relocate themselves, every spring, to Cancún, all of Williamsburg seems to have transported itself to Tulum this year. If Williamsburg is the frat house of trend-whore Brooklyn, then Tulum is our Cancún.
In recent decades, Tulum and Williamsburg have been developing in parallel at comparable paces. The Bloomberg-era rezoning initiatives that laid the groundwork for Williamsburg's shift from warehouses to luxury condos coincided with the infrastructure improvements that went hand in hand with the Yucatán's tourism boom. While New York was renovating the L train, the narrow road from Cancún to Tulum turned into a four-lane highway with overpasses. Around the time that Dumbo entered Brooklyn's vernacular, the coastal towns along Mexican Federal Highway 307 enjoyed their own rebranding: In 1999, a local decree turned the region once known as the Cancún-Tulum Corridor into the Riviera Maya. Entrepreneurs streamed in. In 2003, when Argentine model Nicolas Malleville and Italian designer Francesca Bonato opened boutique hotel Coqui Coqui, Jade Jagger was the first guest. In 2004, the New York Times called Tulum a "counterculture haven" in an article about a Californian-run yoga retreat. In 2005, a New York developer converted the late Pablo Escobar's Tulum compound into a luxury resort; rentals started at $3,900/week. Finally, in 2009 (shortly after I fell for my first Williamsburg boyfriend, a guy in a band whose grand relationship gesture was inviting me on a trip to Tulum), the Times published its first 36 Hours in Tulum. In 2012, the Times called it "so popular with the fashion crowd" that "it almost feels like Fashion Week" in winter.
Après fashion insiders, le deluge. Soon after the Times issued its second 36 Hours in Tulum — marking the moment that an expat-run restaurant in Tulum called Hartwood became New York's most-bragged-about restaurant wait despite being thousands of miles outside of New York — Paper magazine declared the city "2014's Most Basic Vacation Destination." (Paper's evidence: Tara Reid posing for naked selfies in the hammocks of Tulum. Once a vacation spot goes Taradise, it never goes back.) "Someone in my Instagram is in Tulum every week," an acquaintance who has never been — but claims to recognize the town's most Instagrammable locations as easily as Brooklyn's best brunches — remarked. ("Someone else did #Tuluminati," a Tulum-anticipating friend said at a party. "You can be #2lum2furious," I replied.) Not that jaded magazines or cheesy hashtags will do anything to derail Tulum's ascent — nor that they should.
"I do have some very romantic memories of my part of Mexico in the '90s," American expat and Riviera Maya resident Kay Walten says when I ask how she feels about the tourism boom. "Like when you go to a restaurant and it's New York prices, and you go, Really?" Back in 1992, when Kay Walten quit her marketing job to move with then-boyfriend Gary Walten to Akumal — a beach town 15 miles north of Tulum — the region's tourism tended toward backpackers and off-road adventurers. Kay worked as a scuba instructor at Riviera Maya's first all-inclusive resort, and in her free time traveled the region exploring underwater caves — and updating Loco Gringo, a travel and bookings website that she and Gary launched. "When we started there were a lot of backpackers," she says. "They were adventuresome people. They were people who weren't afraid to go where there wasn't electricity or water. They came for adventure and for the romance of being in a palapa on the beach." As the region's tourism became "more sophisticated," the Waltens' website did, too, pioneering online hotel payments and expanding her off-hours hobby into an international company with eight employees and a broad network.
"Did you know there's a Starbucks there now? It's basically inside the Mayan ruins," my friend Adam said. Tulum got its first Starbucks in 2014, the same year Williamsburg got its first two. Since 2008, Adam and I have lived in a combined total of four apartments in Williamsburg — and we have taken a combined total of five trips to Tulum. Though his current apartment is 500 feet away from mine, we hadn't run into each other in months when, by sheer coincidence, we booked cabanas 100 feet away from each other at Papaya Playa in Tulum. (He arrived shortly after Juliet and I left, though, so he's not part of her beach run-in tally.) "You know, I walked by the Starbucks on Union Avenue the other day," I confessed. "I wanted a hazelnut soy latte but was too ashamed to go in." Much like the Starbucks I keep gravitating to even though I ought to know better, I keep meaning to find a new vacation spot beyond Tulum. But just as Williamsburg sort of grew up with me — it was all bars when I only wanted bars; yoga studios started popping up around the time that my yoga-enthused yuppie phase began — Tulum did, too, with insufferability accumulating proportionate to, well, everything else. I do not deny that we — myself, my neighborhood, and my favorite vacation spot — are all deeply insufferable.
"So what's the next Tulum?" I asked Kay at the end of our conversation. As a person who simultaneously craves and resists Starbucks, I really couldn't avoid asking for "the next Tulum." The paradox of development is that the hipster yuppies who spur it tend to be the first to abandon it as soon as it seems passé. Like the reasonable human she is, Kay refrained from anointing one but did admit, "some of backpackers have decamped to the Costa Maya," the coastal region south of Tulum that includes Mahahual and Xcalak, and extends to the border of Belize. Adjacent to but more remote than Riviera Maya, the roads and electricity are less reliable, but the environment more pristine and towns less developed. I once had a one-night stand with a guy who lives with three roommates in Bushwick, who spoke glowingly of a Costa Maya road trip. (He played soccer with school children in Xcalak.) Why, you could even say the Costa Maya is the Bushwick of Mexico. If you were one of those annoying New Yorkers who makes that kind of metaphor, that is.