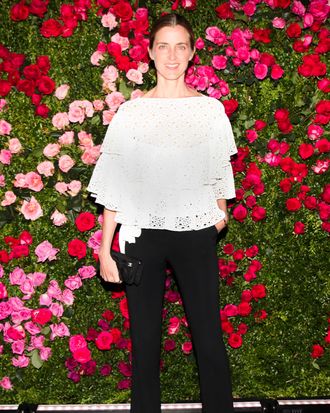 Photo: David X Pruttingnyc.com/BFA
I love advice but in this current day and age, it is just so hard to get it. You don't know how many times I have opened a memoir, literally begging for someone to give me a life lesson, and then am confronted with some version of "I don't want to tell you how to live your life — this is just me"  or "I don't pretend to know what I'm doing, I'm just telling you what I've learned." This is insane. Tell me what to do! I need to know! I can't go on this way!
That's why I picked up Always Pack a Party Dress, a memoir by Amanda Brooks, the former creative director at Barneys, whose English farm was in a J.Crew catalogue. "Always Pack a Party Dress" sounds like advice — the exact type of advice I need, because I am so bad at packing.
So imagine my shock when midway through the introduction Amanda decided to puncture all my advice dreams. "I certainly don't want to give anyone advice," she writes. "This book is not a career guide or any comprehensive memoir. It's just my experience." Ugh!
Luckily, I am not foiled when I face adversity. After I read the book, I realized there was still a lot of advice in it if you read between the lines. And thus, in the style of my internet forebears whom I hopelessly imitate, I have decided to put it in list form for easy digestion.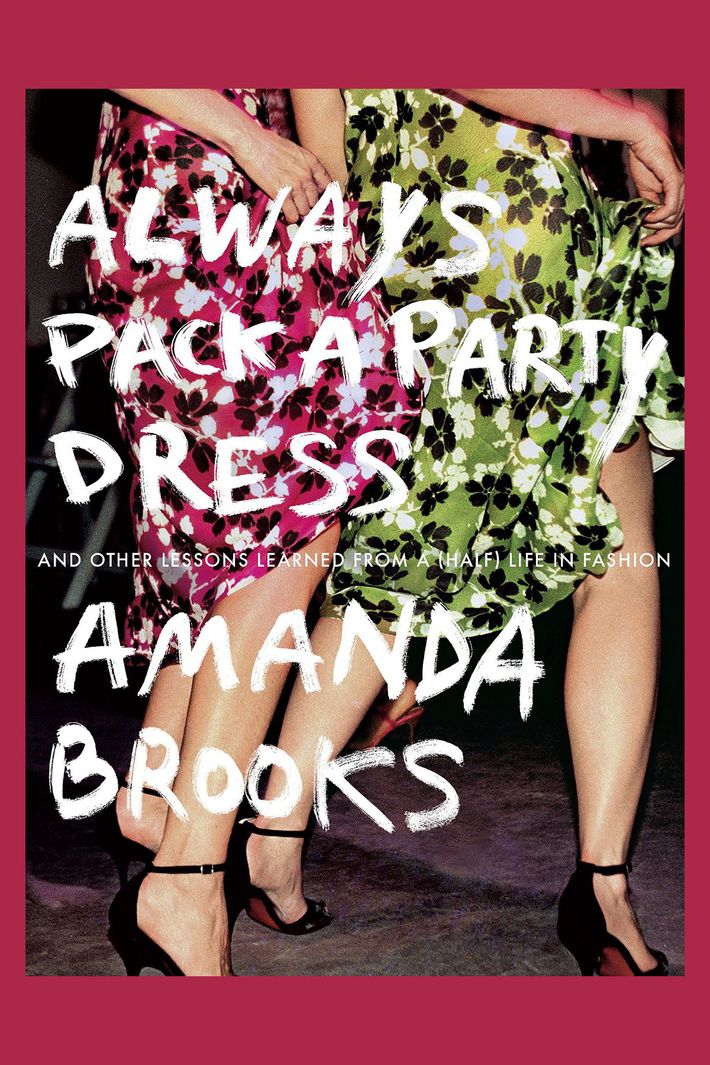 1. Don't be ashamed that you are a Wasp. Embrace it! It's so awesome.
For years, Amanda (who grew up in Palm Beach, went to Deerfield Academy, and majored in art history at Brown) didn't want to dress like a Wasp. She writes poignantly:
I remember going to my parents club for Saturday night dinner … This was WASP central, with men in printed pants and ladies in colorful cardigans. I would do anything not to fit in — I'd wear ridiculously high platform shoes, oversized chandelier earrings or a sundress with Chanel logos all over it (logos are a country club no no). What a show off I was!
But after Amanda had her kids, she relaxed on her trend obsession, and realized that being a Wasp is awesome and you shouldn't try to deny your heritage. "I started to feel that when I dressed in clothes that were familiar to my life and history, I felt more comfortable, more like myself."
This is interesting. I probably should stop trying to not dress Irish Catholic. The one question — what does it mean to dress Irish Catholic? I think it means pretending that you are a Wasp except wearing a dusty red polo shirt, being really short, and having longer, more passive-aggressive funerals.
Done!!!
2. Just be in the right place at the right time!
Amanda was just chilling with her parents at a French bistro on the Upper East Side, when all of a sudden Patrick Demarchelier was there and she introduced herself. Soon after that, she became his photography assistant and met Kate Moss and went to Madonna's birthday. She saw Cindy Crawford in the elevator and they were wearing the same necklace! Then she was in French Sole trying on shoes when Larry Gagosian saw her in the window and offered her a job. She became a "gallerina" at the Gagosian, and then at a party she met her future husband — a man called Christopher Brooks, or "Looks Brooks" for short. He was called that because he was the handsomest man in England. Everyone calls him Looks! Even I would, if I saw him.
Being in the right place at the right time is so key to a womyn's career. As we speak, I am packing a lunch to take to the French Sole store, where I will wait for Larry Gagosian, even though it may be hours. Hi, Larry! Hi, Looks!
3. Take the words "That's So You" as a compliment.
Amanda's favorite compliment is "That's So You." She considers it "the double whammy of a feel-good sartorial pat on the back — not only is it implying that your friend knows you well enough to know what you is, but it also suggests that you, in fact, know yourself well enough to project what you is."
I have to change my idea on that because every time I have heard the words "That's So You," I have taken it as a mortal insult. It has never been said to me without derision. "Why is it SO me? Because it is weird?" I said to myself after a time I wore an all-polka-dot outfit.
4. If Mick Jagger asks for your number, he wants to have sex with you.
Very good advice. One time, Amanda was in Paris and she went dancing with Mick Jagger and he asked for her number. She gave it to him, even though she was madly in love with Looks Brooks. Then he invited her to the Pierre and tried to have sex with her! But she didn't have sex because of Looks Brooks so they just became friends. The moral of the story? Give Mick Jagger your number because we live in a fucked-up society that still thinks he's hot but Madonna is ugly.
5. Don't bother with the Met Ball.
I really felt for Amanda in her chapter about the Met Ball. Some years she was invited way in advance and some years she was kind of a last-minute invite. She would end up thinking horrible things when the invitation didn't come, like, "Maybe I wasn't the cool young fashion girl anymore." It seems so stressful. One time she even went to the Ball in a burgundy minivan because she couldn't get a town car!!
Amanda is sort of ruthless, too, when she goes back and looks at her outfits for the book. She seems to hate almost all of them — especially a pink princess gown inspired by Dangerous Liaisons. Other looks she eviscerates with only a phrase. "I picked a great look and I ruined it with styling," she writes of a green Marni skirt. "I should have worn my hair loosely pinned back." Haven't we all been there?
6. You can get designer things from many places, even your mom!
Amanda had many fashion mentors who taught her how to buy clothing. Her mother had an extensive designer wardrobe that she saved for Amanda, and would occasionally buy her daughter "investment pieces" like Christian Louboutin boots with flat soles. Amanda's college roommate was Carolina Herrera's daughter, who taught her about buying pants. Amanda dated Diane von Furstenberg's son, who introduced her to Diane von Furstenberg.
Despite all this, Amanda had to be creative with her clothing budget. Growing up, she bought things at an outlet mall in Paramus, New Jersey. Later she liked to go to Parisian flea markets and find vintage military pins. Amanda explains:
I was a humble shopper, meaning that my clothing budget was just a fraction of what many of my friends and contemporaries in fashion spent, but the necessity to find things in unconventional places had made my style unique.
I don't know why, but when rich people brag about their frugality it just never appeals to me. I know why they do it. They just want to relate to the plebes and get in on our Nietzschean slave morality. But it's okay that they can't relate. Who cares? I would rather hear a story about how they threw their diamond necklace into the water and a fish ate it thinking it was bait than I would a story about how they got a bargain at Lord and Taylor.  Still, they all like to talk about being frugal, so maybe it is good advice.
7. Don't read Lean In.
A year after Amanda was appointed the creative director at Barneys she got really burnt out and had to quit, so she moved with Looks Brooks and her two kids to England. She "found a new balance" and worked on her book. Still, when Lean In came out, she couldn't read it and she doesn't really know why.
"Why did I feel threatened by the idea of having it all? Was it because I thought I couldn't have it all?"
Whatever. She did have it all! She was making jam on her English farm just like in Scandal. Also, who wants to read Lean In? I would rather read The Stranger Beside Me by Ann Rule.
In conclusion, there is some great advice in Always Pack a Party Dress. As long as you buy ballet flats and marry Looks Brooks, your life will be fine. Also, don't go to the Met Ball and don't read Lean In because there is simply no point. You can't cheat death.
Never again will I be fooled by a preamble about not giving advice in a memoir I read. Really, we have never been in a better time for advice! What is the personal essay, if not advice in the manner of a 17th-century conduct manual? There is just slightly more debate in the comments section.