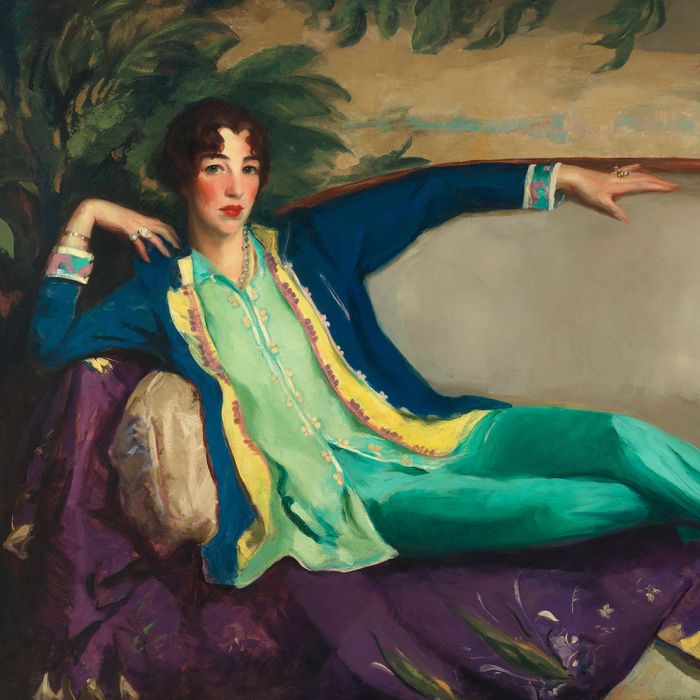 A 1916 portrait of Gertrude Vanderbilt Whitney by Robert Henri.
Photo: Courtesy of The Whitney Museum of American Art
Today, the Whitney Museum's new Gansevoort Street building opens to the public. While the upper three floors house the museum's impressive inaugural exhibition, "America Is Hard to See," the first exhibition in the (free) ground-floor gallery pays tribute to the Whitney's origins with a collection of works from the Whitney Studio Club — the Greenwich Village gallery started by the heiress and sculptor Gertrude Vanderbilt Whitney. The great-granddaughter of Cornelius Vanderbilt, Whitney studied sculpture in Paris, and became immersed in the bohemian New York art world. At the turn of the 20th century, museums and galleries had little interest in art by living American artists. Whitney began collecting contemporary artwork dismissed by the art establishment: artists like Edward Hopper, George Bellows, and Georgia O'Keeffe.
She started showing her modest collection at the Whitney Studio Club in 1914. By 1929, she had assembled a collection of more than 500 works, which she offered to the Metropolitan Museum of Art. When the Met turned her away, she decided to start her own museum, with a mandate to focus exclusively on American art — a marginalized category, at the time. She founded the Whitney Museum of American Art in 1930, which opened the following year on West 8th Street in Greenwich Village.
In addition to being a leading patron of American art, Whitney also had the spirit — and style — of a rebel. A 1916 portrait by the painter Robert Henri, which hangs in the new Whitney building, shows her lounging on a couch, wearing a silky tunic and a pair of loose blue pantaloons. At the time, it was highly unusual to see a woman of her class and status wearing pants — and her husband, Harry Payne Whitney, refused to hang the portrait in their Fifth Avenue townhouse. Whitney's granddaughter, Laura Miller Biddle, remembers her as a beautiful woman who "loved sensuous clothes" — and was tough when it came to advocating for artwork she believed in.
Click through the slideshow for a look back at Whitney's luxurious, evocative style, and her life as an artist and collector.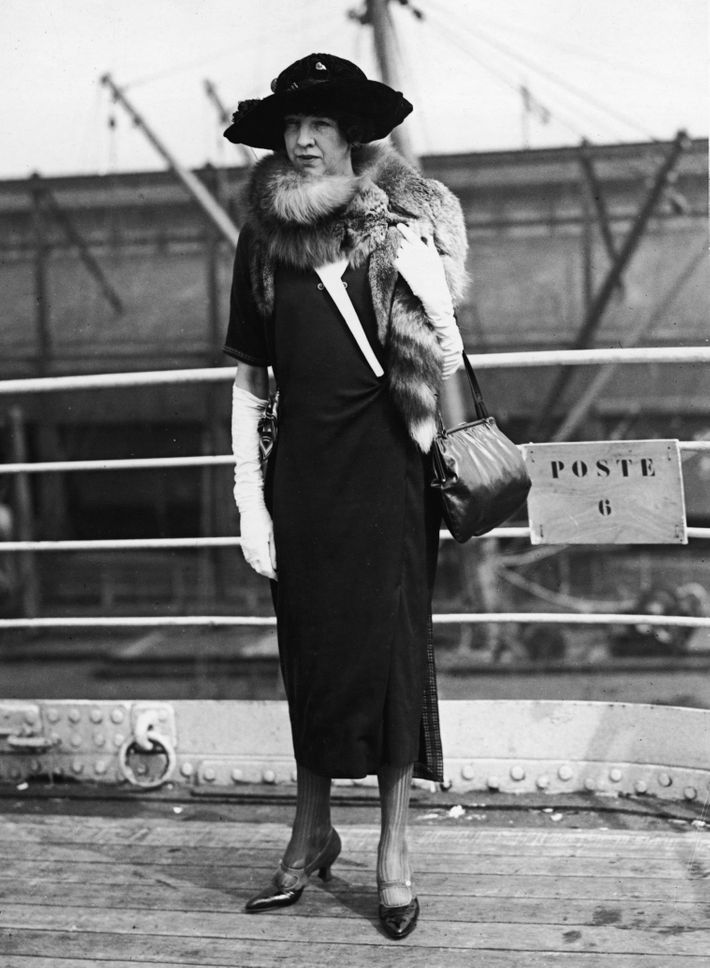 Whitney Onboard the S.S. Paris, c. 1920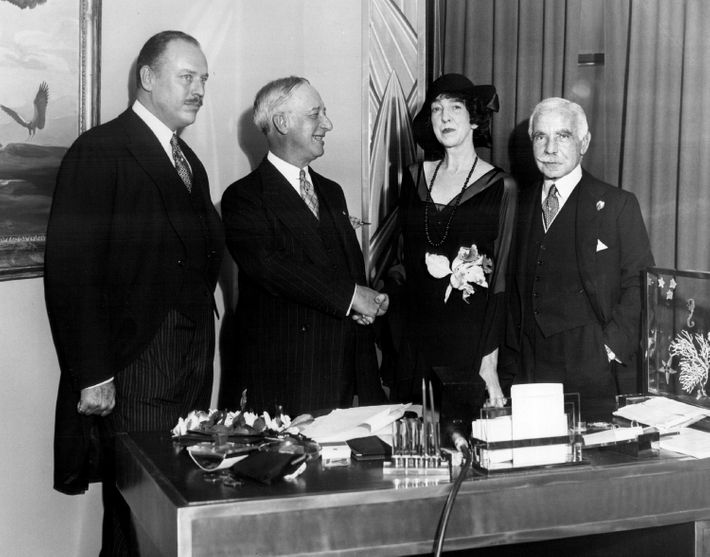 Whitney with Robert Bacon, Alfred Smith, and Otto Kahn at the opening of the Whitney Museum, November 17, 1931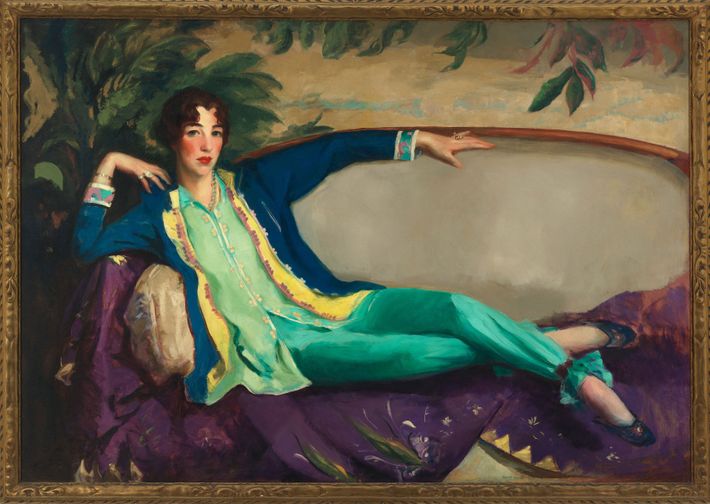 Robert Henri's portrait, Gertrude Vanderbilt Whitney, 1916
Whitney Museum of American Art, New York; Gift of Flora Whitney Miller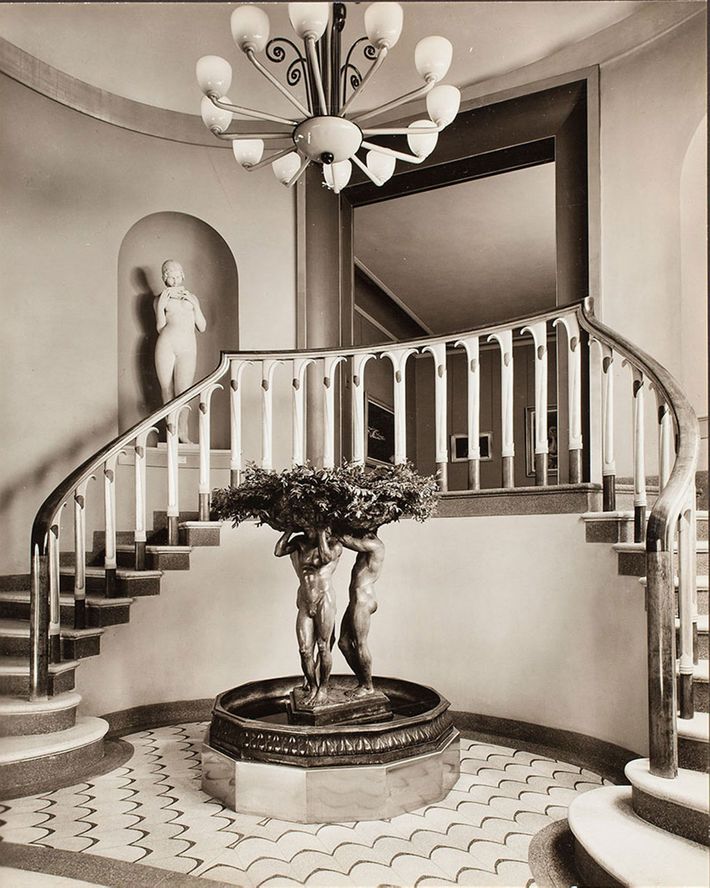 Gertrude's Fountain (1913) in the lobby of the original Whitney Museum, c. 1931–32
Frances Mulhall Achilles Library, Whitney Museum of American Art, New York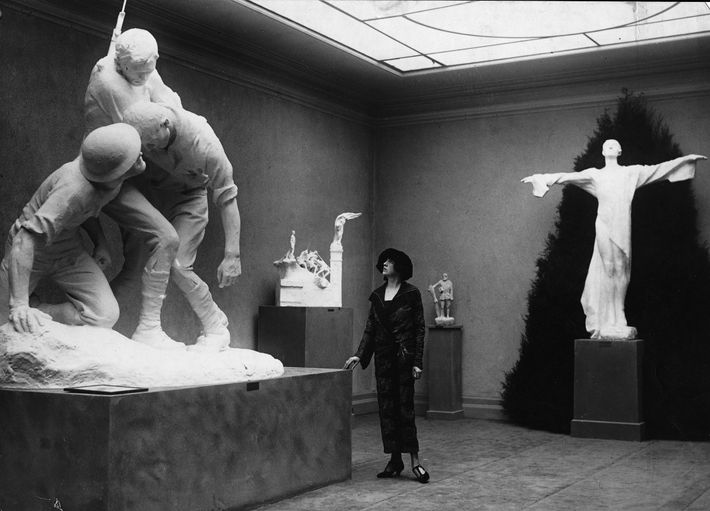 Whitney with her work during the 1919 Whitney Studio exhibition "Impressions of the War"
Frances Mulhall Achilles Library, Whitney Museum of American Art, NY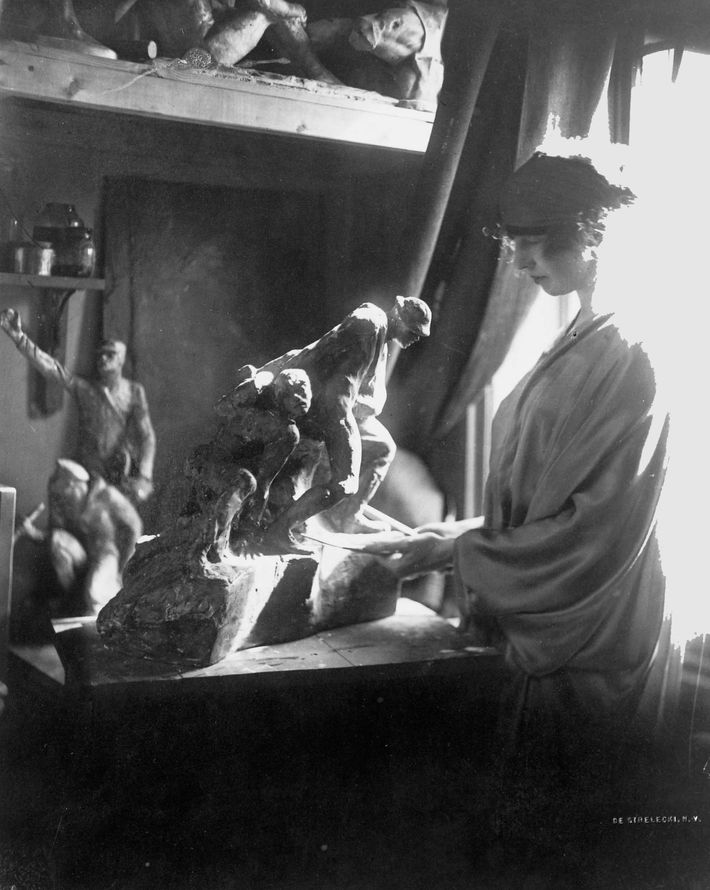 Whitney working at her Macdougal Alley studio, c. 1919
Frances Mulhall Achilles Library, Whitney Museum of American Art, New York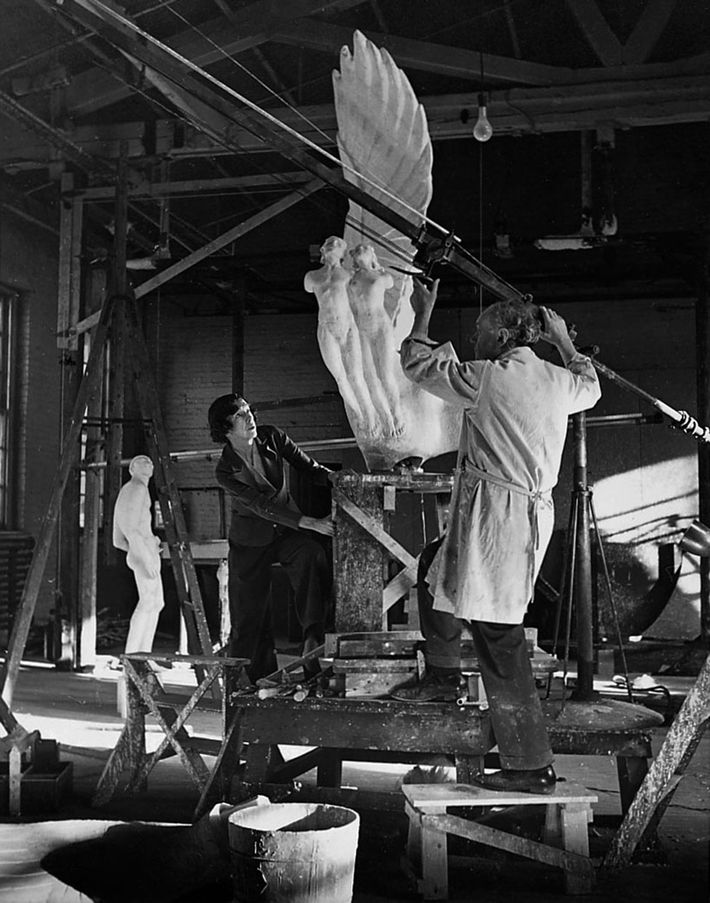 Whitney in her New York studio, working on "Spirit of Flight," 1939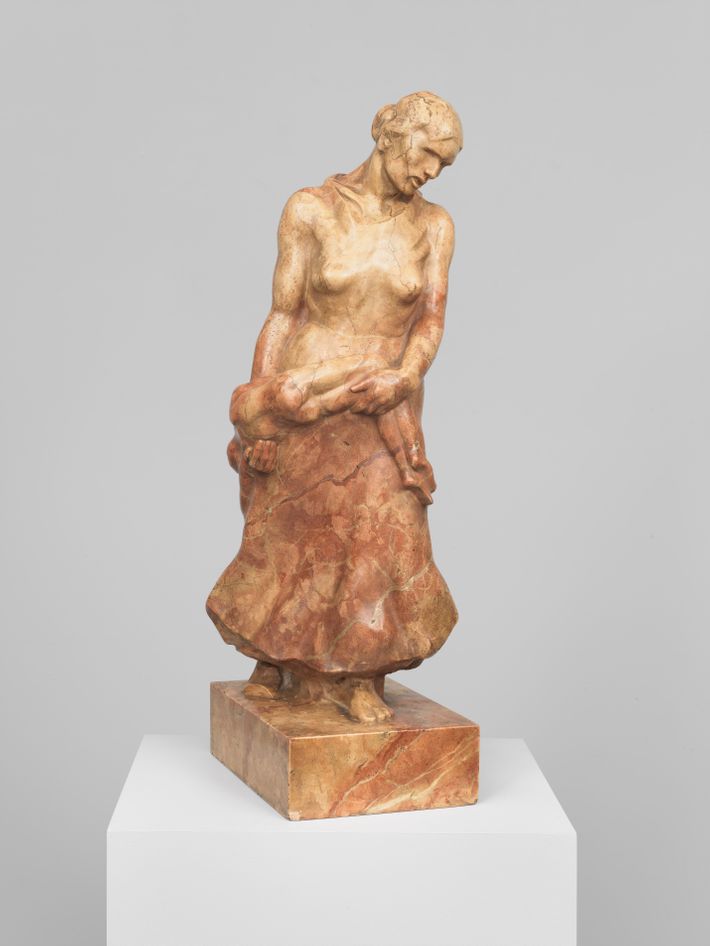 Gertrude Vanderbilt Whitney's Mother and Child, 1935
Whitney Museum of American Art, New York; gift of Mrs. G. Macculloch Miller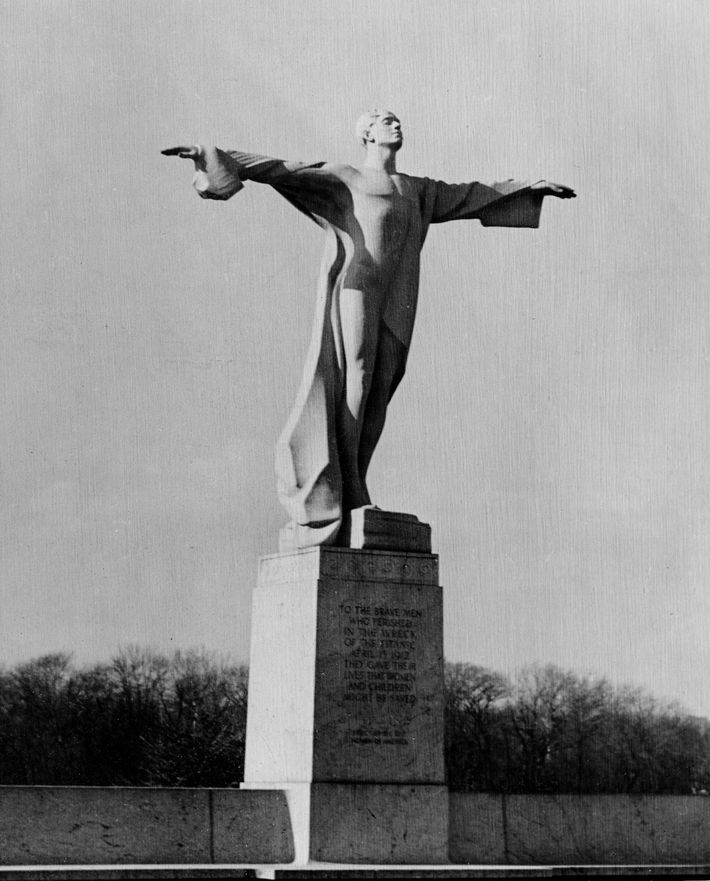 Gertrude Vanderbilt Whitney's Titantic Memorial, Rock Creek Park, Washington, D.C., 1931