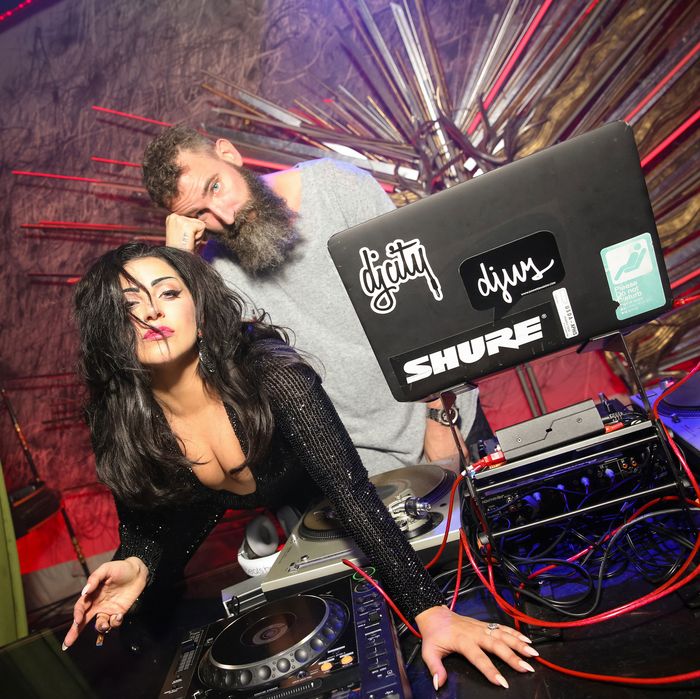 Photo: Benjamin Lozovsky/BFA.com/BFA NYC
The best part about a Met Gala after-party isn't the clothes (since everyone's pretty much changed out of their finery) or meeting famous people (since once you've done that a few times, you realize it's no fun meeting people who don't want to meet you). No, the fun is just standing back and observing how famous folks interact with one another.
The Alexander Wang and Lady Gaga after-party promised early on to be a fun affair. By the time she arrived around midnight to the very Gaga-Wang venue, the Diamond Horseshoe, home of the extravagant dinner-theater show Queen of the Night, Gaga had ditched her pink-netted, black-feathered Balenciaga cape and ran around the party, closely followed by two body guards, in a tiara and plunging black sequined jumpsuit with attached platform boots.
Wang, meanwhile, held the hand of one of his other dates for the evening, Miley Cyrus, still in her high-collared beaded sheath with hip-bone-exposing cutouts. ("I can't even wear underwear with this thing," she'd told us earlier.) Wang dragged her to the dance floor as soon as "Turn Down for What" came on, where Miley immediately pulled out a cigarette and joined Zoe Kravitz and her mom, Lisa Bonet. Bonet, for her part, barely ever looked up from her phone, except to say hi to Kristen Wiig. Who knew they were friends? Or that Wiig is also buddies with Janelle Monae, who came by later. Amanda Seyfried, alone with some non-famous friends in an isolated seating area, also fell into the phone-obsessed category, until boyfriend Justin Long came by to give her a hug. Ansel Elgort and girlfriend Violetta Komyshan stayed closer to the Gaga frenzy, perched near the bottle-service tables, never taking their hands off one another. Cyrus, meanwhile, had retired to a banquette with close pal Rita Ora, now in white pants, a black halter, and a crystal-covered necklace made to look like a snake wrapped around her neck. Bobby Shmurda's "Hot N*ggas" came on and Gaga let down her hair.
Eventually, word came that Madonna was there, and half the room seemed to run off to chase her down. Jennifer Lawrence, now in a slinky silver number, used that opportunity to slip out the back door, while Jenna Lyons walked out the front. She was still in her outfit of "J.Crew pajamas, with just a little pizzazz," and had to stand in the street to smoke because there was too large a crowd of fans and rubberneckers on the sidewalk. "Last year I made the mistake of not being comfortable — and I was definitely comfortable tonight," she said, and kept heading down the sidewalk with her cigarette, presumably to wear her Met Gala outfit straight to bed.
Click through the slideshow below for scenes from this after-party — along with many more — on Met Gala night.
Additional reporting by Ericka Goodman.