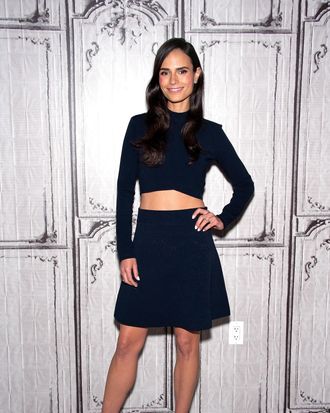 Jordana Brewster.
Photo: D Dipasupil/Getty Images
Next up in our Wellness series is Jordana Brewster, the star of four films from the Fast and Furious franchise. The daughter of a former model, she has an undergraduate degree from Yale and is a soap-opera veteran. The Cut caught up with the actress in her new role as a Pond's ambassador, where she discussed the importance of meditation, a good podcast — and avoiding sushi before a big event.
How I start my mornings: I try to wake up before my son, Julian, around 5:30 and meditate. Then I wash my face, brush my teeth, and use Pond's Rejuveness cream on my face [Editor's note: Brewster is a spokeswoman for Pond's]. Depending on how early it is, I then snuggle with my son in bed for a little bit, and afterward get coffee. I like to wait a little bit before I eat breakfast, so around eight or nine I'll have egg whites on Ezekiel bread with vegetables.
How I like to sweat: I prefer working out in the morning. I think if I leave it to the afternoon, I overthink it and start dreading it. I just have more energy in the morning. I like to run intervals and also hike for about 30 minutes. Three times a week, I also train with either a trainer or by myself, depending on where I am, and lift weights and do squats and jump-squats. I do this year-round, whether I'm prepping for a movie or not. For my personality, it's easier to maintain than to freak out right before a shoot.
To me, wellness is: It means balance. So both physical fitness and then emotional balance, as well. I like Pema Chödrön a lot. I read Deepak Chopra and the Teachings of Abraham, which is like The Secret, where you think positively and that sort of stuff. Other things I like in L.A., especially since we're always stuck in traffic a lot, are uplifting podcasts. "On Being," "Invisibilia" … those kind of podcasts.
How wellness has changed for me: I think my views have shifted from like, graduate from college, get the next job — very material goals — to less materialistic things. I think since having a kid I've become less stressed and crazy and type A, which I think is a really good thing. I just realized that you kind of need to be happy, so make yourself happy.
My biggest wellness struggle is: Before becoming a mom, it was so easy to get meditations in, have balance, and work out. Now, I'm juggling so often that I find my mind being split more and more. It's hard to be present — that's the most difficult thing for me, especially with social media. From always being on Twitter and checking Instagram, it's hard to just stop and be present. That's something I'm constantly working on.
How I eat when I'm alone: I do gross stuff like double-dipping because, you know, who cares if you double-dip when you're alone? I love frozen yogurt, so in L.A. I'll go to the Bigg Chill or in New York, 16 Handles. I love chocolate. There's this thing called chocolate pizza in L.A., which is like the worst thing ever, but it's so delicious. It's warm and cold. It's literally pizza crust that's warm and ice cream and chocolate on top. But generally, I try to be good and eat healthy 80 percent of the time.
My shortcut is: If I'm about to have a big shoot or if I have to fit into a really, really tight dress, I avoid things that you wouldn't expect to be bad. Like carbonated sodas, diet sodas, sodium — I won't have soy sauce or sushi a couple of days before. If I have to be on camera, I'm really diligent about avoiding sodium.
How I end my day: I love rituals and routine. I've always been a little bit boring as far as that goes. As far as transitioning from working to being at home, it's fun to play with my kid and immerse myself in that. I always wash my face, I always take my makeup off and put on a really nourishing, yummy cream, so I feel refreshed in the morning.
My wellness advice is: I think you really have to find what's for you. I want to love yoga, but that doesn't work for me. It doesn't calm me down. Running calms me down more than that. Meditation really works for me. It's been six years now that I've been meditating. You have to find a practice that helps center yourself — it's unique to you.
This interview has been condensed and edited.