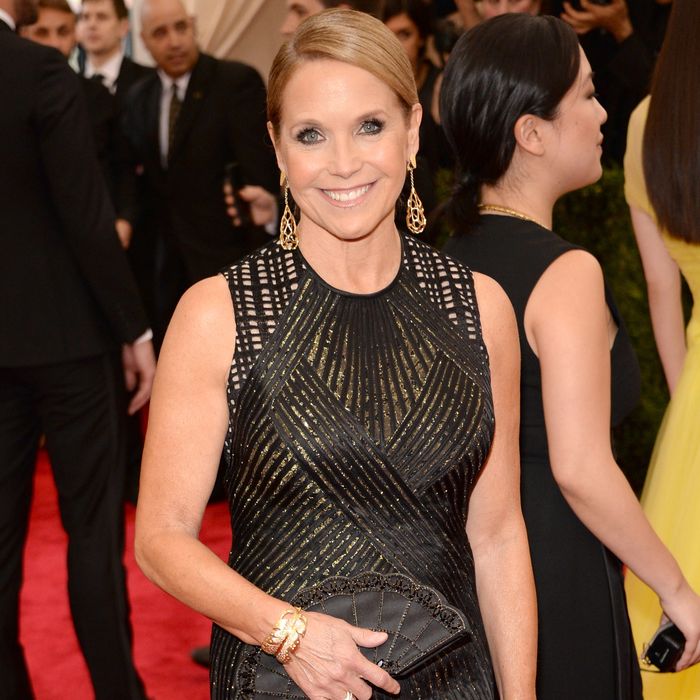 Photo: Kevin Mazur/Getty Images
When Katie Couric paused during her red carpet procession to whip out her phone and and join the Periscoping press corp at last night's Met Gala, it seemed like the whole thing might be a disaster. First, she stood directly in front of the reporters, taking up prime real estate (and parking herself right in front of the Cut's own representative, Ella Ceron), tapping tentatively at the screen and complaining that she didn't have her glasses and couldn't see anything. But within moments it became clear that Couric was probably the best part of the red carpet (Rihanna's train notwithstanding).
"I hope I don't get in trouble," she said as she started shouting at passing celebrities — "I'm Periscoping!" (Charmingly, just like your mom finally figuring out her iPhone.) Bucking red carpet mores, she called friends like Kate Hudson over, dashed across the steps to say hi to Cher (who arrived with Marc Jacobs), and introduced herself to Amal (the only moment she stopped her live stream). Then, after telling reporters that they weren't getting anybody good, she offered to help celebrity-wrangle and dragged Linda Evangelista over to request that she chat with her "new friends."

Not to say that Couric got every celebrity that passed by. When John Legend and Chrissy Tiegen made their entrance, Couric called out, "John and Chrissy! John Legend!" They either didn't hear her, or pretended they didn't hear her like it was the middle-school cafeteria. ("And I know him, too!")

Couric gamely hung out much longer than anyone expected, even after she worried she'd get kicked out of the gala, and even after she turned off her own Periscope and admitted she was getting sweaty and needed to go inside.
But for her hard work, she was rewarded: When Kimye glided across the red carpet, stunning the crowd into silence, only Couric dared yell, "Kanye!" and he smiled in her general direction.