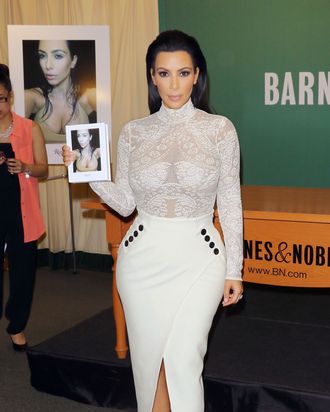 Kim Kardashian.
Photo: Jim Spellman/Getty Images
Kim Kardashian West arrived late. "I mean, I almost couldn't wake up this morning," she quipped upon entering the designated press area — CDs and DVDs — of Barnes & Noble. "Did anyone get any sleep?"
As the only one in the room who hadn't covered the Met Gala last night, I'd slept fine. Outside the launch of Selfish — Kim's thick new Rizzoli book of selfies — I met Kim's "biggest fans": Jessie and Jamie Valvo, 14 and 12, from New Jersey. They were skipping school because "we get straight As and we really love Kim," Jessie explained. They've been up since four in the morning, too nervous to sleep. The sisters were in matching handmade neon pink T-shirts that read "Kim K is my Bae" on the front and "I keep up with the Kardashians better than I do with my own life" on the back.
Once inside, we began the wait for Kim. "She's down the block," someone said. Twenty minutes passed without any sign of her. "She's getting out of the car," we heard. Ten minutes. "Okay, she's really here; she's in the building, I promise." Pot-bellied men with cameras hoisted them up and everyone looked at the emergency exit, which was propped open for her entrance. In person, Kim Kardashian West is smaller than you'd think. A hush fell over the crowd of TV announcers; they seemed genuinely stunned. Kim — in Dior or "deeeee-ohr" as she pronounced it — walked down the greige carpet, answering questions for various TV outlets. "I get that people think selfies are ridiculous, but I'm a really sentimental person," she said. I heard her say the word sentimental at least five times to a number of different outlets, this one included.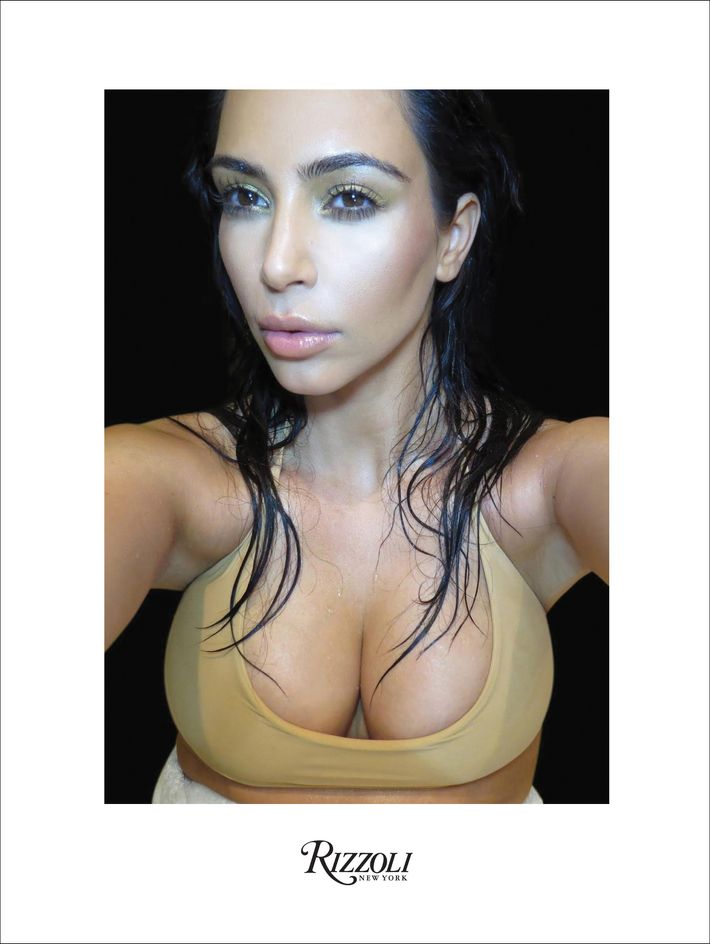 Everyone wanted to know about the Met Gala. Kim insisted she didn't technically break the no-selfies ban. "I didn't even bring my cell phone," she said, adding, "We were inside and Madonna and Diplo wanted to take a selfie. I was like 'Guys, are you sure? I don't want to get in trouble.' As for her dress, she said, it's "always scary to show so much skin," but that she loved the "sheer vibe" everyone was "rocking." Apparently, she's had a photo on her computer for ages of Cher wearing a similar dress in the '70s; it served as the inspiration. Last night, Kim said, Kanye told Cher he was grateful she used Auto-Tune, because she "really paved the way for him."
Kanye came up a lot, and it turns out the book was his idea. So was the title, which is part of Kim's whole "in on the joke" thing. Everyone wanted to know how he was involved in the book's big "sexy selfie section." Apparently, even if you're Kim Kardashian West, you still have to deal with a page limit, so Kanye helped pare down images. "He was like, Babe, why don't we take out the fully nude ones and then you'll be at your limit,'" Kim explained, "so, I was like that works, and I actually think it's good it's not a nude book." As for taking sexy selfies, she still does that all the time. "Anyone who says they've never taken sexy pics of themselves is a liar."
Kim said she wanted to give readers a real insider look into her life, with handwritten captions and a whole range of selfies (sexy, car, no makeup, glam, travel). The book starts with her first-ever selfie. "Khloe was a couple of months old and I put my mom's clip-on earrings on her. Immediately, she was screaming and crying. Kourtney and I thought it was so funny; I took the camera and snapped a picture of me with Khloe. I had no idea it was called a selfie back then."
When asked about Bruce Jenner, Kim said that the Kardashians are producing their own special on what it was like to find about Bruce's transition. She reiterated earlier statements she's made about how proud she is and how much she hopes Bruce's story will help others, before adding: "I mean, for me, the biggest fear was Bruce stealing my glam team. You gotta figure out the makeup stuff and all that, but I can't just give you my team. You need to find your own. I don't want to try to book my people and find out they're busy that night with Bruce.'"
I felt like it would have been a betrayal to leave without at least trying to take a selfie with Kim. Honestly, I almost chickened out. She's really friendly, but she also has a laser focus that makes you feel like she's giving you all her attention. When I asked, she smiled and said of course. We got closer. She blinked her eyes. Her eyelashes looked like daddy longleg appendages; her lips were wet with gloss. I handed her my phone — preloaded to the camera app, set on square — and asked if she ever finds it annoying that everyone is always asking to take selfies. "No, not at all, but this lighting, this lighting I do not like," she said. "Should we turn around?" I asked. We swung around, turning our backs on the rest of the media people; she held my phone aloft, clicked twice and gave it back. "Keep your chin up," she advised me when she looked at the photos. Then she turned and quickly moved on to someone else.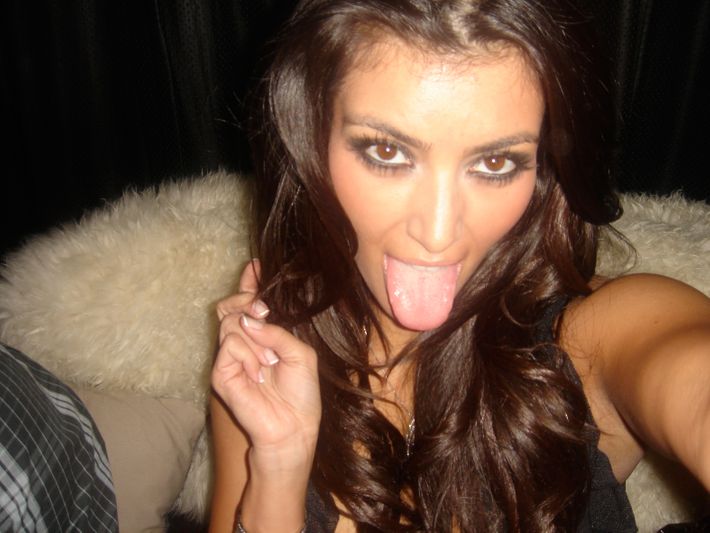 2006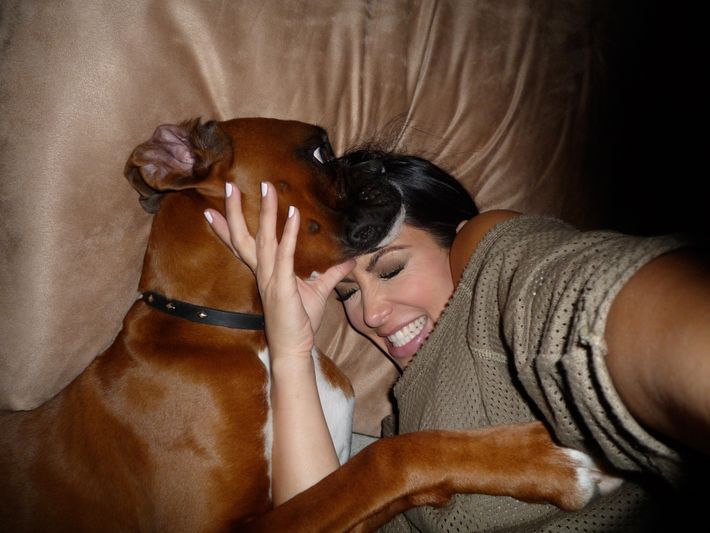 2010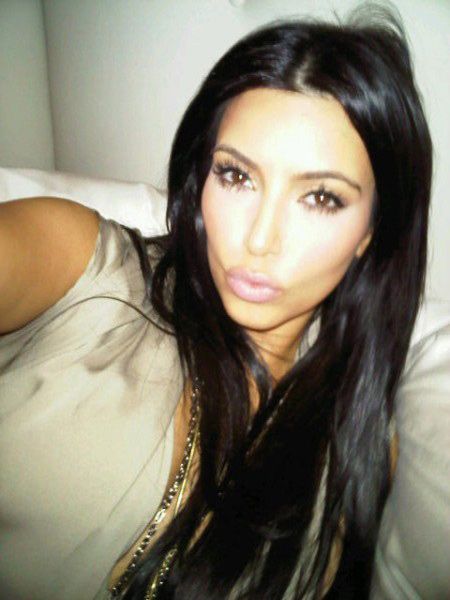 2011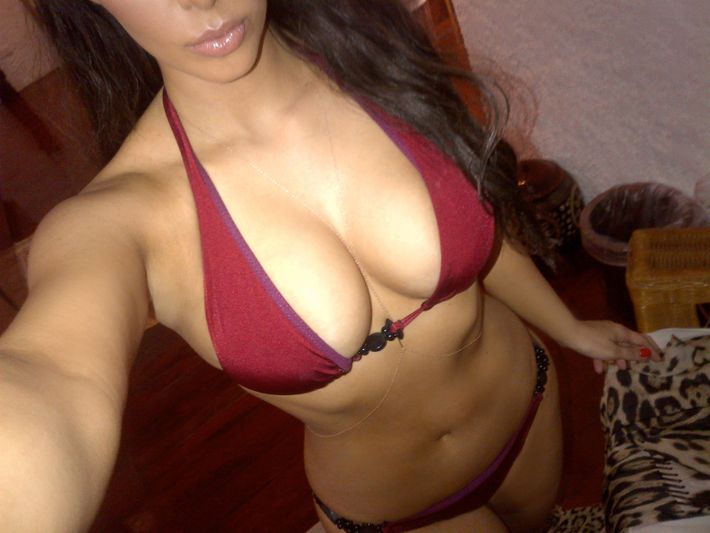 2012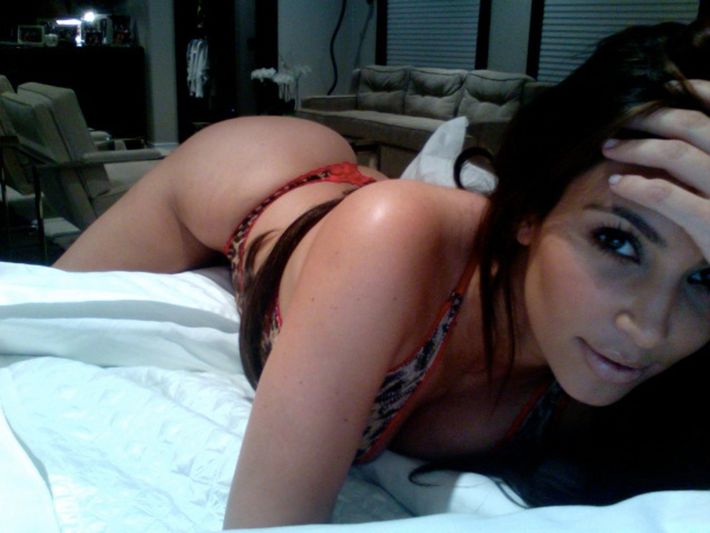 2012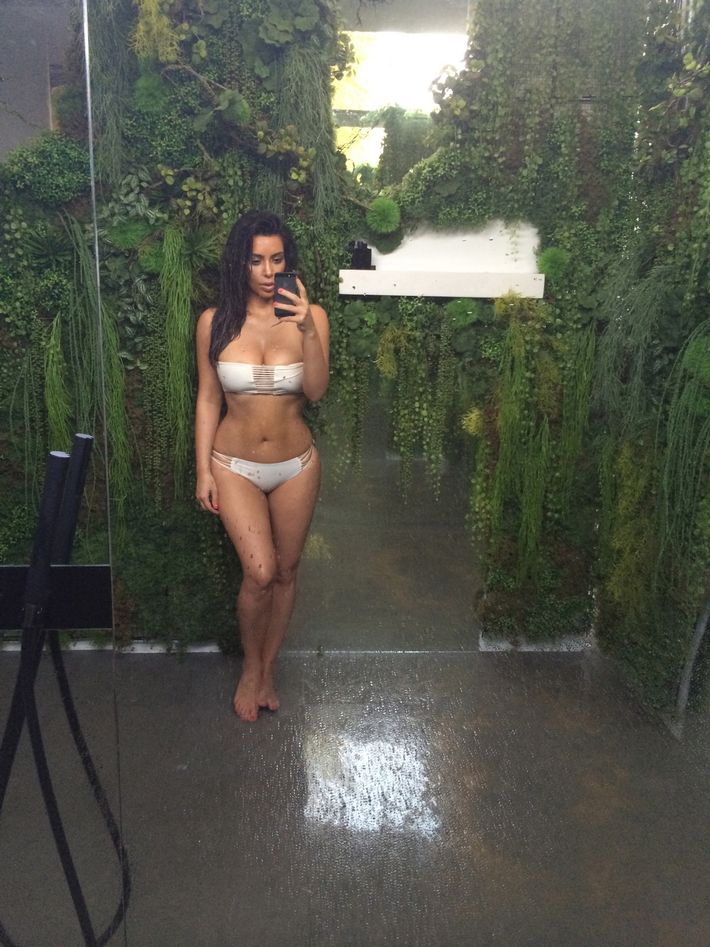 2014
In an outdoor shower in Thailand.