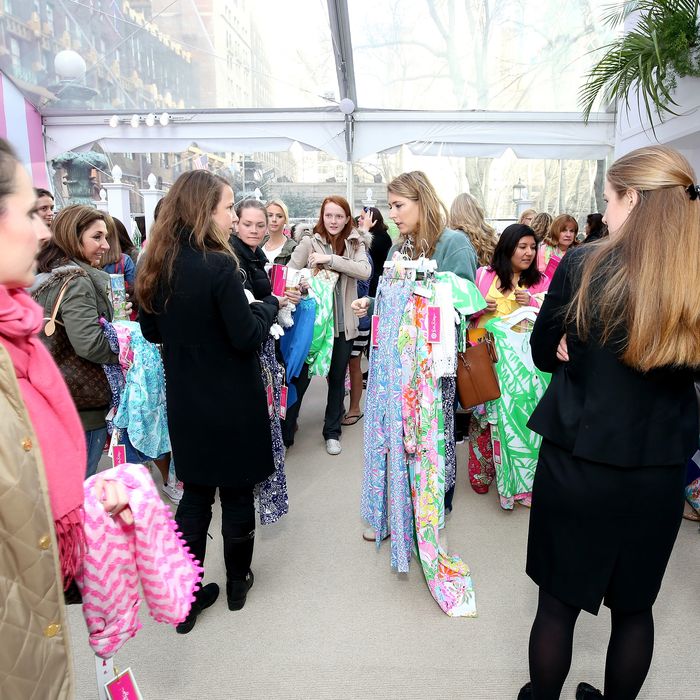 Photo: Cindy Ord/Getty Images
"No target shouldn't collaborate with Lilly just no ew ew ew keep Lilly Pulitzer classy people," wrote Twitter user @kathhlambert when the big-box giant announced its collaboration with the Palm Beach mainstay. And while the project was a hit in stores, selling out within a day (yes, even that oh-so-handy pineapple juicer) and temporarily crashing Target's webite, many Lilly loyalists were up in arms about what they saw as the dilution of the brand, and marketing specialists judged the result as a tarnishing of both Lilly's brand and Target's. (A similar verdict greeted Missoni's linkup with the store four years ago.) Not so, says the Harvard Business Review in its overview of the partnership.
"The Target collaboration was a smart move for Lilly Pulitzer. The limited-item, limited-time collection allowed the company to expand the brand while maintaining its exclusive appeal," argues the piece, pointing out that the collab increased Lilly's awareness outside the preppy circles that made up most of the label's audience. Lilly only has 29 retail stores; Target operates 1,800 branches. And the fact that the line sold out gave shoppers who managed to nab a shift dress or a $270 hammock  that feeling of exclusivity. Target also benefits from a highly publicized sellout, which, HBR's Denise Lee Yohn argues, creates "a virtuous upward cycle" for the time its next designer collaboration rolls around.
Perhaps the difficulty lies in the fact that in order to motivate customers, companies like Target and Kohl's need to tap into brands with a highly identifiable look and a built-in customer base: Missoni's unique chevron prints and Lilly's "spilled-juice" abstract patterns come with their own set of loyalists. Some of those stalwarts will, in turn, complain that their beloved brand is being watered down by the whole affair. But when it comes to gaining new converts, it's a recipe for success.