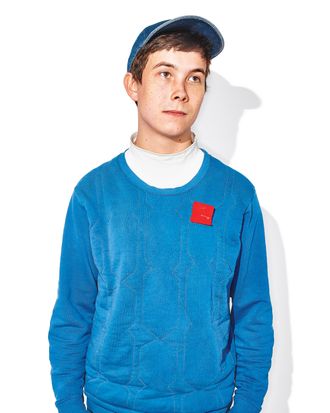 Cooper Union student Tyler Paige.
Tyler Paige, Art Student
What kind of art do you make? Video and sound art and websites. My roommate and I have also been running a small gallery out of our basement in Chelsea — we live in the apartment he grew up in. His mom's a photographer and has been in the building since the '70s. The gallery is this weird laundry-room, white-cube-type space.
What's that piece of red fabric pinned to your sweatshirt? It's a symbol of the protests at Cooper Union — against charging tuition — which I've been involved in. I spent my first two years here mostly doing that, going to sit-ins; it definitely overshadowed my studio practice. I'd only go to class when I wasn't locked in a room or occupying the president's office. The protests have kind of died off, now it's more a legal issue, and the attorney general is investigating the school. But the fabric also makes a nice accessory!
Lightning Round
Hometown: Trenton, New Jersey.
Rent: $700 a month.
Mock turtleneck: "From L.L. Bean."
Typical Saturday night: "Dancing at the bar One Last Shag in Bed-Stuy. They have a great party called Papi Juice."
Summer plans: "I just got a ticket to visit my boyfriend in Amsterdam."
Social media: Facebook, Instagram. "I'd get off Facebook, but it's too good for events."
*This article appears in the May 18, 2015 issue of New York Magazine.