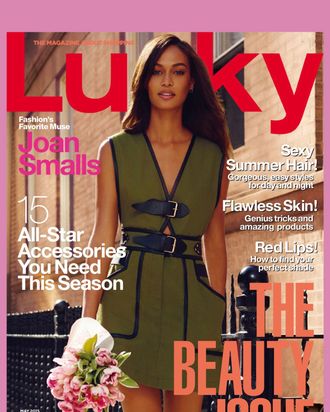 Photo: Courtesy of Lucky Magazine
After Eva Chen's departure last month, Lucky magazine's future was uncertain. Today, Adweek reports that the title will decrease its frequency to four issues per year. The May issue will be the last in its existing format, while the revamped Lucky will be unveiled in September, and will have what Lucky Group CEO Josh Berman calls a "premium collectible feeling," i.e., heavier paper stock and a coffee-table-book feel. Condé Nast will continue to be the distributor and printer of the magazine, as well as a shareholder and board member of the Lucky Group. The group is also in talks with outside investors.
The increasing migration to digital makes sense given that today's WWD quoted an Alliance for Audited Media report saying that the magazine experienced a 47.2 percent decrease in newsstand sales over the past year. Berman said that the company will focus on digital initiatives, namely its Lucky Shops e-commerce arm — as well as bulking up its online video content.