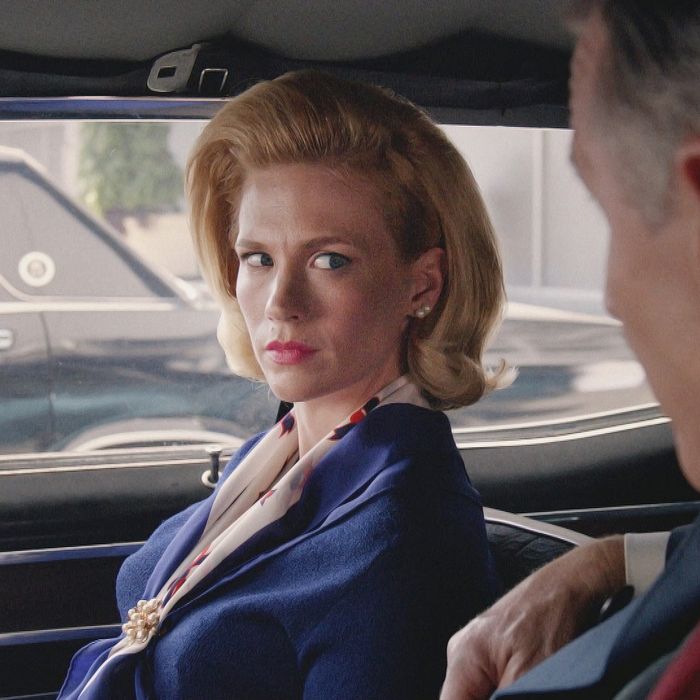 Betty on last night's episode of Mad Men.
Photo: Courtesy of AMC
Last night, Mad Men brought us a frustratingly Joan-less and Peggy-less episode: The domesticity of the scenes meant that we saw a lot of nightgowns and housedresses. After the beginning of the episode, when Trudy and her friend return from tennis practice in their preppy white outfits with yellow and green piping, the Greenwich housewife tenniswear-to-loungewear cycle is clear. (Trudy spends the rest of the episode in nightgowns and robes.) Betty wears a similar, if less sporty, outfit — a pleated white skirt and piped white jacket — to go to her psychology classes at the university, where her much younger classmates sport hot pants and bell-bottoms. Getting a master's degree is a more enriching pursuit than lobbing a tennis ball back and forth, but the mirroring of their outfits doesn't seem to be accidental. Could it be a hint that, at least in the eyes of the world, Betty's serious study is considered just another pastime?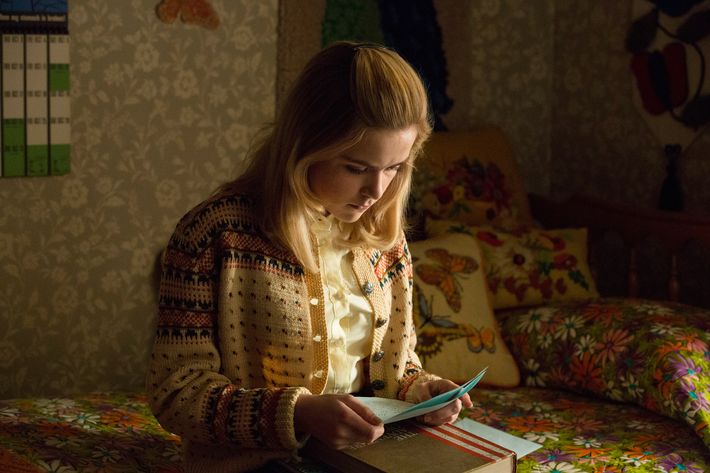 The infantilization of Betty continues as she gets picked up from the hospital like a kid — the establishing shot shows her in the passenger seat — and when her doctor talks to her husband about her cancer diagnosis and her life expectancy almost as though she's not there. Betty spends many of the rest of her scenes in a white nightgown with blue embroidery — even Sally's floral version seems more adult. But when Betty resists any slide into melodrama and entrusts Sally with instructions for her burial, saying that her husband can't be trusted to oversee it, it's clear that the women in this family are quietly running the show. Fashion even plays a part in her funeral plan — she wants to wear the blue chiffon dress she wore to a Republican gala, which represents her at her best and most glamorous.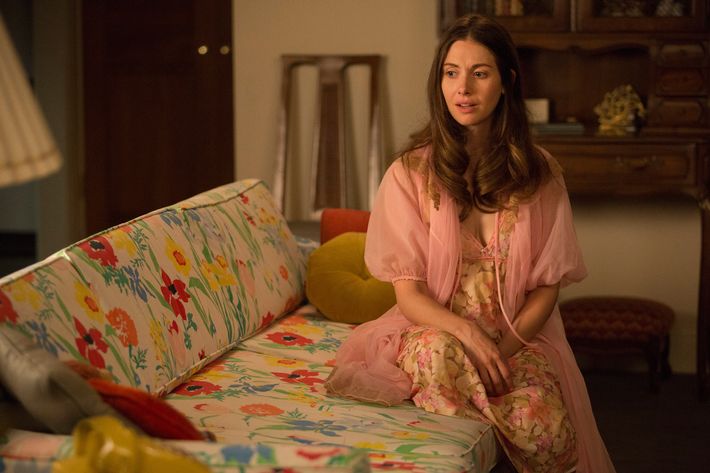 Trudy's vaguely Lilly Pulitzer–style housedress and her pink chiffon robe and coordinating nightgown form the rest of her wardrobe for this episode, underscoring the fact that she is a creature of the home. In fact, the domesticity she represents is such a magnetic force that Pete asks her to get back together with him and relocate to Wichita — a homey, heartland resolution for one of the most peripatetic characters on this show. (Leave it to Matthew Weiner to give the oft-despised Pete the Leave It to Beaver ending.)
Meanwhile, Don, still on his blinkered vision quest, finds himself back in small-town America — the opening musical cue, Merle Haggard's reactionary "Okie From Muskogee," really drove that home — but a far less welcoming version of it than whatever Pete is envisioning. Sure, there's the folksy motel owner and his sweet wife in her floral housedresses, but Don falls in with a group of elderly vets, the only other people who understand the kinds of unappealing sacrifices people have to make when at war. He confesses to them about his real experience in Korea, and they are understanding (the endless supply of beer helps). Like the titular Okie, Don and these men share the burden of being the people who are shipped off to foreign wars while Roger Sterling and his ilk are taking LSD trips. Don may have risen to the top of the ad game, but he still has more than he'd like to admit in common with these small-town "squares."
The only woman in the whole VFW hall is a pretty tame version of a burlesque dancer whose saucy stars-and-stripes-themed attire seems faintly pathetic when foregrounded by these grim wartime stories. The men quickly turn on him — Don is framed for stealing money from the event, and beaten up by the group while wearing only a white T-shirt and boxer shorts — an uncomfortable image of  surrender. Is it any accident that in an episode that laid bare these characters' deepest fears, so many of the costumes involved exposure of various kinds, and given the focus on domestic matters, the cast stuck to the kinds of clothes rarely seen outside the confines of the home?