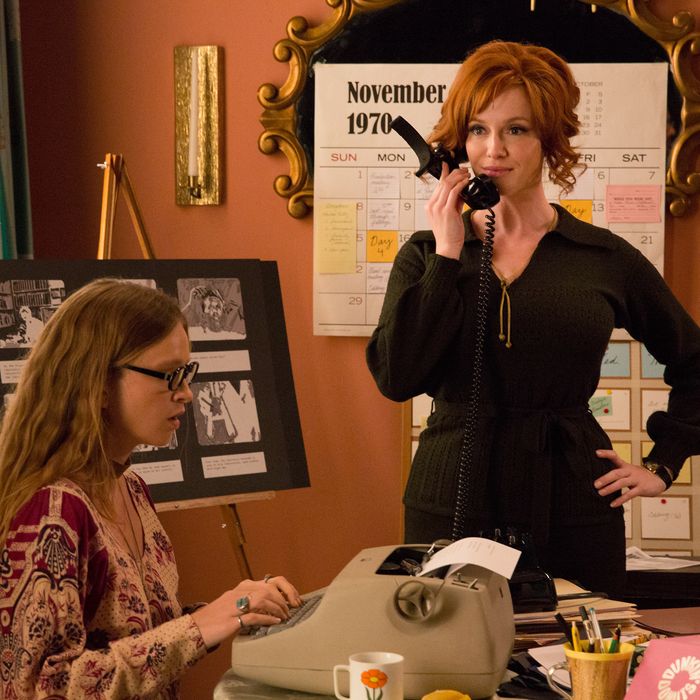 Joan Holloway in last night's episode of Mad Men.
Photo: Michael Yarish/AMC
Anyone who assumed Mad Men would conclude with the typical platitudes — the nuclear family reunited, an impulsive marriage, a new life in a tropical paradise — forgot how much these characters love to work, and how the office is their whole world. While Joan starts the episode as a woman of leisure, living off her payout in Key West in a bathing suit, pareo, and straw hat, not to mention a couple grams of coke, she's soon out of her vacation mufti and back to work. As she says later in the finale, "I just can't turn off that part of myself." Soon, she's back at it in red power dresses and big gold jewelry, turning her home into her office and her babysitter into her secretary.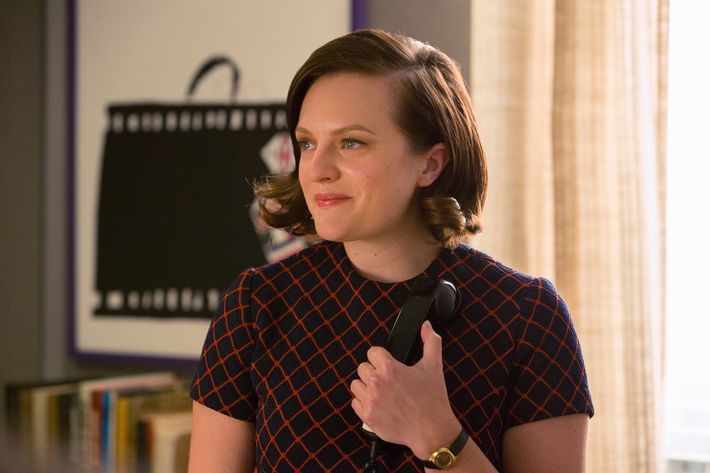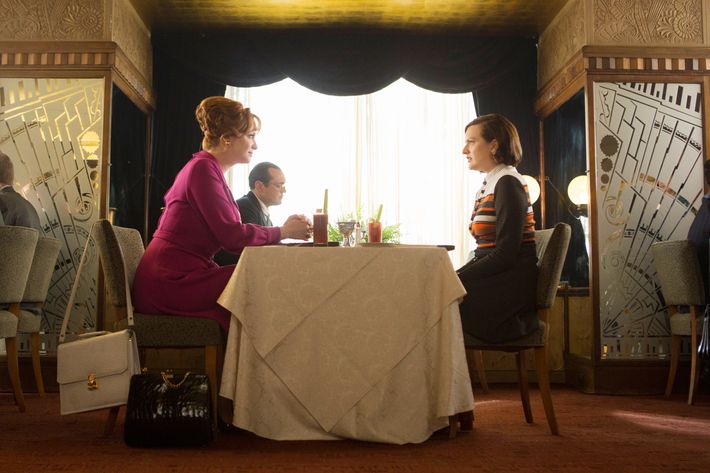 Peggy, too, is all business — she opens the episode in a red blazer, a forerunner of the '80s-power-woman look. Even when she finds love, it's at the office, with her longtime collaborator Stan (who, unlike everyone else on this show, believes "there's more to life than work"). In place of a final clinch, he rubs her shoulders while she works away on the typewriter, whose clicking soundtracks the final montage. While Peggy is staying at McCann Erickson, she's doing it very much in her own way, as we're reminded by the fleeting shot of her plaid dress — the one she wore while making her badass, memorable entrance into the new office — hanging on her door in a plastic dry-cleaning bag. And when, toward the end of an intensely charged phone conversation, she tells Don, "Come home," she means, of course, to their North Star, the office.

However, Don is still off tuning in, turning on, and dropping out at a West Coast retreat, which gives the show its biggest canvas yet for its love of all things hippie, something we glimpsed last season when Margaret (then newly christened Marigold) joined an upstate commune. Stephanie's red lace-up dress vaguely recalls a more bohemian version of Megan's Snow White costume from the season-five finale — perhaps because she's an equally peripatetic, fleeting character in Don's life, disappearing on him soon after they arrive at the commune. Don remains a bit of a square, never adapting to the embroidered Indian blouses and other free-love garb the other men wear — he sticks with a classic Americana uniform of denim, a white T-shirt, and khakis. While he may be dressed ever so casually, even as he's pursuing his own bliss, he's figuring out how to turn it into an ad, namely a bohemian, communal take on the Coke ad — a tendency that's both his gift and his curse. Even a lesson about living in the moment can be transmogrified into a catchy jingle of some kind.

Betty, who's notably still smoking despite her diagnosis of lung cancer, spends the episode in a pink ruffled robe, and, later, a flannel nightgown, while Sally is looking more and more adult, and following her mother's instructions from last week's episode about carrying out her wishes. Her navy sweater and neat white collar, part of her boarding-school uniform, are work attire of their own, and just like the adults on this show, she has an important job to do. And with that, the Mad Men fashion parade comes to an end, but we'll be back to wrap things up with our favorite style moments from the show.