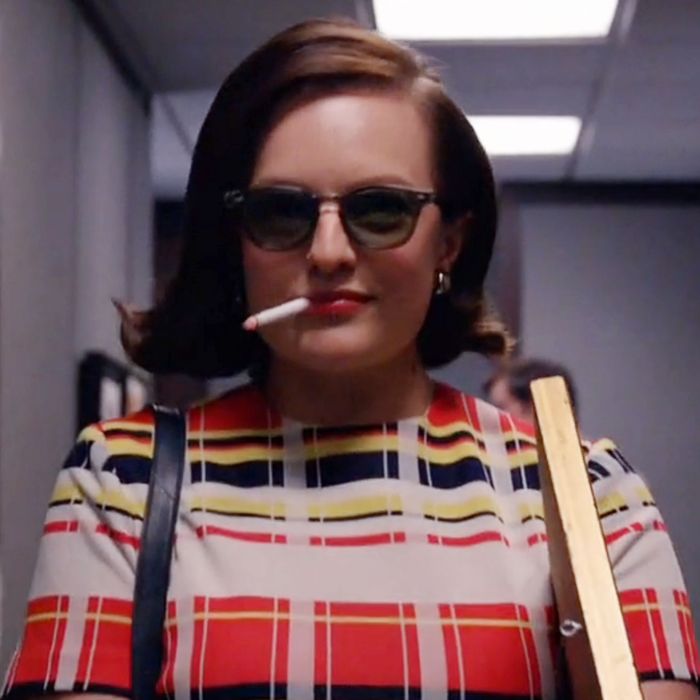 Has anyone in the history of time been more disrupted by a move from one midtown office to another? After learning they'd be absorbed, amoebalike, into McCann Erickson in last week's episode, the Sterling Cooper & Partners crew doesn't exactly finesse the transition. McCann mistakes Peggy for a secretary and neglects to give her an office. Joan faces off against a new coworker, while Roger holes up in the old office, playing his organ and reading old receipts. They are square pegs in this hyper-corporate new atmosphere, no one more so than Don, whose habit of periodically disappearing doesn't seem as charming to the new brass.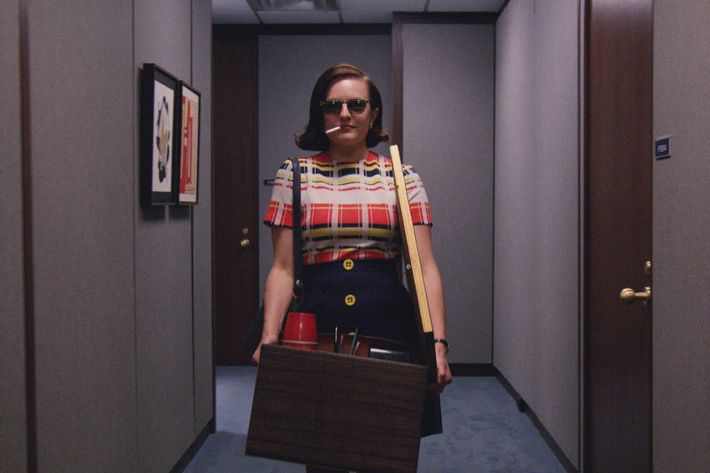 Their discomfort is evident from the beginning — when Peggy arrives in her kelly-green suit, a Girl Scout–like getup that emphasizes her very greenness as an employee, and finds that her office is occupied by a man. Later, she's home watching TV in the same suit (she's removed the jacket and unzipped the dress a little, as you do) when she gets a special delivery — flowers. "They gave them to all the secretaries," the McCann emissary says, putting Peggy's rage on the boil. By the end of the episode, Peggy has transformed, from someone who tells Roger, "I have to put men at ease," into the creature who heads into the new offices complete with a cigarette, a red lip, a kicky hairdo, and an obscene octopus-themed painting, a gift from Roger. Based on the stares of the men she passes, she's not putting anyone at ease. Peggy is inheriting Roger's mantle — the proud office weirdo who could care less what you think. Perhaps she'll be dropping LSD next.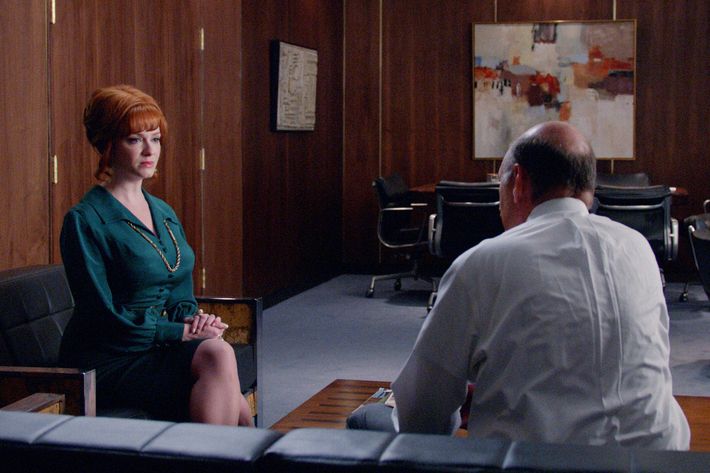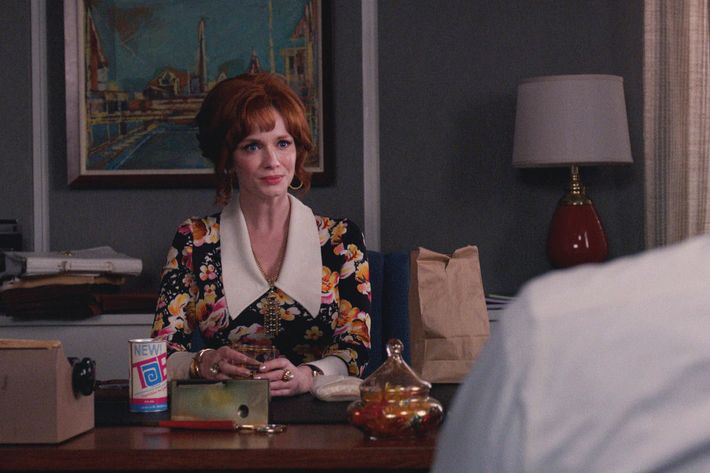 Joan wears her signature bright red and one of her favored silhouettes — a tie-neck dress with a long necklace — but despite the fact that she's wearing her power color, she doesn't feel particularly powerful in her new role. Her partner on one of her longstanding accounts bungles a conference call, and when she complains about it, she's considered the squeaky wheel. Joan may be one of the sharpest dressers in the office, but she doesn't have the institutional support she had at Sterling Cooper & Partners, and her threats about the Equal Employment Act are met with instant dismissal ("All the women who work here are very happy," says her boss). Happy or not, they seem more interested in poaching Joan's and Peggy's accounts (one refers, in a moment of pathos, to "fighting over the crumbs") and in drinking as a coping mechanism (a gathering at the Oyster Bar is described as more "consciousness-lowering" than "consciousness-raising," and Joan is assured she won't encounter any women's lib stuff) than in rallying for a cause.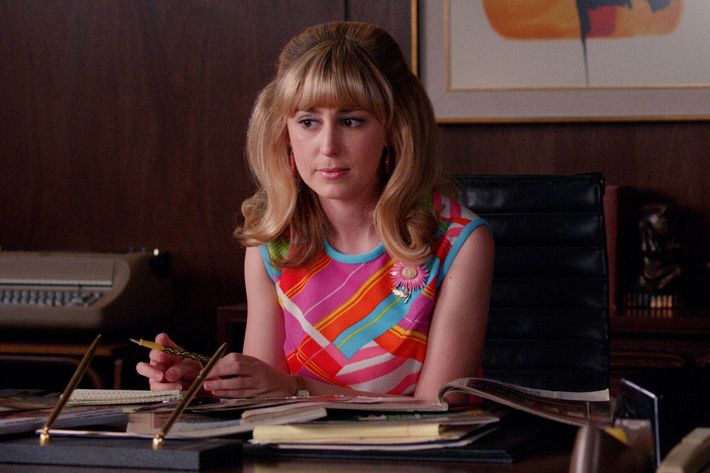 Meredith seems like the only person who's adjusting at all well — her ruffled outfits and matching hair ribbons intact — but perhaps that's because her job hinges on being a helpmeet and enabler to Don, doing everything from designing his new apartment to leading him around the mazelike new office. When he goes missing, on a quest to the heartland to find Diana (with a ghost hitchhiker, in the form of Burt Cooper, in tow) she's forced to cover for him. Don doesn't find Diana there, but he does encounter a kind of double for her — Diana's husband's new wife, who, like her predecessor, wears an apron. Hers is part of her housewife garb, not a waitress's uniform, but the parallel is strong — she even wears the same shade of robin's-egg blue.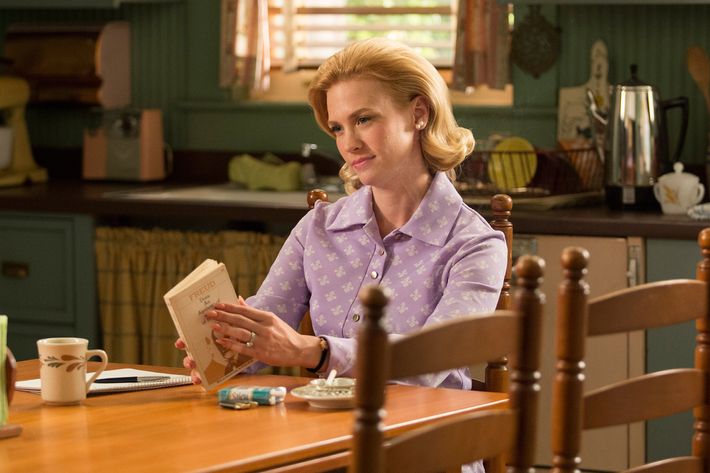 Though Peggy caused the biggest stir last night, smaller awakenings are also taking place. When Betty was shown in her lavender housedress, reading Freud's A Case of Hysteria, an assignment for her psychology studies, it seemed a little too on-the-nose. But in her less earth-shaking way, Betty is coming into her own, too.