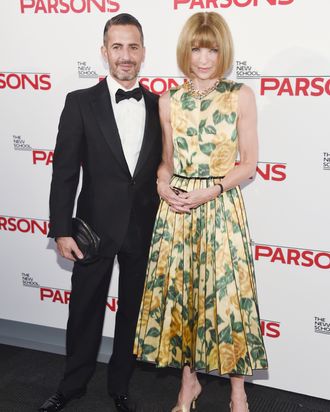 About 30 years ago, Marc Jacobs showed his senior collection at Parsons and met the man who launched his career: Robert Duffy, his longtime supporter and business partner. Last night, a similar show for 26 of this year's graduating class was held in his honor as part of the school's annual benefit at the Javits Center to fund the scholarships of those who may become the next Jacobs. The designer reflected on his brand's growth into a fashion empire, as did Anna Wintour, who presented him with the prize after gushing about his accessibility and intellectualism — tattoos, kilts, "daring photographs," and all. Read on for their full speeches, as well keynote speaker and New York Times fashion director Vanessa Friedman's look at the increased influence of fashion coverage in the last decade.
Anna Wintour praised Jacobs's forthrightness as a person, and as a designer:

Every year at the CFDA/Vogue Fashion Fund dinner, we have a keynote speaker, always one of the world's great designers. A few years ago, we asked Marc Jacobs to deliver the address. From what I understand, Marc sat down just a couple of days before the dinner and wrote out his life story longhand on a piece of paper. Because we know from a recent interview, Marc has zero interest in computers, and finds social media appalling. Although he did finally cave in and join Instagram last month, and gained 50,000 followers in 24 hours, proving that people will follow Marc anywhere. In any case, at that dinner, he simply got up and read from this piece of paper. And what he had to say was so honest and so revealing that he held the room in the palm of his hand. He talked about his early personal issues. He talked about the ups and downs of his career. He talked about meeting Bernard Arnault for the first time. There were no holds barred, nothing sacred, no secrets. I still don't quite know really the word to describe it, really to me and everyone else there that night, other than uplifting and magical. It was rare to see someone willing to talk to a room full of strangers, young kids in their 20s, just starting out, about everything that had gone right and everything that had gone wrong in his life, and in his works, and in his relationships. And giving lots of people credit along the way: to Bridget Foley, to Grace Coddington, and especially to Robert Duffy, his mentor in business and protector in life, who saw Marc's brilliant potential right from the very beginning.

I have always known that Marc was like that: uncommonly frank, wonderfully open with the people he knows and he loves. But I was astonished to see that he was like that with the rest of the world, too. That's why his interviews are so refreshing. Unlike so many other people in the public eye, he is never not being direct. He is unguarded in the best possible way.

So Marc's rise in fashion has pretty much followed the same timeline of my many years at American Vogue, and because of that, we have profiled him many times in the magazine, most recently 2011. And there, as usual, Marc delivered one great quotable quote after another. "Fashion isn't a necessity," he said. "You don't need it. You want it." On speaking French: "I have a very small vocabulary, so everything is in the present tense." Pause for effect. "As it should be." He prefaced many of his bons mots by saying, "I don't mean this to sound pretentious," which I find ironic, because Marc is anything but pretentious. As his friend Sofia Coppola once said, "He doesn't take it all — or himself — too seriously." And this gets at one of the other reasons I am so devoted to Marc. Beside his honestly amazing talent, he moves in a world where there is a lot of height and a lot of superficiality, but his feet always remain, very firmly, on the ground. And despite the tattoos, the kilts, the daring photographs, Marc is an intellectual. A collector of art. A man who tries to imbue everything he creates with meaning. At the end of the day, of course, you have to sell clothes. Fashion is an industry, after all. But something else that makes Marc so special is that while he always creates spectacular visions on the runway, he does it with clothes that women can actually wear. He is never going to make a piece that's deliberately obtuse. He's never going to add a third sleeve. Because he really has always embraced clothes that have the warmth of the familiar.

Think about his famous grunge collection. There were entirely recognizable motifs: flannel shirts, floral dresses, lingerie-inspired camisoles, down to the nth degree. But nobody had ever thought to bring that world into high fashion, and it was game-changing. Whether he's conjuring the Victorian street urchin or classic American girl, there's always been something wondrous, nostalgic, and almost childlike about his clothes. On the other hand, he's one of the few designers with whom you never know what you're going to get on the runway. It's always a complete surprise. So his clothes reject both the shock of the new and the comfort of the known at the same time. A very difficult thing to pull off. In his years of fashion, Marc seems to have lived more than most, seen more than most, survived more than most. And he somehow knows exactly what to appropriate, what to sample, and what to draw inspiration from. "Fashion should bring joy to the world," Marc once said. But Marc, it's you who brings joy to the world. Congratulations.
Jacobs talked about how he never had a plan B:
Thank you very much, Anna, that was a beautiful speech. I really appreciate you being here and giving it for me. I'll keep this as brief as possible, and tell the story again. When I was 15 years old (that was 37 years ago), I had the great good fortune of meeting and asking Perry Ellis what he would advise a young guy — that was me back then — who dreamt of becoming a fashion designer. He, without hesitation, replied: "Go to Parsons." My mind was made up from that very moment. On completing my years at the High School of Art and Design, I was cautioned by my guidance counselor about the exclusivity of the Parsons fashion program, how small the classes were at the time, and how difficult it could be to get in. This guidance counselor suggested I have a plan B in the form of an alternative school. I, without hesitation, said: "No plan B. I will go to Parsons. Or I will go work at a video store." Luckily for me, I got accepted to Parsons. After all, I wouldn't have had a very long career as a video clerk, given the fact that there are no video stores in existence anymore. I worked hard and learned a lot at Parsons, and at the end of my senior year, on a night just like this one, I got to show my work. That night was to be the luckiest night of my life. It was then that Robert Duffy recognized the talent in me, and begun the longest and most wonderful relationship I've ever known. Robert and I became business partners, and he my most loyal and trustworthy friend. So while I am being recognized here tonight for what I have achieved, it is impossible not to recognize him as well. Thank you, Parsons, for preparing me for that life-changing opportunity, for a great education, and for instilling such a strong work ethic in me, and for this most prestigious honor. And thank you, Robert, for all the rest.
And Vanessa Friedman drew attention to the "fashionization" of news:
I'm very honored to be here with the once and future Parsons community, and especially with the event being new graduates. In your honor, I thought I would talk a bit about that word: new. Because it's kind of a big fashion word, right. We use it a lot, I use it a lot. We talk about the new seasons, the new designers, the new look, the new hemlines, the new shoulder shapes, the new trends. We talk about it probably so much that sometimes it feels a little old. But there is something that's going on I think that's genuinely new, and it doesn't have to deal with a silhouette or a trend, but it will affect and shape the futures of pretty much everyone in this room. And I like to call it the "fashionization of life." It's kind of like globalization, but not exactly. It's the kind of mass recognition and understanding that fashion is one of the most universal narratives we have. This is something that Parsons and the New School has understood since the beginning — it's part of its reason for being. And what makes it astonishing is that actually there are lots of people in the rest of the world who didn't have a clue. It's hard to imagine from this vantage point, but consider some others. Consider, for example, the fact that the New York Times didn't have a fashion critic until about 20 years ago. It had a fashion reporter that covered this kind of niche subject, like the gardening reporter. And then later on it had a fashion page, where the fashion critic wrote, and that was sometimes in the "Metro" section, and sometimes it was in the "Sports" section. But it wasn't even until 2005 that it had what was effectively a weekly stand-alone section largely devoted to fashion. It was called "Thursday Styles." And two years before that, in 2003, The Financial Times (which is where I used to work) decided it was going to have its first-ever fashion person. So I went for my job interview there, and the first thing the then-editor said to me when I sat down and we started talking was "I never think about fashion," which was an interesting way to start that conversation.

But no one says that anymore. Now everything is a fashion story, whether it's because of Instagram and the rise of the politics of perception, or the fact that people have realized this is a 3-trillion-dollar global industry, everyone wants to talk about fashion. So the NFL draft is a fashion story, and the Mayweather-Pacquiao fight is a fashion story. And Mad Men is a fashion story — or was, I wish it were still going on. Mad Max is a fashion story. Apple is a fashion story. Yahoo is a fashion story. The next election, all 16 months of it, is going to be a fashion story — so get ready, there's going to be a lot of pantsuits and ties.

And because of this, everyone wants in on the telling. So suddenly actors and rock stars and athletes are creative directors. And political consultants are stylists. And guys in Tevas and hoodies are retailers. And history makers, who once thought they would be writing long think pieces about Kierkegaard and Wittgenstein, are actually writing reviews of shows by Krakoff and Wang. So yes, now you know about my secret past. But what does this mean for us? It means that, like any brave new world, things are kind of wild and wooly and messy and scary and exciting — mostly exciting. It means that there is competition from places that no one ever thought about. It means there are opportunities in places no one ever thought about. It means possibilities are created that probably most of us never imagined, but that have to be considered. And that is very risky. But it's also a hell of a lot of fun.