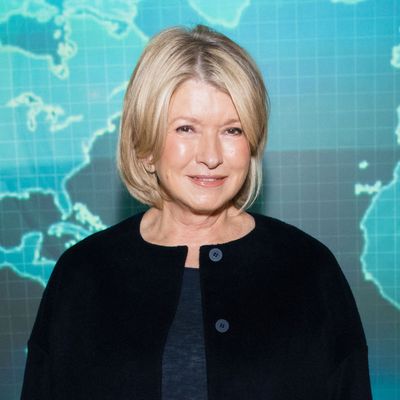 Martha Stewart.
Photo: Noam Galai/Getty Images
It's nearly the end of the school year, so Martha Stewart is finally assessing all those who claim to be students of her school of lifestyle guruship. In a recent interview with Us Weekly, Madame Stewart weighed in on the projects of her blonde lifestyle-entrepreneur imitators. Letter grades are based on our understanding of her verbal assessment.
Preserve, a Blake Lively Joint: "I think Blake has done a good job with her site. It's an interesting site — kind of an interesting product on it."
Grade: B

Goop, a Gwyneth Paltrow Effort: "Gwyneth is developing her site. I looked at some of her products the other day, I thought it was interesting."
Grade: C+ 

The Honest Company, a Jessica Alba Production: "She's done a good job, and I think she means very well especially in terms of children's products."
Grade: A-

Draper James, A Reese Witherspoon Extravaganza: "Oh, she did? I didn't see that! How great! What is she doing? I don't know Reese, I've never met her, but I'm sure she'll do a good job."
Grade: A+ (teacher's pet, naturally)
Congratulations on your receiving your Martha Stewart blessings, class of 2015 — especially Goop, who was Martha's most hated student.