Mary Ellen Mark Was a Master of the Unexpected
Photo: Mary Ellen Mark/All Rights Mary Ellen Mark
Mary Ellen Mark — the documentary photographer best known for her haunting portraits of adults and children on the margins of society — died in New York yesterday at the age of 75.
"I think it was the connection with people that astounded me," Mark writes of her first experience photographing in her forthcoming book, Mary Ellen Mark on the Portrait and the Moment, which is due out from Aperture this June. "I saw that my camera gave me a sense of connection with others that I never had before. It allowed me to enter lives, satisfying a curiosity that was always there, but that was never explored before … I realized all of the possibilities that could exist for me with my camera; all of the images that I could capture, all of the lives I could enter, all of the people I could meet and how much I could learn from them."
Born near Elkins Park, Pennsylvania, in 1940, Mark first became interested in photography while on scholarship at the University of Pennsylvania's Annenberg School of Communications. In the early 1960s, she began wandering the streets of downtown Philadelphia with a camera on loan from the school. Not long after, she received a Fulbright scholarship to Turkey, where she made her first iconic images, establishing photographic interests that would define her entire career. An early portrait, Beautiful Emine Posing, which depicts a young girl boldly confronting the camera, set Mark on a lifelong fascination with children yearning for adulthood.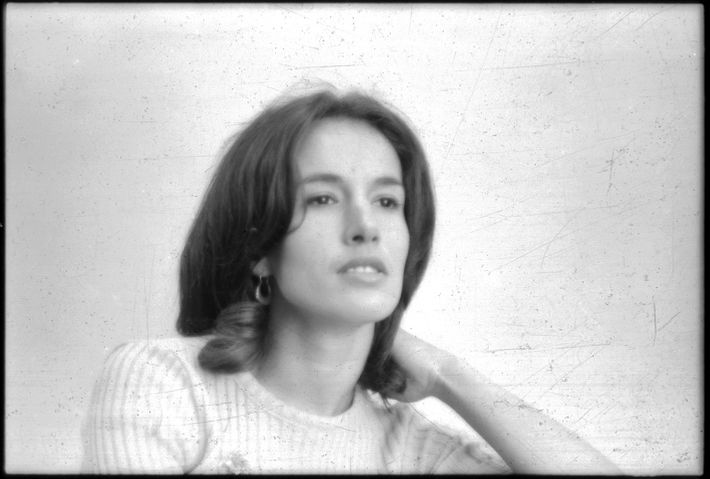 After her stint in Turkey, Mark moved to New York, where she began photographing on assignment for magazines like Look, Life, New York, and The New Yorker, often turning her lens on people in adverse circumstances. After photographing film stills on the set of Milos Forman's One Flew Over the Cookoo's Nest, she returned to the women's maximum-security ward of the Oregon State Mental Institution — where the movie was filmed — to interview and photograph the women confined to the ward. Later, she traveled to India to photograph brothels, and, in the late '80s, began photographing Tiny — a 13-year-old prostitute living on the streets of Seattle — while on assignment photographing runaway teenagers for Life magazine.
Mark's 1990 image, Amanda and Her Cousin Amy, which depicts a young girl wearing makeup and smoking a cigarette in a kiddie pool, was taken on a visit to Valdese, North Carolina, where she was photographing a school for problem children. "I thought all the kids were great," Mark wrote. "Nine-year-old Amanda was very intelligent and very naughty. She was, of course, my favorite." Unlike many documentary photographers who prefer to get to know their subjects before turning the camera on them, Mark's philosophy was to photograph people from the second she met them. "I start shooting right away, always," she explained. "If you don't, you're misrepresenting your role in the situation."
Over the course of her career, Mark would photograph circus performers, gypsy camps, homeless families, and numerous sets of twins. She was especially wary of photographic cliché: "I've worked in a lot of spectacular places, but I'm always looking to go beyond the spectacle to something more original," she reflected. Her photographs are distinguished by the eccentricity of her subjects, but also by her clear-eyed celebration of humanity. "I'm most interested in finding the strangeness and irony in reality. That's my forte," she wrote.
Click through the slideshow for a look back at Mark's most iconic images, from her early travels in Turkey to circus performers in Mexico City, along with many of her photographs for New York Magazine.