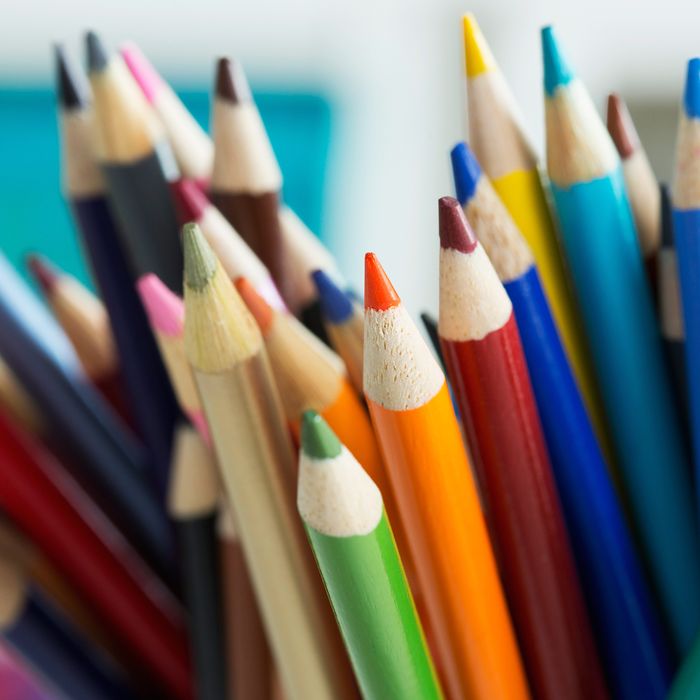 Photo: Hero Images/Corbis
On a frosty Thursday evening in mid-February, a blogger named Jenny Fenlason collected her favorite art supplies and headed over to a cozy coffee shop called the Mountain Mudd Espresso in New Hope, Minnesota. Fenlason was hosting the second-ever meeting of the Ladies Coloring Club, a group of like-minded women from her area she'd assembled to meet monthly with one specific purpose: color the crap out of some Dora the Explorer activity books.
"There sat twenty three grown women with crayons, and pages, and books, and beverages," Fenlason wrote on her blog, Bright Shiny Things. "Some colored simple childlike pictures, some did elaborate works, some free handed. It was fantastic. Everything I've dreamed and more."
Fenlason is part of a growing number of adults who have eschewed the granny trends typically adopted by urban hipsters (knitting) in favor of something a little more juvenile. Meet the colorers. Or color-inners? Maybe … coloring enthusiasts? They haven't decided on a name yet, but they're united by a passion for coloring as a no-hassle hobby, a stress-reliever, and even, in some cases, as a treatment for trauma.
"My husband and my best friend think it's funny," said Deanna Tratensek, a wife and mother who lives in Indianapolis and colors a few times a week. "We joked that for my midlife crisis, I wasn't trying to be a teenager but rather a 5-year-old."
The colorists have a queen, and her name is Johanna Basford. A U.K.-based illustrator and "ink evangelist," Basford has translated her passion for drawing into two best-selling adult coloring books — Secret Garden and Enchanted Forest — both of which feature intricate patterns and scenery that would make your typical 3-year-old coloring kid dizzy just looking at them. Secret Garden, published by Laurence King Publishing, has been sold out on Amazon for months, moving nearly 1.5 million copies since its release in 2013 and becoming one of the site's best-selling books of 2015. The sequel, Enchanted Forest, debuted in January and has been backordered ever since.
The growing trend in adult coloring has not gone unnoticed by mainstream publishers, who are sprinting to catch up with demand; Little, Brown is slated to release a series of four meditative coloring books this year called Color Your Way to Calm. There's even a burgeoning cottage industry of reviewers who review only adult coloring books.
Coloring fans come by the hobby for varying reasons. While some, like Fenlason, may consider it a social activity, others see it as an easy way to escape the everyday grind — a way to practice mindfulness and enjoy being in the moment without all that "concentrate on your breathing" stuff.
"Coloring can be a form of escapism where one can shed the stress and worries of the day and just focus on a simple creative task," said Tratensek. "We get so wrapped up in work, social media, electronic entertainment, et cetera — we need ways to unplug and reset our brains. Not everyone is into yoga or can take time to walk in the woods, but something like coloring could be a substitute."
With roots in art therapy, coloring is also a particularly attractive hobby for anyone trying to sort through their own shit (so, basically everyone).
"This person emailed me saying, 'My mother is dealing with the death of my dad and I got this book for her to relax, practice mindfulness and coloring,'" said Emma Farrarons, author of the best-selling adult coloring book The Mindfulness Coloring Book (publishing in the U.S. on June 2nd). "I didn't realize how much the book would reach out to people dealing with traumas. People with all sorts of different traumas — depression, anorexia —are contacting me or being very present [on] Instagram and sharing their images."
There's also something a little bit romantic about embracing an outlet that focuses on a return to the rudimentary tools — a paper and some different-color pens — as a way to reset yourself.
"It's really nice to think that something that is just pen and paper — really basic like that — is so appealing," said Farrarons. "I think that might be it. We're going back to basics."
At least in the U.S., the explanation for the growth of adult coloring is probably much simpler than that. After all, as one coloring enthusiast told me, kids are the experts at having fun.