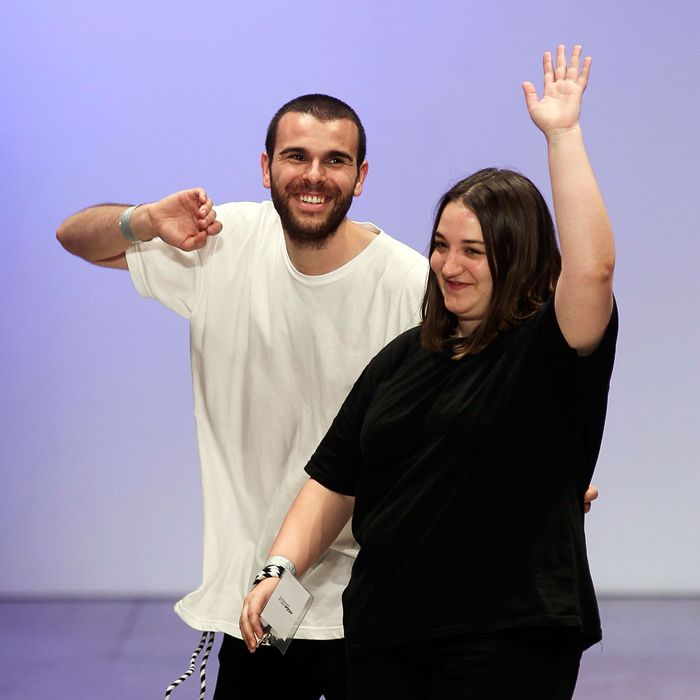 The designers in 2012.
Photo: Jose Sena Goulao/Corbis
The LVMH Prize for Young Fashion Designers was announced last week, and London-based duo Marta Marques and Paulo Almeida of Marques'Almeida took home the big prize: 300,000 euros, a yearlong mentorship with the LVMH group, and a fancy trophy presented to them by actress Natalie Portman.
The jury members, among them Phoebe Philo, Karl Lagerfeld, and Jonathan Anderson, cast their anonymous votes over lunch (how very French) following individual presentations. Out of the seven finalists, Marques'Almeida captured the attention of the jury with their proven combination of design talent and business prowess. The fledgling brand launched in 2011 and already has 80-plus stockists under its belt.
"They really have a point of view and a vision," said Delphine Arnault, jury member and executive vice-president of Louis Vuitton, after the announcement. "There's something quite unique about their style, and it's young and colorful, with so many interesting fabrics. [But] they also have an excellent sell-through with their retailers. It's a 'creative business.'"
The Cut caught up with Marta and Paulo after their win to find out what they plan to do next.
This was the second time you have entered this prize. How did you approach it this year?
Marta: We just tried our best to be as normal as possible, to have nice conversations with the judges and learn as much from those interactions.
What's your idea of normal?
Paulo: [Laughs.] I have lost my grip on normality after today … but it's about what you are and not what you're trying to be.
Well, you've basically just won the fashion lottery. Do you have a plan for how you will use the money?
Paulo: The thing is that fashion is a very expensive business, so the lottery money goes quite quickly. [Laughs.] We need to be quite wise with our investment.
Marta: First we'll invest in building our team; we are five people at the moment and it's still quite small. Everything is pretty much a one-man show. It will also be about making sure our image and identity is well established via shows, etc. We've always done those in collaboration with the British Fashion Council or Fashion East, to help with funding, and we've never actually done our own show in our own venue, so that will happen in September and we're really excited about that.
You have such an interesting approach to textures. How does that play into your design process?
Paolo: It's more about a vibe and an attitude than actually focusing on detailing. At the end of the day we want to create something that our girlfriends would find exciting.
Marta: Yeah, we don't seek out those fabrications — we start with a mood and the girl first and extract the fabrications and the colors from there. It's a massive mash-up that will hope feels new.
You had ten minutes to present in front of this incredible jury. Did you have to rehearse?
Marta: Our process is very much inside our heads and we work with our instincts, so figuring out how to put that into words was interesting. We tried to explain our message with the idea that people won't necessarily know how we work, or why we do what we do. It was a little bit like a therapy session. [Laughs.]
Did you build a rapport with any jury members in particular?
Marta: A lot of them, actually. Everyone came and asked us lots of questions, especially abut our references. We kind of look back to the '90s and noughties and so it was really interesting to talk to Marc Jacobs about that because he's one of our biggest references from that time. We've looked at the shows he was doing back then and how he changed fashion at that point, so it was just unbelievable to have those conversations with him.
Was there one piece of advice that resonated?
Marta: Their overall feedback was that what we are doing seemed natural and authentic, and that was a huge compliment. I think that's what we're going to try and keep doing.