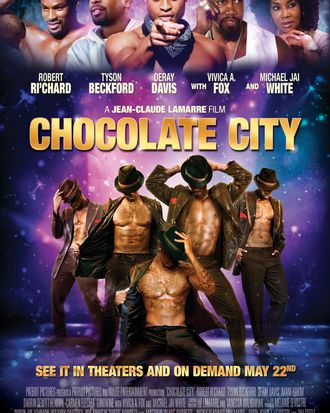 Photo: Nu-Lite Entertainment
Right before the first trou drops in Chocolate City, strip-club owner and emcee Princeton (Michael Jai White) asks an audience of screaming, fiending women (both in the film and, presumably, in movie theaters around the country), "Y'all have seen Magic Mike, right? Now, we gonna add a little chocolate."
Indeed, there are some similarities: Both movies have lead characters named Michael and called Mike. Both movies involve dance sequences that involve "Pony" (in this case, performed by Ginuwine himself). And both spend ample time driving home the point male strippers sell not merely just sex, but fantasy — complete with prolonged eye contact and artful attention to the wiener. But be warned: While you may have seen Channing Tatum pump his pelvis with every ounce of energy he had, you are not prepared for the sexual power of Chocolate City.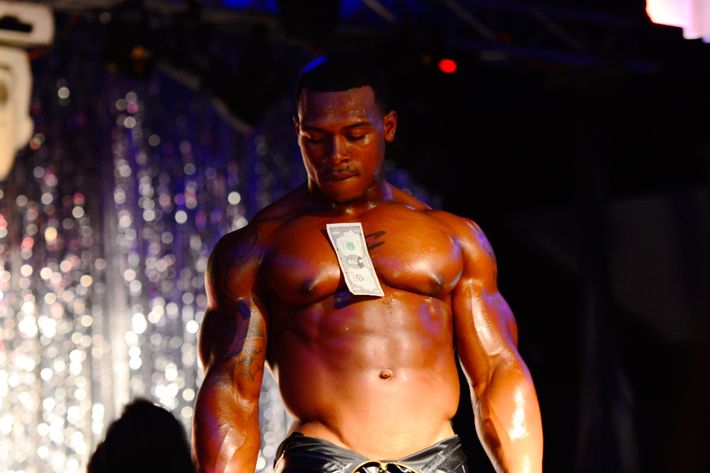 The movie is your standard coming-of-age-in-a-strip-club tale: Michael McCoy (played by Robert Ri'chard) is a hardworking college student on scholarship. The electricity is about to get turned off, his mother (Vivica A. Fox) can't pay the bills, and he can't pay his tuition. With his back against the wall, he supplements his income by reluctantly accepting work as a stripper. Soon Michael finds that not only does he excel at exposing his chiseled body in exchange for bags of singles, he genuinely loves it. Chocolate City is 95 percent dance sequences, which take freaky grinding and simulated oral sex to a whole new level. These male strippers make the cast of Magic Mike look like a toddler's tap-dancing class. Chocolate City has been dubbed "the black Magic Mike," and yes, it succeeds in adding a lot of chocolate to the ascendant "movies about male strippers" genre. In fact, over the course of two hours, all you see is chocolate: writhing onstage, dancing in chaps, grinding in firefighter costumes, pumping in gladiator helmets, simulating cunnilingus, dry-humping women, shaking moneymakers in little spandex briefs with dollar bills sticking out of them. It's glorious. My brain melted, though, so instead of writing a review, I've merely transcribed my notes and feelings from the movie.
1. Why are women stripping? I thought this was supposed to be like Magic Mike?
2. Oh, hi Carmen Electra!
3. Oh HI Tyson Beckford!
4. Yes.
5. YES!
6. Chocolate City just ruined me for Magic Mike 2.
7. Woo! Maybe I need to watch this alone.
8. "Pony" is the national stripper anthem.
9. Q: Who would win in a Ginuwine vs. Channing Tatum "Pony" dance off?
10. A: Channing Tatum.
11. What is Tyson Beckford doing with that water bottle?
12. Did he just pour it all over himself?
13. Look at Tyson Beckford's top-butt. Can butts get Academy Award nominations?
14. Is that Tyson Beckford's shaft base??
15. Tyson Beckford just grabbed his junk. The movie can end now.
16. Why is everyone in church?
17. Oh we're back in the club.
18. What kind of a stripper name is Bolo?
19. Men should not wear leather bell-bottoms.
20. Why do all the actors make such intense eye contact with the camera?
21. Awwwooga.
22. Huuunggaaah.
23. Boi-oi-oi-oi-oi-ng.
24. DAT BUTT.
25. DAT D.
26. I'm uncomfortable.
27. Is it legal to motorboat someone's dick?
28. Okay that was definitely not legal.
29. Am I making the person next to me uncomfortable? Can they hear my mmm-mmms?
30. I bet all men can body roll if they'd just try.
31. HEY-O!
32. Is this just Flashdance but with dong?
33. Is this just Showgirls but with dong?
34. Hot damn! Tyson Beckford.
35. Hot damn! Robert Ri'chard!
36. Hot DAMN! BOLO.
Chocolate City opens today. Final rating: One permanently dropped jaw and two fists clutching sweaty dollars.