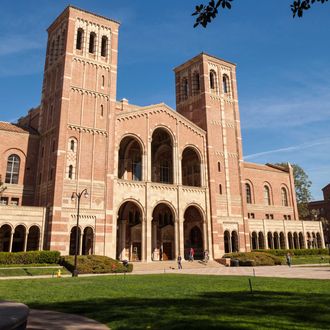 Royce Hall on the UCLA Campus, 12 Feb 2014, Westwood, Los Angele.
Photo: Richard T. Nowitz/Corbs
Yesterday, Science of Us reported that Michael LaCour, the graduate student who is alleged to have faked data for a highly publicized and celebrated Science article on same-sex marriage, had made up the largest funding source listed on "Original Grants & Data" section of his curriculum vitae. It appears the fabrication extends to another part of his CV, too: the "Awards & Fellowships" section.

In that section, he lists as one of his awards: "Emerging Instructor Award, UCLA Office of Instructional Development, 2013-2014. One of three UCLA graduate student instructors selected for excellence in their first year of teaching" (formatting his). But a staffer in the office of instructional development told Science of Us that it does not give out an award of that name. "I don't know if he either misnamed our department or if it's from another department," said the staffer, who only agreed to be quoted if I didn't use her name. "I'm not clear on what happened." (N. Cherie Francis, a staffer in the Fellowships and Financial Services office, did confirm that LaCour received another one of the awards listed on his CV, the $10,000 Will Rogers Memorial Fellowship.)

I emailed LaCour for comment, and he asked if I'd hold off on publishing this until he released a planned statement about the whole affair. I told him I couldn't unless the statement contained information pertinent to the nonexistent teaching award. Shortly thereafter, a browser extension I installed to notify me when his website changed pinged me. His website's link to his CV, which he'd taken down down recently, is now back up. This version no longer lists the Emerging Instructor Award, and the entire "Original Grants & Data" section has been cut.

LaCour then emailed me again: "I'm not sure which CV you are referring to, but the CV posted on my website has not had that information or the grants listed for at least a year." As of 6:20 p.m., the CV with the false information can still be viewed on the UCLA website.