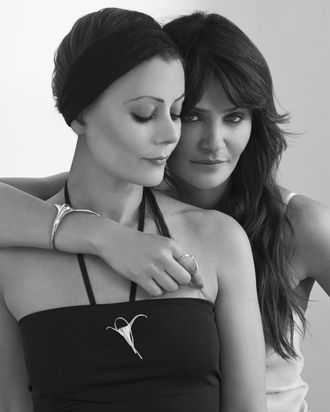 Camilla Staerk and Helena Christensen.
Photo: Courtesy of Skagen
Ironically, the model Helena Christensen and the designer Camilla Staerk originally met when Staerk modeled for Christensen, not the other way around. At the time, Christensen had recently co-founded Nylon magazine, and she chose her oceanside cottage in Denmark as the setting for the shoot. "We just clicked," she says of her fellow Dane. "Not long after, we packed a bag of Camilla's first designs, and went to Prague and just picked some local models and did hair and makeup ourselves and [shot] a whole look book."
It was the beginning of their friendship, and of a long-standing collaboration that would touch on photography, fashion, and now, a jewelry line with Skagen, the Danish design house. The three pieces that constitute the collection — a ring, a bracelet, and a convertible brooch/pendant — are sitting, swathed in Bubble Wrap, on the table between the two in a coffee shop in what might best be described as the Far West Village.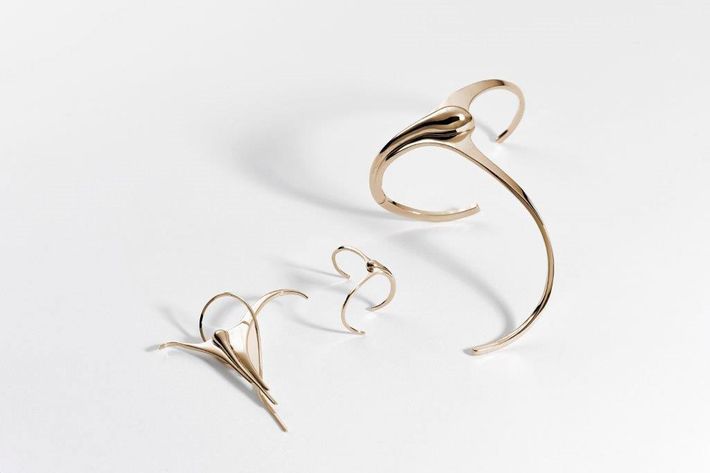 To spend time with them is to get an instant window into the mind-meld that is their BFF-ship. "This is the first time we get it to wear," says an excited Staerk, looking a tad goth with her neatly penciled brows and all-black ensemble, down to a pair of black knee-highs. "But we have to give it back, so don't get excited," Christensen reminds her, carefully unlocking the bangle from the tangle of other jewelry on her wrists and placing it back in its case.

For the collection, the two were inspired by their shared homeland. Staerk comes from a Danish design family, while Christensen has always been interested in the country's Modernist tradition. They looked at their grandmothers' jewelry pieces, which, despite being from the '30s and '40s, felt very modern to them in terms of design, for inspiration. "I guess that's a testament to the time," Christensen notes.

All three designs are in the shape of abstract swallows, modeled on the ones they remember flying along the Danish coastline. Still, they're far from the "put a bird on it" cliché. These are more like nature drawings as seen through the eyes of Tamara de Lempicka and cast in gold — they have an attenuated, hyper-Modernist look. (Thus the title Svale, which means swallow in Danish.) Their planning sessions often stretch past the four-hour mark, and by the end, their points of view have completely fused. "It's like putting [our ideas] into an hourglass," says Staerk. "It just fills up, and all the same ideas come out." As she says that, Christensen, putting on her photographer hat, asks her to stay still — noting that the light and the placement of her hair would make for the perfect shot.