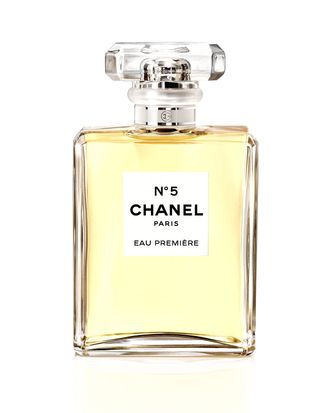 Chanel No. 5 Eau Première.
Photo: Courtesy of Chanel
Chanel No. 5 was my perfume of choice in college, which meant I smelled bright and flowery and a little bit like everyone else's mom. That may be what Chanel had in mind when it formulated the classic scent into a light new version, Chanel No. 5 Eau Première. Think of Eau Première as No. 5's younger, carefree sibling. It's similar to the original scent, but it's not nearly as heavy; even the color of the fragrance is lighter, which looks like a watered-down oil compared to No. 5's rich amber hue. It smells almost citruslike, and as Eau Première dries, you can start to pick up its floral notes, such as jasmine and rose. The new fragrance mirrors the original's longevity, but it turns slightly warmer as it finishes on a final sandalwood layer. Though I'm a fan of the original, which just landed its very own pop-up exhibition that runs near the new Whitney through May 17, Eau Première is decidedly more fun. If Chanel No. 5 is a tweed suit, consider Eau Première the cool tank you'd wear underneath.
Chanel No. 5 Eau Première Spray, $132 at Chanel.